It's twilight at The Gansevoort hotel in the Meatpacking District with a last glimmer of sun streaming in the Presidential Suite as Victor Cruz and his fiancee, Elaina Watley, arrive. The suite will serve as the backdrop for photographing the cover (of this magazine) with the New York Giants wide receiver. Before the crew gets a chance to greet him he approaches each person with his boy-next-store smile and a handshake saying, "Hi, I'm Victor, pleasure to meet you." Professionalism and good manners come easily to the 28-year-old Super Bowl champion and budding fashion icon, who is known to do a salsa dance after every touchdown he scores. There is no trace of weariness in his demeanor although he no doubt dashed from Giants practice to the photo shoot. He carries himself with a breezy exuberance that seems to say, "I love my life" and "Anything is possible."
But football is not the only venture that the New Jersey Millennial has on his very full plate. Voted Internationally Best Dressed, by Vanity Fair in 2014, he's also on the cusp of fashion and sports cross-pollination. Stylish sport gents like Amar'e Stoudemire and Cruz are hanging out front row at New York and Paris runway shows and attending buzzy dinners like one hosted by Internet retailer Farfetch.com in July. Added to his impressive fashion résumé is the French label Givenchy, where he became the face of the brand in June of this year. He flew to London to be photographed by Mert Alas and Marcus Piggott — the uber-creative duo who snapped photos of Cruz in his bold pinstriped ensemble as well as other sartorial looks. He met Givenchy's designer by chance a few years ago. "I met Riccardo [Tisci, the designer] on New Year's Eve two years ago at Jay Z's party in Miami. Riccardo and I spoke for an hour and just hit it off. He is a good person — a good dude, and you could sense his humility when he spoke. We kept in contact and became friends. Then one day he called and asked, 'Hey Victor, do you want to do the campaign?' It was a no-brainer, I had to do it — there was no way I wasn't going to do it! I flew to London for two nights, and we got to hang out. The entire shoot took about three hours max. It was just a fun atmosphere," he says of the spring campaign now in magazines.
The notion of sports figures representing fragrances in advertising is not new — beauty brands have always looked to sports to masculinize the traditionally feminine product. For Millennials — Cruz's generation — this is a non-issue. He is known to spritz his favorite cologne even during game time. So when Hugo Boss asked him to be the face of their latest scent, Intense, it was a natural fit. "It's an extreme honor to represent such a prestigious name that's been around for years and has stood the test of time," he says. "My mother takes photos of the little bottles and sends them to me every time she goes to Macy's. It's a lot of fun to see how happy she is to see me in the campaign."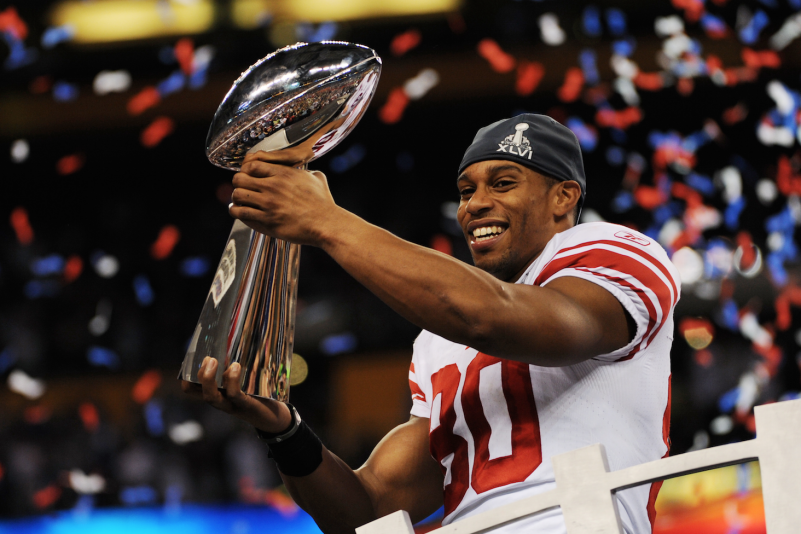 Cruz discovered his love of football at 11 years old. "I started playing football as a child and just loved everything about it — even the practice. My dad was one of the coaches, so that kept me intrigued and wanting to do it, because I loved spending time with him. Before long I realized that I was good at it — I was one of the better players. When I went to high school things escalated, and I realized that football could actually pay for my college education. I was fortunate enough to get a scholarship to the University of Massachusetts where I played for four years. When I graduated, I went undrafted [by the NFL, where a player is picked by a team]. I got on the [Giants], and I started to really excel and apply myself every chance I got," he says.
His close relationship with his father was cut short when his father committed suicide in 2007 while he was in his second year of college. This devastating event seems to be at the heart of Cruz's tenderness and empathy toward others who have suffered profound losses. Following the massacre at Sandy Hook in Newtown, Cruz honored the memory of 6-year-old Jack Pinto (who was a big fan) with a tribute on his football cleats where he wrote "Jack Pinto, my hero" and "R.I.P. Jack" at a game against the Atlanta Falcons. He gave the cleats and gloves to Jack's brother, Ben.
Victor's big heart didn't end or begin there. In 2012, he formed the Victor Cruz foundation that served to "promote positive change in the lives of youth today through innovative educational programs including S.T.E.M. [science, technology, engineering and mathematics] concepts." "We started over a year ago and partnered with Boys and Girls Clubs of America and Time Warner Cable," he ex- plains. "We have S.T.E.M. programing classes that teach robotics, electricity, engineering, design, food chemistry and aeronautics. The kids build robots like remote-controlled water-bots that swim. My foundation is geared towards having kids understand that science and math are the building blocks to a good future and education. It's a hands-on way to learn science instead of using only books, and the kids really respond to it." In June of 2014 his foundation spearheaded the renovation of the Paterson Boys & Girls Club Aquatics Center by funding the project with $500,000. It's become a thriving center for the area with swimming lessons, lifeguard training and a traveling swim team, which provide the community with a space for these activities.
Having achieved success in several branches of his life, it's no surprise that the No. 80 Giant's life motto is "Never quit." "If you reach for the moon, you got to come down with a star," says Cruz. "There are going to be things that deter you from your exact path — that make you go left and right and up and down. But something good always comes from working hard and earnestly progressing towards your dreams." This guiding principle is what he strives to impart to his 3-and-a-half-year-old daughter, Kennedy, whom he refers to as "My world." "Whatever you put your mind to, you can do. There were times when people told me I wasn't fast enough, or big enough or tall enough [for football], but I persevered through it all. I believe you can make your dreams happen no matter how people judge you. I want to instill in my daughter that idea — if she wants to be a scientist or an airplane pilot — she can do just that," he says.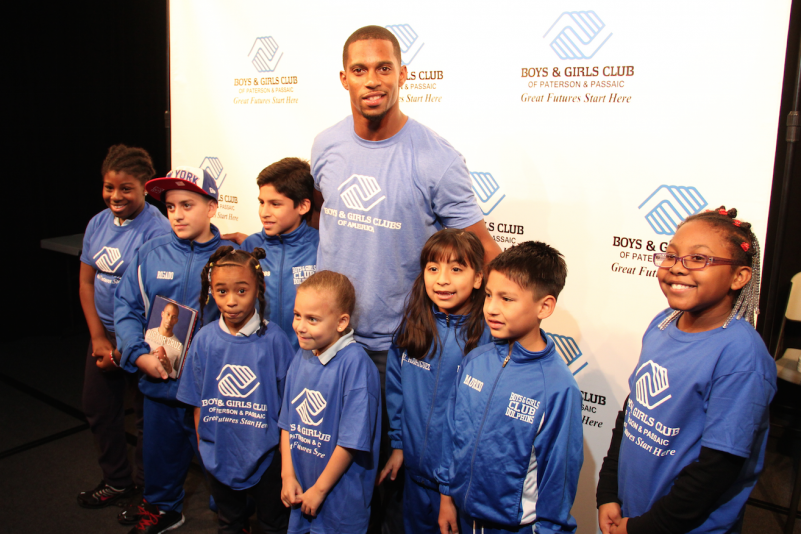 Cruz credits his high school coach with mentoring him in football and taking him under his wing after the tragic death of his father. Coach Benjie Wimberly became a second father to Cruz, and he expressed a deep appreciation for his love and guidance. The supportive environment of his childhood sparked his desire to teach and mentor those in need. "If I weren't in football, I would be a teacher — advising teens not only about the need to go to college, but also how to maintain success in your career," he says, revealing an altruistic nature. He is filled with gratitude for his blessed life.
When asked about his recent injury that had him sidelined during a good portion of the 2014 season, he recalls, "I tore my patellar tendon during a 27-0 game loss against the Philadelphia Eagles in 2014. That wasn't fun, man," he says with sadness. The driven-to-win player was said to be carried off the field in tears. "The rehabilitation process is time-consuming, and I had to be diligent with it. But it made me stronger — not only physically but mentally. I realigned my thinking and focused on things that are important like my daughter and my family. I really see a change in myself because of it. I also see ways to refocus my craft [football], so it was a blessing in disguise," he adds. Cruz is accustomed with finding the upside of a difficult situation.
Cruz is a wide receiver in more ways than just football. The Paterson, N.J. native is wide open to other cultures and craves new experiences. "I love to travel," he says happily. "I love Paris and Milan [as evidenced in his fashion jaunts]. I recently visited Japan, which was an unbelievable trip!" The half-Puerto Rican, half-African-American has family in the U.S. commonwealth and visits them often. "My [Puerto Rican-born] mom literally landed there this morning," he says. "I want to make a point to travel more and bring my daughter."
But when it's time to kick back and relax, he admits to indulging in binge- watching of TV series, which has almost taken the place of going to the movies of late. "I'm a TV lover. I like shows like Ray Donovan, Homeland and Orange Is the New Black. I just started watching Narcos on Netflix. I'm the guy that gets home and rushes to the TV and DVR to catch up on my favorite shows," he notes.
But aside from the laid-back inactivity of binge TV, he is committed to challenging himself, learning and experiencing life to the fullest. When asked where he sees himself in five years, he takes time to ponder his future. "I see myself continuing to play football — God willing," he says. "I also see myself growing in the fashion world and designing. I have a capsule collection launching with 3X1 in October—it's a five-piece denim collection consisting of two pants, two shirts and a wool jacket." The 3X1+VC collection will be ready for credit card swiping at retail outlets like The Webster in Miami, and 15 Mercer in NYC as well as online at www.3X1.us. The collection is in partnership with Farfetch.com. To kick off the launch, Cruz will be at the Soho store on Oct 27th for a personal appearance. As with all his pursuits, he takes a thoughtful, studied approach before stepping fully into that milieu. "I want to expand on the 3X1 grouping, but I'll take baby steps. I don't want to jump in before I understand how the business of fashion works— I want to study fabrics and construction, and take a unique approach to opening up my own line. Getting dressed and looking the part is something I'm passionate about. Don't be surprised if in five years you see my own brand out there," he reveals. For this ambitious football star, salsa dancer and fashion icon, this seems par for the course.
Subscribe to discover the best kept secrets in your city