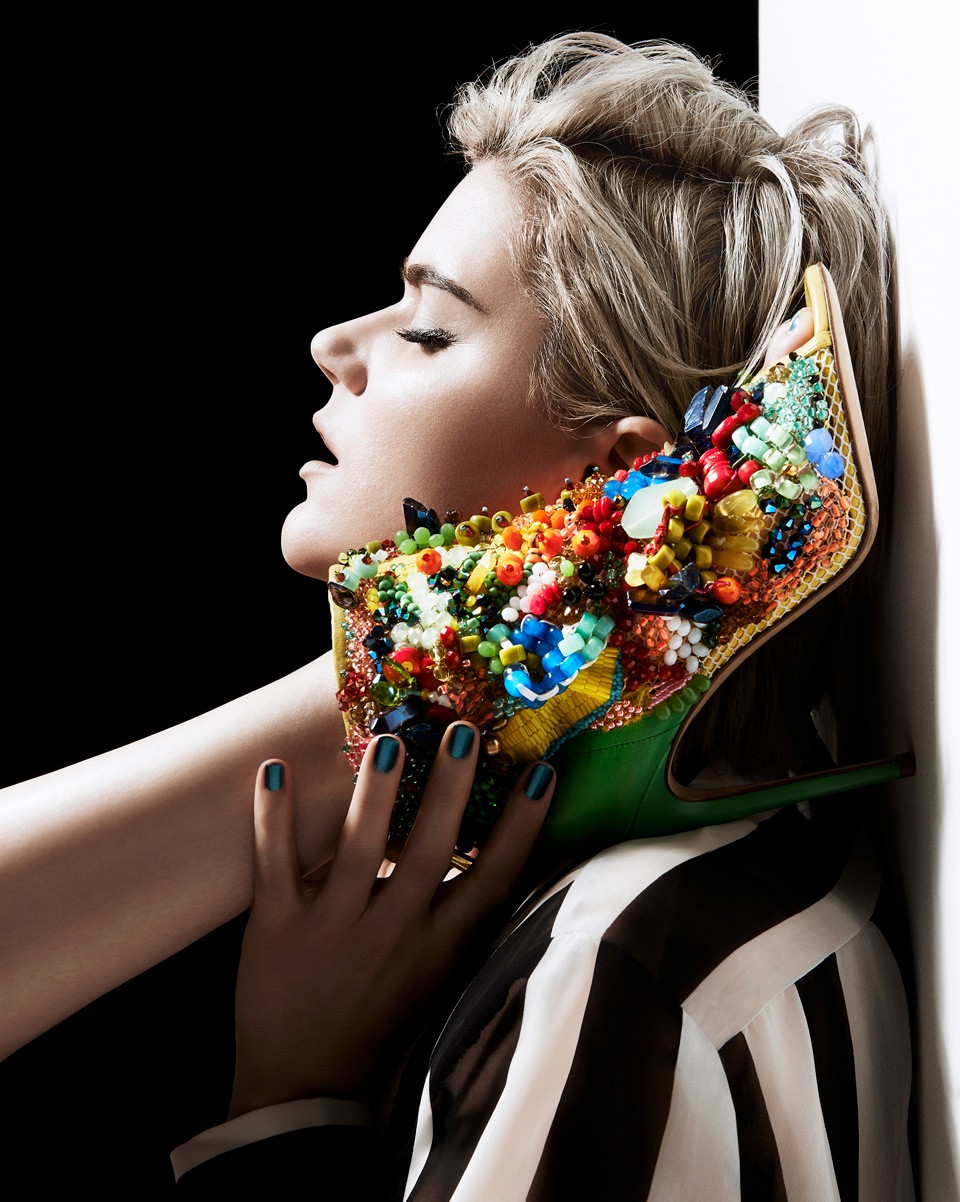 It's not every day that you meet a designer as unique, talented and surprisingly candid as shoe extraordinaire Jerome C. Rousseau. His collections are skillfully designed, from construction to embellishments, and Rousseau's point of view is strong and apparent in each of his pieces. The young designer has quickly gained a loyal following of A-list clientele, with starlets like Taylor Swift, Cameron Diaz and Katie Holmes choosing his intricate shoes for red carpet events galore. And while the collections alone are mesmerizing, to know the man behind the shoes takes what was a liking for this particular footwear designer to an all-out love affair with all things Jerome C. Rousseau.
Just last week, Rousseau traveled from Los Angeles to Miami to host two days of events with specialty shoe salon, Capretto Shoes. Here's what the designer had to say about 90s dance music, his unwavering vision for the brand and what may (or may not) be in his future.
RAC: When did you first decide to design women's shoes?
JR: I fell in love with shoes as a teenager. My passion was never fashion or Ready-to-Wear. I was watching MTV, and as a kid there were icons like Cindy Lauper and Duran Duran. As a teenager there was a band called Deee-lite, and they had a hit called Groove is in the Heart. It's an incredible song, and one of the best dance music tracks of the 90s. In the video clip for that song, the boys and the girls were wearing platform disco shoes and I thought, 'what is that?' To see them dance in them created an emotion that completely surprised me. Then, I started drawing shoes in my art classes in high school. It's that band that inspired me to start sketching shoes.
Insert: Upon writing this story, I shamelessly watched the music video for "Groove is the Heart" on repeat. That video is everything.
RAC: How did you get your start in the business?
JR: In the UK, I worked as a freelance designer for many brands and designers. When I worked with Matthew Williamson it was for a department store at the time. I worked for French Connection as well. When I moved to the US, I worked for a label called Isabella Fiore. They were making handbags at the time and doing really well with handbags, and they were also launching footwear.
RAC: Who's the woman wearing Jerome Rousseau?
JR: I like to think that the woman in my shoes is someone who could be 22 or 62, and there's footwear for a lot of women in this collection. My shoes are definitely for women that pay close attention to detail and that like shoes that are more intricate. They are women who are daring. I think my collection has a strong point of view.
RAC: Has that point of view changed throughout the years?
JR: Ultimately I think the vision for the label has remained the same, but the shoes have evolved. I've learned so much over the course of seven years and running a label. About three years ago, I began introducing styles that were a bit casual, which was new for me, but they still had an air of sophistication.
RAC: Will you ever venture into men's shoes?
JR: I am always asked this question, and I keep saying 'next year!'
Subscribe to discover the best kept secrets in your city