Photo Credit: Drew Altizer Photography
The Armory, a historic building in the heart of San Francisco's Mission, has been the setting for a lot of movies, though nothing like the kind of cinema made by the people honored at the San Francisco Film Society Awards Night on April 27. The legendary actor Richard Gere, filmmaker Guillermo del Toro,  filmmaker Maurice Kanbar and screenwriter/filmmaker Paul Schrader  were the award recipients at the swank affair that drew Gov. Jerry Brown, Nancy Pelosi and Francis Ford Coppola.
The Armory is commonly associated with being the home of porn studio Kink.com, which Noah Cowan, Executive Director of the San Francisco Film Society, couldn't help making a reference to while onstage. As he encouraged guests to make good use of the oversized pledge cards on their tables, he added, "We're not going to raise any paddles here tonight. We're going to leave that to our neighbors here at The Armory."
His line brought laughter, but it was Chris Columbus' touching short film highlighting the late Robin Williams that brought tears to the eyes of many in the room. Williams' children, Zak Williams and Zelda Williams, were in attendance and Columbus sang their praises. "Everybody in this room is going to be working for her in a few years," Columbus said of Zelda.
Just before the iconic Coppola presented Gere, one of American cinema's screen legends, the Peter J. Owens Award for excellence in acting, a four-minute clip of Gere's work was shown. "When you see a clip like you, you guys see a bunch of movies. I see my life out there," said Gere. 'I think I was 26 when I started Days of Heaven and to see that, it's pretty wonderful and emotional."  Gere took time to acknowledge Pelosi for her early work with HIV and AIDS, Tibet and human rights around the world. "I'm so deeply proud that I know her and to work with her; and you've got to be deeply proud to have her as your representative in Congress."
Prior to the event, Haute Living caught up with Gere for a chat. He shared with us that his brother David Gere, a professor at UCLA, used to be a dance and music critic for San Francisco's local newspapers, including the Chronicle. The actor has fond memories of coming up here to see Coppola when the director was trying to figure out how to make The Cotton Club. He's particularly pleased with his latest film, Time Out of Mind. "We had a screening last night at The Castro. I'm really proud of the movie and everybody that was involved in it."
In Time Out of Mind, Gere plays a homeless man who is ousted from the empty apartment where he's been squatting and tries to reconnect with his estranged daughter. "I think its possible that people can be transformed seeing this movie," Gere says. "it may be one of those things where people see people on the street differently."
We couldn't resist teasing Gere about still being a very handsome homeless person in the movie. "I had the worst haircut, scars, problems," he exclaimed.
Onstage, Gov. Brown, presented the George Gund III Craft of Cinema Award to his good friend Kanbar, the legendary entrepreneur and film producer whose support of independent film has touched so many lives. Brown said to the crowd, "Maurice is not like most of you. He's an independent thinker. He's a little bit curmudgeon. He's a contrarian. He doesn't go along with the crowd but he invents stuff. He tries things… He's not a programmed, mechanical kind of character just following a bunch of metrics. He is an original."
Event co-chairs Christine Aylward, Heidi Castelein and Victoria Raiser welcomed guests, who included Todd Traina, Kate Traina, Fred Levin, Nancy Livingston, Marisa Tomei, Willie Brown, Sonya Molodetskaya, Susan Brown, Brenda Zarate, Chris Columbus, Isabella Rosellini, Marisa Tomei, Daru Kawalkowski, Alton Irby, Don du Bain, Lora du Bain, Cameron Silver, Phillip Raiser, Alex Getty, Vanessa Getty, George Gund, Helen Hilton Raiser, Zem Joaquin, James Joaquin, Bo Lasater, Kathryn Lasater, Bernard Osher, Paul Pelosi, Lupe Puerta, Phillip Raiser, Jennifer Raiser, Sobia Shaikh, Cameron Silver, Sarah Somberg, Carlos Souza, Allison Speer, Lindsay Tusk and Paula West.
The airplane-like hangar was transformed into a lounge with black director chairs and white couches. At the reception, guests nibbled on bites from Nosh and sipped cocktails created in honor of the recipients: the Del Toro Rita (Mi Casa tequila, freshly squeeze lime juice and a hint of sweet) and the Gere Gimlet (Blue Angel vodka, freshly squeeze lime juice, mint-infused simply syrup and fresh mint). Afterward, the chic crowd sat down for dinner and the awards presentation.
Del Toro received the Irving M. Levin Directing Award and Schrader received the Kanbar Award for excellence in storytelling. The event, the highlight of the 58th San Francisco International Film Festival taking place through May 7, served as a fundraiser for the Film Society and its year-round exhibition, education and filmmaker services. NET-A-PORTER.COM generously sponsored the evening.
Afterward, some of the attendees, including Coppola and Tomei, gathered in the back room of Tosca Cafe to mingle, eat—and drink Coppola wine.
Cameron Silver, Katie Traina, Todd Traina, Marisa Tomei, Sarah Rutson, Noah Cowan
Cameron Silver, Katie Traina, Todd Traina, Marisa Tomei, Sarah Rutson, Noah Cowan
Francis Ford Coppola
Francis Ford Coppola
Katie Traina, Todd Traina
Katie Traina, Todd Traina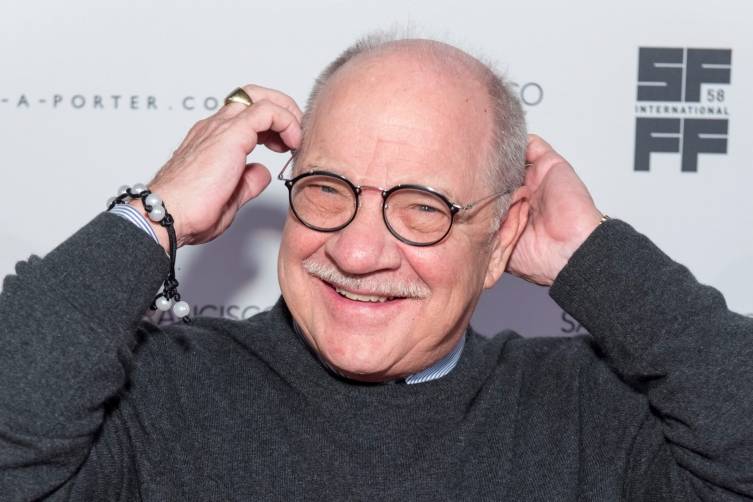 Paul Schrader
Sarah Rutson, Richard Gere
Allison Speer, Carlos Souza
Allison Speer, Carlos Souza
Cameron Silver
Cameron Silver
Bernard Osher, Hilary Armstrong, Maurice Kanbar
Guillermo del Toro, Edgar Wright, Chris Columbus
Paul Pelosi, Governor Jerry Brown, Willie Brown
Paul Pelosi, Governor Jerry Brown, Willie Brown
Christine Aylward, Victoria Raiser, Noah Cowan, Sarah Rutson, Lupe Puerta, Heidi Castelein
Christina Aylward, Victoria Raiser, Noah Cowan, Sarah Rutson, Lupe Puerta, Heidi Castelein
Marisa Tomei, Carlos Souza
Marisa Tomei, Carlos Souza
Fred Levin, Nancy Livingston
Fred Levin, Nancy Livingston
George Gund
Isabella Rossellini
Isabella Rossellini
James Joaquin, Zem Joaquin
James Joaquin, Zem Joaquin
Lauren Erlick, Lupe Puerta, Lydia Williams
Lauren Erlick, Lupe Puerta, Lydia Williams
Marc Ruxin, Victoria Raiser, Christina Aylward
Marc Ruxin, Victoria Raiser, Christina Aylward
(Photos by Drew Altizer Photography)
Subscribe to discover the best kept secrets in your city