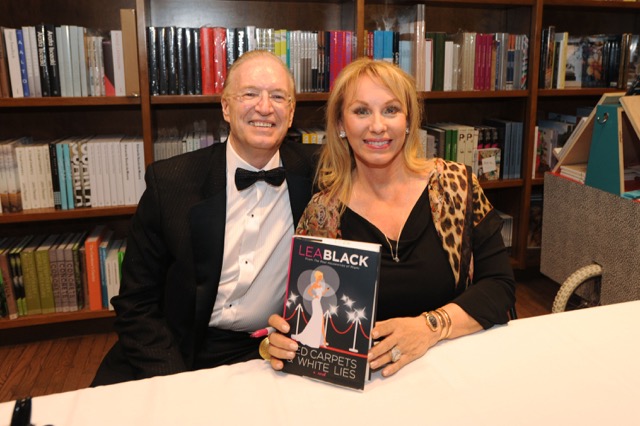 Back in the spotlight last night, The Magic City's very own reality television star, philanthropist, wife, mother and self-appointed "Mayor of Miami," Real Housewives of Miami star Lea Black has added another accomplishment to her list: author. At a book signing hosted by Coral Gables' Books & Books, Lea — who was introduced by her husband, renowned trial attorney Roy Black, and Grammy winner and friend Emilio Estefan — shared insight into the first of what will soon be a three-part book series, Red Carpets & White Lies. Shedding light on the ups and downs of high-society Miami, and the interesting people you meet along the way, Lea's book is a tell-all tale masked by fiction. If you're a Real Housewives of Miami fan, however, you might just go ahead and call it an exposé.
Before all the copies sold out, we took a minute to talk to Lea about her life, her charity work, her book, and of course, that never ending Housewives drama:
What works better for your creative process, research or drawing from experience?
"I don't like research — I like to make it up and let my facts fit the story. I start backwards! It doesn't always serve me well, but somehow, I always land on my feet."
Will people be upset when they realize they're in the book?
"Some of them will be offended because maybe I told a little more information than they wanted to hear, but if I did, I did it under a fictitious name with red hair instead of blonde, and blue eyes instead of green. I held back!"
If the book turns into a movie, who will play you?
"Well I just don't know — who's the most beautiful, fabulous and perfect woman you know? Just kidding. That's a good question! I wouldn't know, but my guess is that it would have to be a big-mouth, boisterous woman who opens her mouth one time too many, I would think."
Does the book teach a lesson?
"What I love most about this book is that all of the characters get what they deserve. And that's the lesson — we all always get what we deserve."
What's happening with "Real Housewives of Miami?"
"There's a little paragraph about Housewives in the book — but it's not from me, of course. It's from one of the characters who happens to be a Housewives fan and comments about the show and what it should and shouldn't be. And that person concluded that they should really "drain the swamp" and bring Housewives back to a fabulous group of women in Miami! But whether or not that will actually happen, I don't know."
Who inspired you to do all of your charity work?
"I heard a story one time about a kid who was on crutches because he got shot in the back in the crossfire of a feud at school. I went to support his little charity event, and was so moved that I started pulling people off the street and selling them art. The people were so grateful for every dollar we brought in that I decided to do another charity sale in my backyard. Now, twenty years later, we do it at big hotels. The bar gets higher every year."
What would you tell young girls today?
"Always remember that everything you do has a consequence. When you live by the consequence principle, everything you do matters — and when everything you do matters, your choices are different."
Red Carpets & White Lies can be purchased here for $24.95.