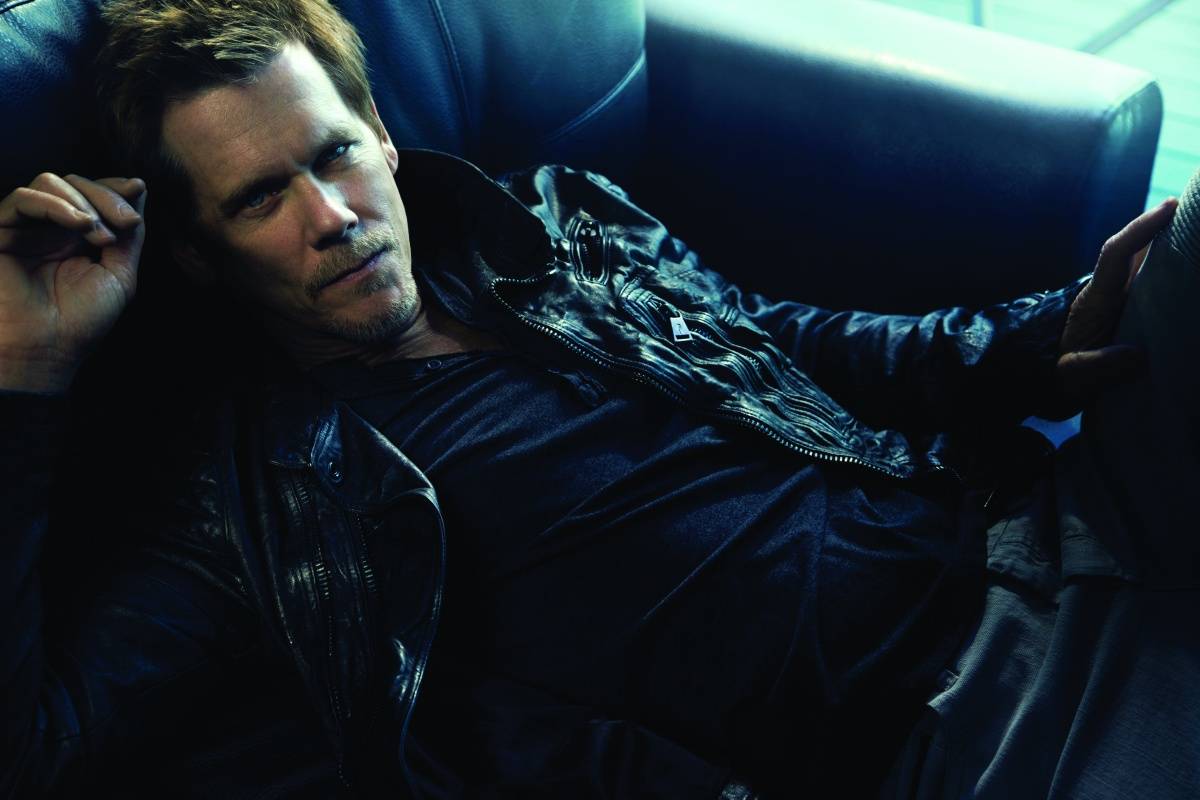 Let the record show that when Dickey Betts wrote "I was born a ramblin' man, tryin' to make a livin' and doin' the best I can," he was not, in fact, referring to Kevin Bacon. Regardless, the lyrics to "Ramblin' Man" sum up the 56-year-old thespian to a T.
"I always have a suitcase ready to go," Bacon confesses. "My wife and I are both very much like this. We're both vagabonds, and we have been since the time we were married."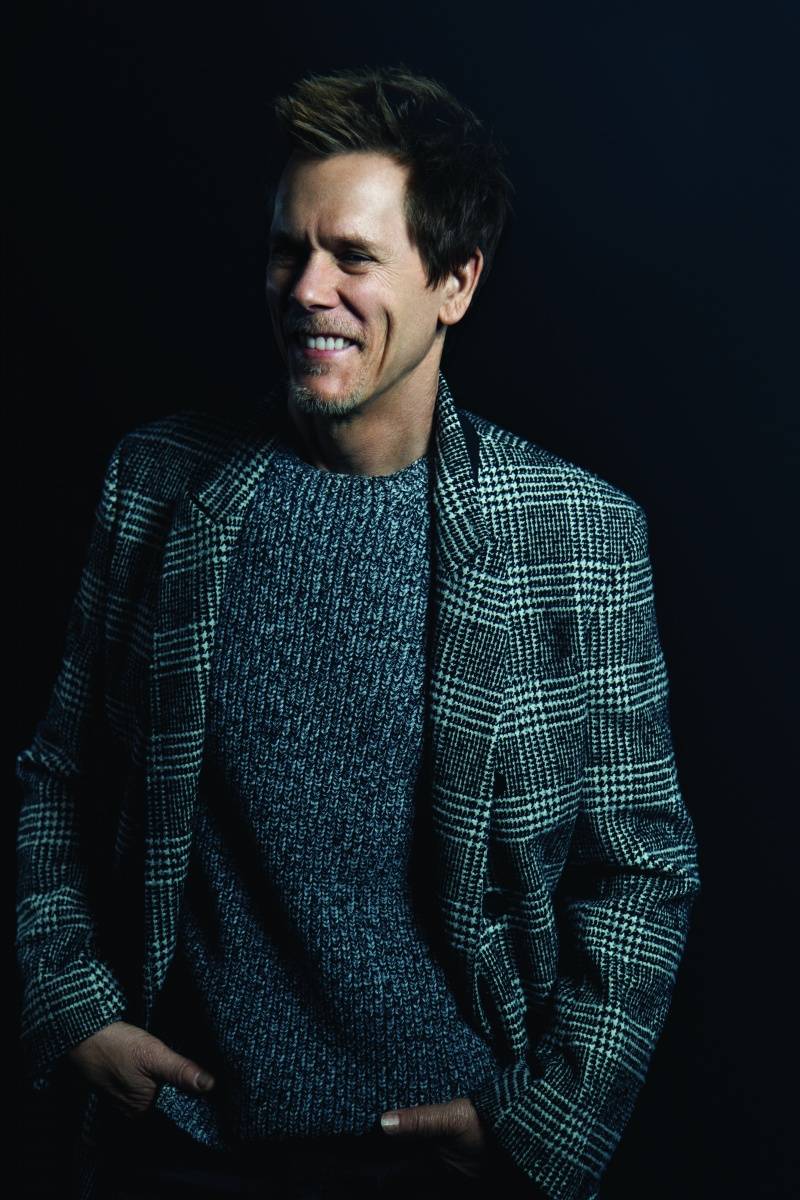 By his own admission, he is a nomad, a wanderer, a rover, and a man who, ironically, has managed to stay in one place—as a permanent fixture in the notoriously fickle land of Hollywood—for almost four decades; since breaking out in the 1978 comedy National Lampoon's Animal House, he has appeared in a series of silver-screen successes, including Footloose, Apollo 13, Mystic River, X-Men: First Class, and Crazy, Stupid, Love. Even now, he is restless: his posture shifts from relaxed and languid to anticipatorily on the edge of his seat, to thoughtful, chin in hand. He is not acting: Bacon is simply being.
Life as a movie star meant that he could essentially do as he pleased: he could shoot a film for a short period of time and travel, or work on other artistic pursuits in between projects. Television just wasn't for him. It required he stay in one place for a lengthy period of time, which, as we've already established, is not his forte.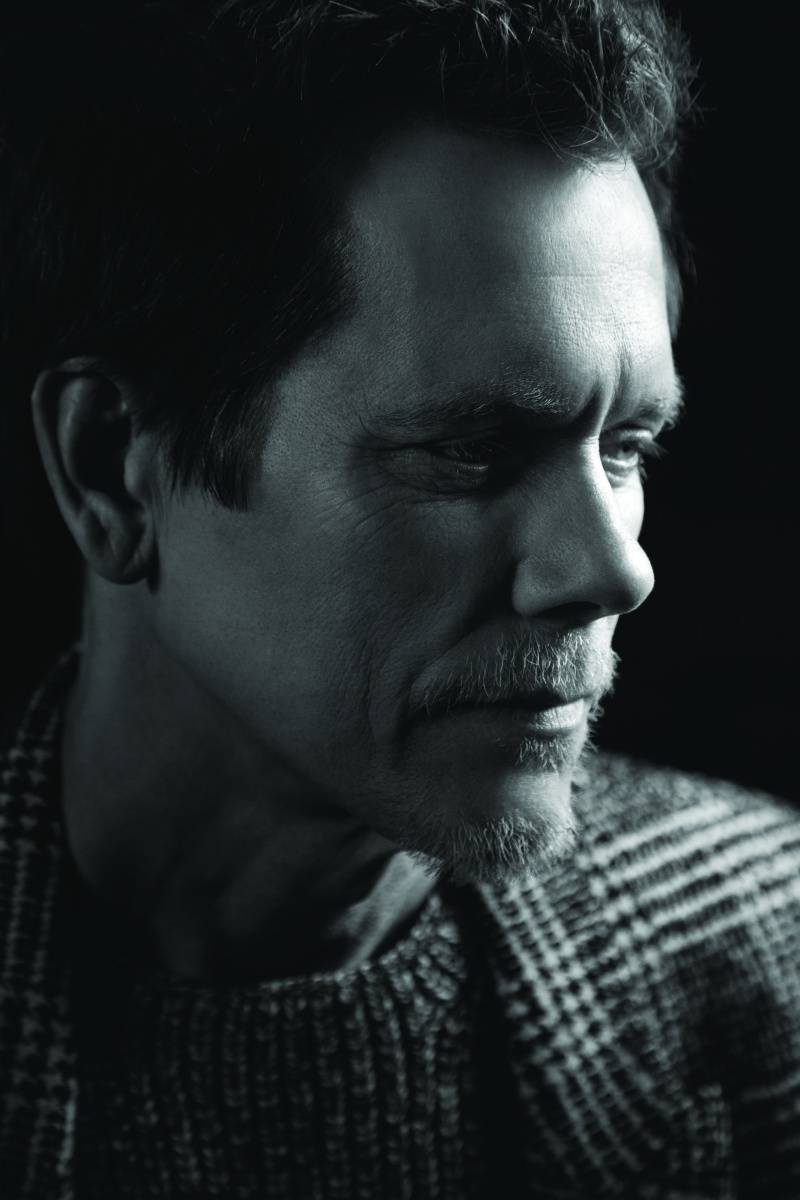 "People would say, 'Wouldn't it be nice to have a steady gig?' and I'd say, 'I don't want a f****ng steady gig! I want to do this and go here, and play this guy, and this guy, and this guy.'" He adds, "[My wife and I] are road warriors; our kids are road warriors. It's part of why I was always a little afraid of television."
There were other reasons why he was hesitant to turn to the small screen. "When I started being an actor, the last thing I wanted to do was a TV series," he confesses. "It might be hard for people to remember, but in the 1970s when I started, there were TV actors and movie actors; they weren't the same. You'd be in television until you'd be able to get a career in movies, and then you'd never look back. I wanted to do stage and movies, but I really didn't want to do television."
Bacon was so against the idea that he actually turned down two shows, including Delta House, a sitcom adapted from his first film, and a series based on his 1982 dramady Diner.
"When I was working and didn't have a pot to piss in, I was offered two series," he remembers, ruefully wondering, "Now I'm like, 'What the hell was I thinking?' I turned it around, though."
His shift in attitude was brought around by two things: his wife Kyra Sedgwick's success on her own show, The Closer, and the emergence of well-written cable series like The Sopranos.
"This is the golden age of TV. I love TV [now]," Bacon declares. "It's shifting in a really remarkable way. Creatively, it's gotten better and better. What I think happened in part was that the writers got frustrated in that, if you write a film, unless you are a massive, massive writer—and even sometimes if you are—basically the director and actors take the film away from you, and you are no longer an integral part of the process. In television, it's the opposite; the writer is the king. If the writer steps in and says, 'I don't like that shot,' the director has to give it to him. Great writing makes great television. I wanted a good, complicated part—and that's what television was offering."
He wasn't 100 percent sure which of these "great" roles might be the best fit for him personally. "I would go to a party and be sitting around with my friends, and we'd be talking about great performances like Gandolfini's [on The Sopranos] or shows like Dexter, Six Feet Under, and The Wire, and I finally thought, 'I want a piece of this. I want to be in this.' So then I started looking for something."
That "something," specifically, was cable. "With my snobbery, I was like, 'The show has to be on HBO or Showtime.' Over the course of the years, it could have been AMC or FX, but it definitely couldn't be network."
That changed, of course, as Bacon began to explore what he really wanted to do and who he really wanted to be—on TV, that is. "I was looking and developing stuff for myself to do, and I started thinking, 'What do I really want? I really want to be the good guy. I have plenty of opportunities to be the bad guy. If I'm going to do this, I don't want to be the bad guy for a few years—that would be a drag. I want to be the hero.' I wanted it to be complex, messed up, flawed, complicated hero."
And then came The Following—a smart series created by Kevin Williamson, the man behind the Scream films and successful series like The Vampire Diaries and Dawson's Creek—about an ex-FBI agent trying to capture a serial killer and his murderous cult. Flawed hero? Check. Great writing? Check. A pedigreed team and a thrilling plot? Checkmate.
"When I first read [The Following] I thought, 'This is great, because the stakes are so high.' When it's life and death in every episode, you really get a chance to sink your teeth into it. It's challenging from an emotional standpoint, but also from a physical standpoint to grab a gun and get it done."
Emotions will certainly be running high in season three if the second season's finale is any indication. Bacon's character, protagonist Ryan Hardy, has finally captured serial killer Joe Carroll (James Purefoy) and has said goodbye to his lover, Claire (Natalie Zea), effectually closing two important chapters in his life. Though Hardy is happy and healing on the March 2nd season premiere, fans should realize that nothing ever stays settled for long on The Following.
"This season I'm truly at a better place. I'm happier, Joe's in jail. I've really convinced myself that he's not important to me, and that he's really kind of out of my life. I've met the first woman who really makes sense for me. When you think about it, the wife of a serial killer—not the greatest idea. The next-door-neighbor who ends up stabbing me, and the Carrie Cook character, the tabloid reporter—are all bad choices in terms of my love life. The woman in my life this season is an ER doctor, and you'll flashback and see how we meet. She's great; she's smart, she's strong, and she's got her own life. Stuff is going well for him, for me. It being The Following, of course, things go south pretty quickly."
The emotional element of finally winning his cat-and-mouse game with Carroll will be a significant component of the upcoming season as well. "I sat with [someone from the] FBI when I was getting ready to do the show, someone who had put a serial killer in jail. You can see that while it was a really difficult and dark place to go to, it's also a tough hole to fill when you take it out. That's going to be a lot about what this season is."
Interestingly, Bacon plays law enforcement officials in not one but two of the three projects that he completed during The Following's hiatus. In Cop Car, an indie film that was purchased by Focus World after premiering at this year's Sundance Film Festival, he plays a small town sheriff who sets out to find the two kids who have taken his cop car, as it were, on a joyride. This September in Black Mass, the true story of organized crime master Whitey Bulger, he plays Charles McGuire, an FBI agent.
"I have a supporting part with a really great cast, [including] Johnny Depp, Benedict Cumberbatch and Joel Edgerton," he says of the latter. "Black Mass was an interesting part for me, because I play the boss. Again, I'm an FBI agent—in this case, running the Boston field office. I'm the guy that's pissed off at the younger agents. I've never played this guy before—I'm always the guy that's getting yelled at by the boss. It was kind of fun, but also kind of a realization that 'OK, I'm old enough to play the boss.'"
To prepare for the role, Bacon did a lot of reading; there was no one person he could personally speak to to prepare for the part, as his character is based on a combination of real-life agents. "What the FBI's involvement was and their culpability—or not—is a big piece about what the movie is about," he says, adding, "What was interesting is that originally I was based on a real guy, which I've only done a couple of times in my life, and which is an interesting challenge because you can see the guy and meet the guy, and see if there's anything you can glean from him to make your performance whole. In this case, the director [Scott Cooper] and I looked at the timeline, and he wanted me to be in that job through the '70s, '80s, and '90s, but there was no one person who was in that job for the entire time, so [my character] is a fictionalized character in a non-fiction movie."
Unfortunately, Bacon had his own brush with a real life crime figure: he and his wife lost millions of dollars in Bernie Madoff's 2008 Ponzi scheme. "It was a bad day, an absolutely horrible feeling, but you roll up your sleeves and get back to work," he says now of the horrific time in his past, continuing, "There was nothing that I had at that point that my wife and I hadn't worked very hard for. We kind of said though, 'Well, our families are OK, the kids are healthy, and we're healthy; we'll get back to work.' What else are you going to do? There are a lot of people who had it a lot worse than we did."
Given that Robert De Niro is developing a film for HBO based on Diane Henrique's bestseller Wizard of Lies, Bacon acknowledges that it would be divine justice if he had a hand in the project. "[I'd consider a role] if the part was good, if the gig was good. It would actually be sort of a great, full circle thing if I got paid to be in a Madoff movie—that would be perfect."
Now that he's feeling more comfortable, Bacon has a confession to make, one that he really hopes won't destroy his street cred: the man absolutely loves L.A.
For a guy that has spent most of his life in Manhattan and who only stayed in the City of Angels by force (re: a film commitment of his own or his wife's TV show), admitting the truth wasn't easy—but there you have it. He's just as much an Angeleno as he is a New Yorker.
"For my wife and I, for so many years, a lot of our identity was based on being Hollywood haters. We were like, 'We're east coast. We're New Yorkers. This is just a place that we have to come to, but not by choice.'" Seven years after The Closer brought Bacon, Sedgwick, and their family to Los Angeles, however, they started singing a different tune.
"We had a giant shift in our lives. We were about to leave for the last time—Kyra was done with the show and we were packing up to go. Over the course of seven years, even if it's just for six months of the year, you put a lot of roots down. More and more of our family had moved out here; my daughter, nieces and nephews. Over the years, we had made our way further and further east [in L.A.] and as we were leaving, we went, 'Shit. We're really going to miss this.' We were having a conversation and Kyra said, 'I'm really going to miss this.' I said, 'I'm really going to miss this too.' So I called up a real estate broker and found a little house that was literally steps away from the last place we were renting, and now we're truly bi-coastal. We have realized that we love [Los Angeles] and have really embraced it."
Don't worry though: Bacon isn't suddenly going to lose his Manhattan edge and exist only on a diet of green juice and yoga anytime soon.  "We still love New York," he swears. "I moved to New York when I was 17; my wife grew up in New York. I shoot the show in New York. It's still a giant part of our lives, but we also have undeniable roots here, and have come around to admitting the fact that we really do love it here."
He'll also be the first to admit that life in Los Angeles is, indubitably, better if you're a celebrity. He tested this theory a few years ago by commissioning a Hollywood makeup artist to make him a prosthetic disguise that would render him unrecognizable to fans. The cover-up worked: after an afternoon pretending not to be Kevin Bacon at The Grove, he came to some finite conclusions about fame.
"I always have to make it as clear as I possibly can that fame is 99.9 percent good," he says now. "First off, I've always said before that there are two kinds of actors: actors that want to be famous, and liars. You don't become an actor because you want to hide in the shadows. When you sign up to be an actor, what you really sign up for is to act. On the other hand, you also don't do it in a vacuum: you do it because you want to people to see it. You're born to get in front of people, whether it's on the screen or on the stage; you're born to have people look at you and absorb you. I remember when I was a tiny little kid walking into the room thinking, 'I hope that everyone is going to see me' before I even knew what an actor was."
He's had more practice dealing with being recognized now after nearly 40 years in the industry. "All day long people say 'I love you!' at random. 'Beep, beep Kev—I love you!' What the f**k is wrong with that? That is amazing. People give you free shit for no reason, open doors, put you at good tables in restaurants, give you tickets to shows. Come on, to complain about it…
"That being said," he continues, "it's a weird thing to never be able to leave the house without having someone look at you, judge you. 'You're taller than I thought, uglier, older, fatter than I thought.' One of my favorite quotes that someone said to me is, 'You look so much better in person than you do in real life.' It makes no sense right?"
There's always that point one percent though that makes being famous a bummer, but Bacon tries not to dwell on it. "When people's privacy is invaded in despicable ways, I find that it's difficult. It's a double-edged sword."
In conclusion, the experiment was beneficial, as it made Bacon fully appreciate what he has. "When I did the prosthetic makeup thing, it was almost disturbing to me. People kind of looked right through me and weren't nice to me. It didn't feel that good, to tell you the truth. I've had [fame] for so long that I almost can't really get my head around what my life would be like without it."
You certainly can't fault Bacon for liking fame. He's truly a good guy, and, as such, uses his fame for good as well. In 2007, he launched SixDegrees.org, an organization that he refers to as "social networking with a social conscience" based on the popular parlor game "Six Degrees of Kevin Bacon"—which revolves around the idea that any two people on Earth are six or fewer acquaintances apart. The organization celebrated its 20th anniversary in 2014 by announcing plans to connect local influencers and change-makers with celebrities who might "drop in" to promote a cause.
"I was just trying to do more, give back a little more, and find new ways to make some kind of impact," he says of his charity. "I didn't know much about the philanthropic world when I started, so it was a real education. Now we're focusing on trying to build a network where celebrities can connect with smaller grassroots charities. There are a lot of big and important causes: I'm more interested in the smaller mom-and-pop things. Our idea is that [a celebrity] is on the road shooting a movie or playing with a band or sports team, and he or she can do these drop-ins, make these connections with small groups, take a couple of pictures and Tweet about it, and bring some recognition to people who are out there doing hard work."
Someone who deserves said recognition is Bacon himself: he is widely considered to be one of the best actors to have never received an Academy Award nomination, a fact of which has not escaped his notice. "I go back and forth on it," he admits. "I kind of feel like, 'What am I doing wrong?' Sometimes I think, 'You've just got to let yourself off the hook about it.' I'm still able to make a living being an actor, and that is a tough thing to do for as many years as I've done it; I feel good about that. As much as I would love to have any kind of statue that I could, when people tell me they love the show [it's enough]. If you could bottle that or put that on your mantle…
"The awards do afford you opportunities, and that would be something that would be nice to crack," he continues. "When studios are putting together financing for a movie, they would love nothing better than something that says, 'Oscar-nominated' or 'Oscar-winning.' Those kind of things open up more doors, and that's really what you want to do as you get to be my age—you want to keep doors open."
Given how little he sits still and how hard he works, this doesn't appear to be a problem for Bacon who, as he gets older, has learned to appreciate the smaller things in life. He still dreams of taking his wife to Morocco, but is happiest just hanging out with her at home. He is the guy who may be restless, but channels it in a constructive way, preferring to work on a plethora of projects in his off-season (including playing music with his brother Michael in their band, The Bacon Brothers). He is the man who is quick to credit Footloose for his rise to fame, but who will readily admit to paying off DJs so that the film's title track won't get played at parties.
"I'm more of a 'What am I going to do today when this finishes?' kind of guy," he notes. "In my day-to-day life, I'm thinking less about winning the Super Bowl and more about moving the ball down the field."
Subscribe to discover the best kept secrets in your city