Photo Credit: Drew Altizer Photography
The most fashionable place to be in San Francisco this week has been the  Legion of Honor. On March 11, an exclusive black-tie dinner was held for the major donors and sponsors of High Style: The Brooklyn Museum Costume Collection. The following evening, a bevy of stylish San Franciscans flocked to the museum for a private opening reception and preview of the exhibit, which opens to the public on March 14 and runs through July 19, 2015.
The formal-attire evening was hosted by Dede Wilsey, president of the Board of Trustees, and Colin B. Bailey, director of the Fine Arts Museums of San Francisco. VIPs and guests were treated to a welcome cocktail reception, exhibition preview and a seated dinner in a tent under the stars.
Event sponsor de Grisogono displayed eight cases of one-of-kind jewels that enhanced Lewis Sykes' vintage black and white décor. McCalls treated guests to a three-course meal featuring wine provided by Cultivar Napa Valley. In addition to Wilsey and Bailey, also on hand were de Grisogono Founder and CEO Fawaz Gruosi, Carl and Yurie Pascarella, Harold Koda, Jan Glier Reeder, Jill D'Allesandro, Vanessa Getty, Trevor and Alexis Traina, Dagmar Dolby, Jan Shrem and Maria Manetti Shrem, Greg and Charlot D. Malin, Elisa Stephens, Allison Speer, Joy Venturini Bianchi, Barbara Brown and more.
Dede Wilsey, Colin Bailey and Vanessa Getty
Giovanni Mattera, Maria Manetti Shrem, Fawaz Gruosi, Jan Shrem and Stacy Taylor
Sabrina Baldieri, Giovanni Mattera, Danielle Boutros, George Boutros, Denise deLuca and Allison Speer
George Boutros, Charlot D. Malin and Gregory Malin
Alexis Traina, Fawaz Gruosi, Allison Speer and Trevor Traina
Fawaz Gruosi and Barbara Brown
Carl Pascarella, Yurie Pascarella, George Boutros and Danielle Boutros
Fawaz Gruosi and Joy Venturini Bianchi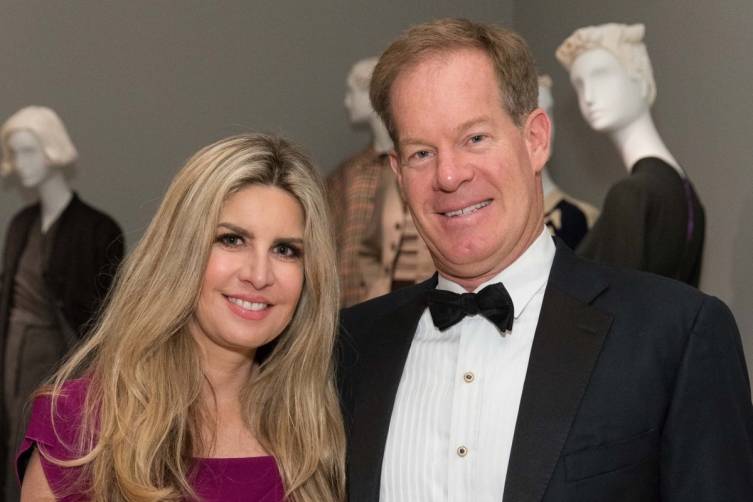 Suzanne Levit and Carson Levit
Photos by Drew Altizer Photography
Cocktail attire was on tap at the March 12 event, where there were lots of oohs and aahs from the chic guests as they viewed the exhibit of gowns, accessories and other looks by the most influential designers of the last one hundred years—including Chanel, Givenchy, Dior and Charles James—that trace the evolution of fashion in the 20th century.
Bailey and Wilsey welcomed back Speer, Venturini Bianchi, Brown, Sykes, along with Todd and Katie Traina, Eric Petsinger, Karen Caldwell, Michael and Marilyn Cabak, Giselle Parry, Jessica Hickingbotham, Navid Armstrong, Lorre Erlick, Karen Kubin, Patsy Lurie, Teresa Rodriguez, Nadine Weil and Victor Vargas and many more—to the well-attended event, which included a cocktail reception held in three courts and galleries. After sipping libations and noshing on finger food, guests headed downstairs for the exhibition, an exclusive west coast presentation and mounted in conjunction with the Cincinnati Art Museum, and two separate 15-minute lectures by Koda, curator in charge at The Costume Institute of The Metropolitan Museum, Glier Reeder, the High Style curator.
The collection, a landmark exhibition of fashion masterworks from the Brooklyn Museum Costume Collection at The Metropolitan Museum of Art, displays 65 mannequins dressed in a wide range of pieces, alongside 35 accessories, such as hats and shoes, and related fashion sketches. In addition to the aforementioned designers, significant looks from French couture houses include designs by Jeanne Lanvin, Madeleine Vionnet and the iconoclastic surrealist designer Elsa Schiaparelli. Additional attention is given to the pioneering generation of American women designers working in the 1930s through the 1950s, such as Bonnie Cashin, Elizabeth Hawes and Claire McCardell, and their male counterparts, including Norman Norell, Mainbocher and Gilbert Adrian.
Photo Credit: The Metropolitan Museum of Art
A section of the exhibition devoted to James includes 25 objects—nine ensembles, 12 sketches and five prototype muslins that illuminate the technical mastery behind James' highly constructed gowns. The dress that drew a crowd was his "Clover Leaf" ball gown from 1953 and made of silk satin, faille and shantung with lace. This piece of art that is as dazzling in the back as it is from the front is positioned in a glass box that allows museum visitors to walk 360 degrees around it, ogling it from every angle.
"This dress weighs 10 pounds," one woman said to her male companion before going on to explain how James designed the dress so it wouldn't feel so heavy to the wearer.
Clearly this was not only a stylish crowd but an educated one as well.
Also drawing lots of attention: this 1949 tiger-striped silk ball gown by Adrian.
Photo Credit: The Metropolitan Museum of Art
Also overheard: a woman, chatting with her friend while standing in front of a darling Coco Chanel black cocktail dress from 1965, noted the dress came from a time "when you could actually afford Chanel."
Schiaparelli's area includes designs with butterflies, a symbol of transformation and an ubiquitous motif in her work, and jewelry. One piece of jewelry that generated plenty of responses was Schiaparelli's 1938 surrealist necklace of brightly colored tin insects.
Photo Credit: The Metropolitan Museum of Art
As admirers snapped photos of Schiaparelli's creations with their cellphones (#centuryofstyle), one man quipped to his female companion, "Oh that belonged to Michael Jackson," as they stood in front of a glass encased, glitzy Schiaparelli evening jacket highlighted with gold and silvery strip embroidery and rhinestones from 1937. While this gentleman may not have fully appreciated the talents of this Italian designer who started her design career in France, hundreds of others on hand this evening most certainly did.