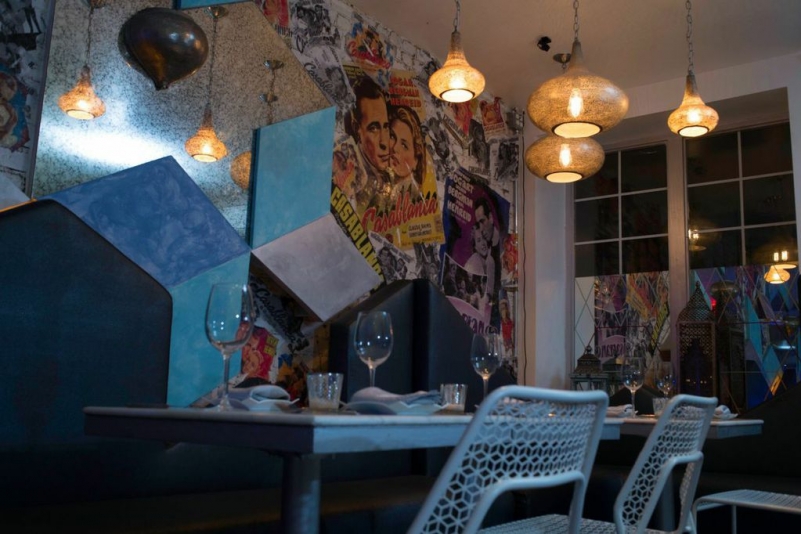 Mediterranean cuisine has gained a lot of popularity over the past couple of years. Even though they seem to have popped up in almost every street corner, it's still pretty difficult to find one that is worth your time and money. Here are a few suggestions that will make things easier the next time you're on the hunt something a bit more European.
Casablanca
A bit off the beaten path of where one would spend their Friday night in the Lower East Side is a real gem of a spot called Casablanca. Casablanca is as quaint as the block it's located on, and you will feel that instantly upon entering. The recently opened French Moroccan restaurant/hookah lounge is dimly lit with exotic lanterns, and the calming music really puts you in the mood for the intimate evening that is sure to follow.
Created by Amar Patel, the blue palette laden eatery also features a couple of posters of the 1940's classic of the same name, which the restaurant pays homage to. The second you step foot in the establishment you are greeted by their kind staff, shown to your seats and presented with a menu. The carte du juor features many authentic Moroccan items including merguez and vegetable stew with poached egg, yam and beluga lentil casserole seasoned with coriander and cumin, and zucchini cakes with preserved lemon yogurt sauce. All meals are prepared by esteemed chef Wesley Wobles, who has led kitchens in and around New York and Paris including Porter's New York, The DL, Café del Mar, Sugar Hill Bistro, and the Au Caveau Montpensier kitchen.
The hookah itself was something to behold. Coming in a huge glass bowl (which is quite rare as far as hookah bars go) there were quite a few flavors to choose from. Banana Split, Sex on the Beach, and even Sour Patch Kids were all on the menu but I settled on Skittles and let me just say…it tastes JUST like Skittles. Amar was even kind enough to check up on the hookah every now and then to see if it was still burning properly, as well as have a few words with my party and me. With service like that it's no wonder Amar was successful in opening Long Island's first hookah lounge, Fire and Ice Hookah Lounge, as well as providing hookah supplies for private events and celebrities such as Drake. He was even kind enough to see if we wanted refills on our margaritas, which were perfectly prepared by their master mixologist Sonny Nelson. casablancanycfesdown.com
Pergola
Located in the Flatiron District, Pergola is a Mediterranean restaurant with a lot to offer. Executive chef Nestor Moina pulls no punches with a diverse menu that really showcases Mediterranean cuisine. Fattoush salad, wild salmon with honey glaze, grilled asparagus, and a root vegetable puree, and a lamb burger aptly called the Pergola Lamb Burger which is served with a heirloom tomato, arugula, spicy aioli, hand-cut garlic lemon fries, and crumbled feta.
There are some small plate options such as salads, falafel two ways, and chargrilled octopus. Some of the larger plates include grilled prawn with tomato ouzo sauce, short ribs, and a slow roasted and thinly sliced shawarma. Plenty of vegetarian options as well as a wide selection of teas are available if you're looking for some healthier choices.
Mixologist Scott Fitzgerald (formerly of Mulberry Project) concocted a signature cocktail list that only adds to the appeal of Pergola. Some of his featured drinks are the Jalisco Rose (resposado tequila shaken with amber agave, apples, rosemary and lime juice), Spearmint 75 (vodka with lemon, torn spearmint, agave, lemon rind and a splash of Prosecco), and Lavender-Lime Collins (gin with lime juice, Luxardo maraschino and lavender-violet liqueur with soda and a mint bushel of thyme). Any of Scott's cocktails go great with hookah, which you can get in 12 different flavors. pergolanewyork.com
Haven Oasis at Haven Rooftop
The Sanctuary Hotel, winner of the International Hotel of the Year at the European Hospitality Awards and honoree of the Certificate of Excellence by Trip Advisor, houses a remarkable Moroccan themed restaurant high above New York called Haven Oasis at Haven Rooftop. The rooftop restaurant offers weekly entertainment such as belly dancers and electric violinists with a menu that would catch your attention just as much.
Owners Brandon and Hank Freid not only presented a new look but some mouthwatering menu items as well. The seasonal menu blends Moroccan flavors with some of their new signature dishes. Seared lamb chops with tomato, parsley and fine herbs, shrimp curry over rice, and hummus pizza with parmesan, goat cheese, shredded mozzarella, chives, and white truffles oil are some of the eclectic menu items that you'll have to choose from as you admire the Moroccan carpets laid throughout the rooftop and the palm trees on every corner. Award winning mixologist Isaac Grillo pairs dishes flawlessly with carefully crafted cocktails. Be sure to give the Moroccan Old Fashioned (Woodford Reserve Bourbon, green tea and mint), Sahara Kingdom (Jameson Black Barrel, Fig and Cassia) and Desert Rose (Absolut Vanilla, Prosecco, Lime and Rose Nectar) a try.
Open seven nights a week, Haven Oasis is an ideal spot for a romantic date, nightcap with friends, pre and post theatre dinner, as well as lunch. With a stunning view and nightly music, Haven Oasis is the perfect name for this Moroccan refuge. sanctuaryhotelnyc.com
Subscribe to discover the best kept secrets in your city