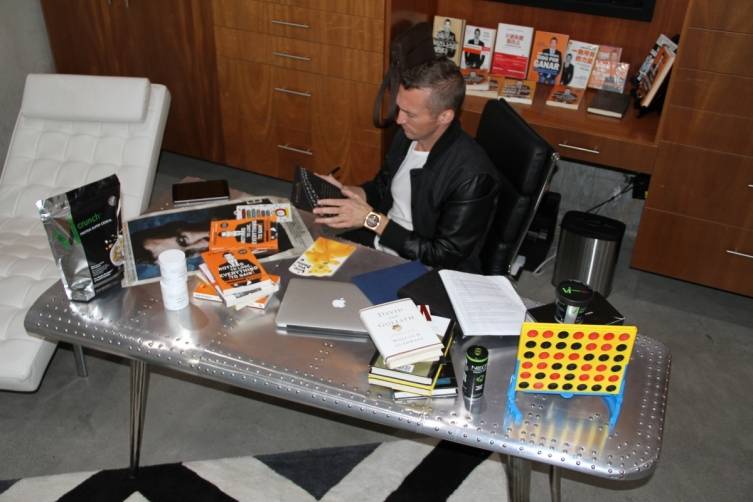 Ryan Blair is a former gang member turned serial entrepreneur and self-made millionaire, who had nothing to lose and everything to gain. At just 21 years old, Blair founded his first company, 24/7 Tech, which marked the start of a career that would eventually name him 2012's Entrepreneur of the Year by Ernst & Young. Now 36, Blair has founded and sold numerous businesses for hundreds of millions of dollars. In March 2013, he released the paperback version of his #1 New York Times Best Seller, Nothing To Lose, Everything To Gain: How I Went From Gang Member To Multimillionaire Entrepreneur. Uncensored and raw in his account of growing up in the face of adversity, Blair effectively imparts lessons learned from obstacles faced and provides a road map for entrepreneurial success.  Following the success of his book, he then debuted Nothing To Lose: The Documentary last April. His biggest endeavor yet has been the overhaul of ViSalus, the company behind the Body by ViTM 90- Day Challenge, a weight and fitness transformation platform. In 2008, as CEO, Blair went all-in, personally investing his last million dollars on a new business model that would later revolutionize the 118 billion dollar direct selling industry. In just 21 months, ViSalus went from 600,000 to 30 million dollars in monthly sales. In 2011, they increased sales seven-fold from 34 million to 231 million dollars and today they are currently valued at over 600 million dollars. Phew! We're exhausted just writing this. Take a look at where this innovative and unconventional entrepreneur comes up with his million dollar ideas.
Connect 4 

– When I interview potential employees I use the

 "Connect Four Technique." A simple game to challenge potential applicants, which really allows you to find out a number of things about a person. Not only do you see how they strategize, but you get to learn their level of competitiveness and sportsmanship.  When hiring new employees, or deciding who I want to go into business with, I'm looking for people who aren't afraid of a challenge.
Vi Crunch – Because I work long hours and want to remain fit, I eat snacks while I work.  My son, Reagan, inspired ViSalus' Vi Crunch cereal. My son has autism, and it has always been difficult to get him to eat and even more difficult to get him to eat healthy meals. The foods he wanted us to prepare for him were high in sugar and low in nutrients. I wanted a cereal I could feel good about serving to my son. Reagan and I taste tested bowls and bowls of cereal together, and when he gave me two thumbs up, I gave our scientists the same. With 12 grams of protein and 5 grams of prebiotic fiber, Vi Crunch is an excellent source of fiber and antioxidants that are low fat, low sodium and no cholesterol formula that's healthy for you. There's no artificial sweeteners, colors or preservatives and a great snack option. Keeping Vi Crunch on my desk reminds me of my relationship with my son and, when I'm in between meetings, or just finished with a workout, eating Vi Crunch gets me through the day.
Nothing to Lose, Everything to Gain Books – My first book, Nothing to Lose, Everything to Gain was a New York Times 

bestseller and has been published in 12 countries. As a result, I frequently sign books to my readers.
Subscribe to discover the best kept secrets in your city