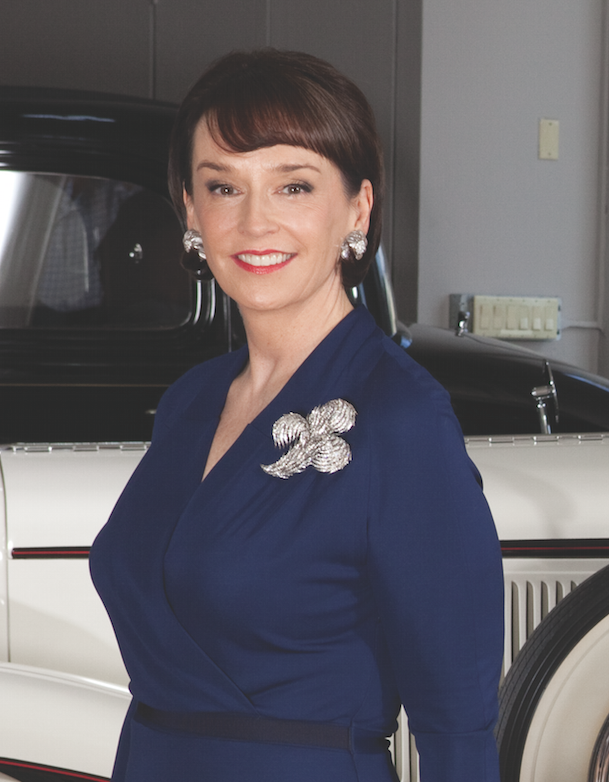 Dr. Elisa Stephens works from an office filled with prized possessions: photos of her family, student art works, books on design—and a large mounted firefighter axe. An axe? It was a gift from San Francisco Firefighters Local 798 in appreciation for all the scholarships AAU has given to children of the SF Fire Department. Last fall, the union named the Academy of Art University President its "Community Hero" for providing a rent-free home for its Toy Program and storage for dozens of vintage fire vehicles. These benevolent acts are typical of the civic-minded San Francisco native, who is as equally at home with haute couture designers—they visit her School of Fashion regularly—as she is the mechanics of the university's automobile museum. Her family has presided over the university for three generations, having been founded by her grandfather, Richard S. Stephens, in 1929. Since 1992, she has held the title of president at the school, where she increased enrollment by redefining art-based education and offering online degree programs. This year, she'll launch a costume design program and the school's first BS degree in game programming. Here's how this educated fashionista navigates her days.
6 a.m. I make sure my son [Richard Conlon]—who turns 10 this month—is up, getting dressed and fed. I eat a hot breakfast every morning: two poached eggs and bratwurst. I drop Richard off at school three or four times a week, and then I work out. I train with Mallory Gaston at Body Mechanix, and we do an intense hour of Crossfit and TRX. It's murder! I alternate days of cardio on my own.
9 a.m. In the office I do a lot of texting. I probably use it as my primary source of communication; second is the phone and third is email.
10 a.m. I try to check in with various art directors and vice presidents in different locations. I just go by and see how they're doing. It's like running a restaurant a little bit: you've got to be there to see what's going on.
12:30 p.m. I do business lunches. Boulevard is my go-to lunch spot. Their menu changes often, and they source their ingredients locally, which is great. They have a wonderful host [named] Kathy King. I've known her forever. It's always a friendly welcome.
2 p.m. I'm back in the office. A lot of times I'm interviewing new artists or directors to work or I'm looking at portfolios. Yesterday, Chrysler was in and the industrial design program—our car design program—presented at the Academy of Art University Automobile Museum. Chrysler was most impressed with what they saw. The industry is acknowledging us, and that's valuable for the students. It reaffirms that we're on the right track.
6 p.m. I'll go home and have dinner. During the week I'll make sure my son is eating properly. He's in bed by 8, reads from 8 to 8:30 and then it's lights out. We have a lovely little dachshund, Schatzi. She and my son sleep together.
8 p.m. I sometimes go back out. We often have people coming in to talk to the students. Blizzard Entertainment, the video game company, was just here for a panel discussion. I took them out after their presentation and learned more about where the gaming industry is going.
9:30 p.m. Even if I get home late, I always read. I'm a big murder mystery, English mystery and American mystery fan.
10:30 p.m. I try to be [asleep] by 10:30 or 11 p.m. and then there are times I'm burning it at both ends.