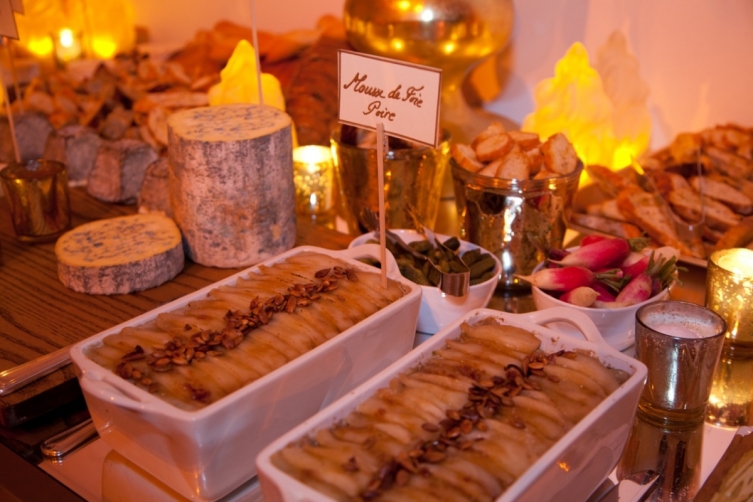 Le Basque has been South Florida's go-to caterer for events that need a certain je ne said quoi since 1991. Created by Alejandro Muguerza, who is from it's namesake region, incorporates regional Spanish, French and continental fare into their offerings.  Le Basque is loved by fashionable brands such as Cartier, Yves St. Laurent and Harry Winston have all had Le Basque cater their elegant affairs as have world rulers like President Barack Obama, Hillary and Bill Clinton and the King and Queen of Spain, Don Juan Carlos and Doña Sofia de Borbon. recipes might just be fit for your holiday guests as well.
He suggests pulling out your best crystal and china, while keeping centerpieces simple. Think French Limoges porcelain in white and gold, crystal goblets and ormolu candelabras to serve Christmas dinner à la Français. So print off the recipe and hand it off to your staff or channel your inner Martha Stewart and challenge yourself with the following four course dinner.
Appetizer: Mousse de Foie with Caramelized Pears
Mousse de Foie
1 grade A Foie Gras
1 1/4 cup of red wine
1/2 teaspoon of thyme
1 medium sweet white onion chopped 2 shallots chopped
salt to taste pepper to taste
Caramelized Pears
4 each Anjou pears peeled
1 bottle of white wine (of choice) 1 cup brown sugar
3 each star anise
1 vanilla bean split
1/2 cup pumpkin seeds (toasted) maldon salt
Demera sugar
INSTRUCTIONS:
Mousse de Foie: Slice Foie gras in 1/2 slices. Then sprinkle the chopped thyme. Sauté in a heavy sauté pan at medium temperature, one minute on each side. Remove Foie from pan. Add red wine and reduce. Sauté onions and shallots in the foie drippings. Once golden, remove and cool slightly. Put all ingredients in a food processor. Process until smooth, then add salt and pepper to taste. Put in a terrine mold and cover tightly and refrigerate for 24 hours to fully develop flavors.
Caramelized Pears:  Place white wine, brown sugar, star anise, and vanilla bean in a sauce pot and reduce until a caramel consistency. Then add pears and poach until fork tender. Once pears are ready, cut slices and shingle on top of foie mousse. Sprinkle Demera sugar on top of pears with a bit of maldon salt and torch until caramelized. Garnish with toasted pumpkin seeds and serve.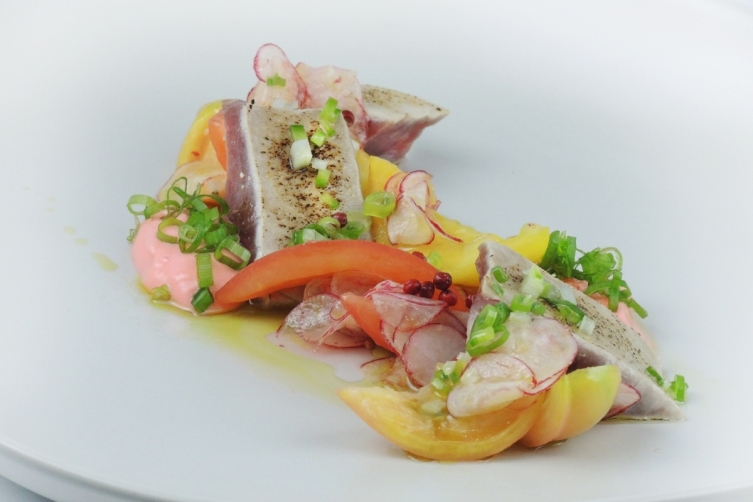 First Course: Marinated Bonito, Confited Heirloom Tomatoes, Spring Onion Basque Vinaigrette and Tomato Yogurt
Tomato Yogurt
In a quart container place one tomato and yogurt and with a hand blender whip ingredients. Once well blended add remaining ingredients.With the hand blender slowly emulsify the ingredients together. Once at airy consistency, cover and refrigerate until use. (can hold up to 2-3 days). Save the other tomato and cut in 6 wedges for plating.
Bonito and Marinade: n a medium bowl, add all ingredients except bonito. Once mixed add bonito to marinade.After 10-15 minutes remove bonito from marinade. In a small cast iron skillet, sear bonito for 30-45 seconds on each side and remove. Cool and reserve
Vinaigrette and Tomatoes:  In a small bowl add ingredients (except green onion), and seasoning, whisk together. Add tomatoes and vinaigrette in a bowl. Toss the tomatoes and set aside.
To plate:
On a white dinner plate, place 3 wedges of marinated tomatoes. Next cut bonito in half and place 2 pieces and garnish with vinaigrette, scallions and sliced radishes.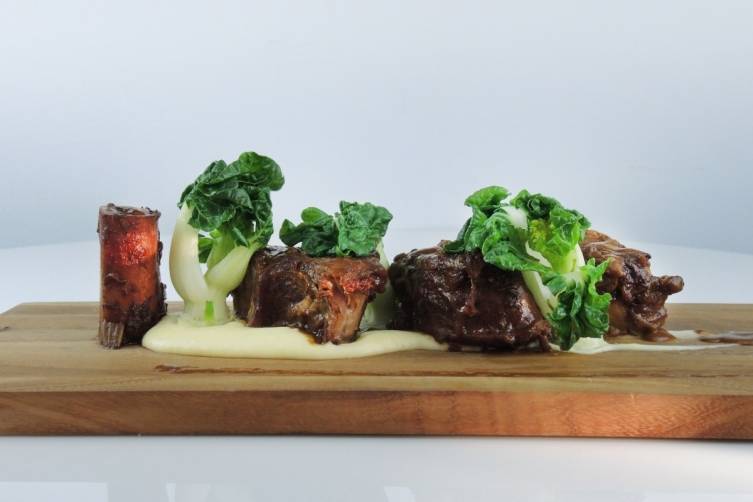 Main Course: Ossobuco Teriyaki
4 each Ossobuco
1 cup flour
1/4 cup blended oil
1 yellow onion cut in 6 pieces 1 jumbo carrot cut in 6 pieces 2 celery sticks cut in 6 pieces 2 qts beef stock
2 bottles of red wine salt to taste
pepper to taste
1 oz teriyaki
Cream of Potato
3 potatoes cut in cubes 1 cup 1/2 and 1/2
3 oz salted butter white pepper to taste
Bok Choy
12 Bok Choy
salt to taste
2 qts water
1/2 oz melted butter
DIRECTIONS:
Ossobuco:
In a large saute pan, heat 1/8 cup of blended oil. Drench the Ossobuco in flour, salt, and pepper. Once oil is hot, seal the meat until brown on every side. Set aside into an oven safe deep pot. In a separate sauce pot, add the two bottles of wine and reduce it by half with 1/2 the bunch of parsley and 1/2 of the bunch of thyme, also reduce with 1/2 of all the vegetables. Once reduced, strain and add wine reduction to the Ossobuco pot. Add beef stock and new vegetables (the other 1/2). Add 1oz of Teriyaki sauce of choice to Ossobuco. Cover and braise for 4 hours @ 350 covered in Aluminum Foil. Once fall off the bone, shut off oven and keep in oven until ready to serve. Remove 2 cups of liquid for reduction. Reduce liquid until thickened. Reserve for plating.
Cream of Potato:
In a medium sauce pot put to simmer potatoes until soft. Once potatoes are soft, add mix to a blender, and puree. Add butter and white pepper to taste. Set aside until plating.
Bok Choy:
Blanch Bok choy in salted water until leaves turn bright green. Shock in ice water immediately. Then in a sauté pan, sauté bok choy in butter for 15 seconds and remove.
To plate:
In a square dinner plate, place a dollup of potato cream. Place one Ossobuco on each plate and 3 each of baby bok choy. Drizzle some of the Teriyaki Demi on each plate and serve.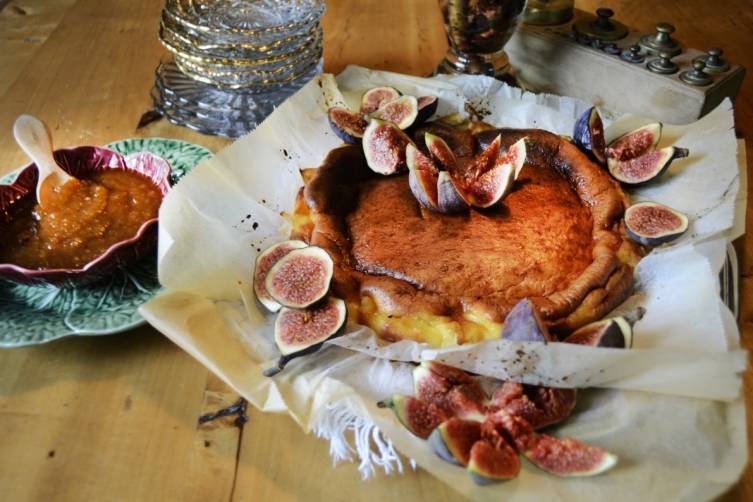 Dessert: Basque Rustic Cheescake with Fresh Fig and Fig Preserves
INGREDIENTS:
300 grams San Millan Cream Cheese or in its default, 300 grams Crème de Camembert, President Brand, Creamy Cheese Spread
700 grams organic cream cheese
5 large organic eggs
350 grams white plain sugar
500 ml of organic heavy cream
1 soup spoonful of flour
Sulfurized baking paper, and a 10 inch to 12 inch mold 2 to 3 inch high
INSTRUCTIONS:
Preheat oven to 220 centigrade or 430 F
Mix in blender the sugar and the eggs, add little by little the rest of ingredients and while blending sift in the flour
Lightly butter the paper and cover the mold. Pour in mixture and bake for approx. 30 minutes till golden and knife comes slightly dry from middle, but not completely dry, it has to be moist in the middle and very golden on the outside, time varies from oven to oven. Do not add vanilla or anything.