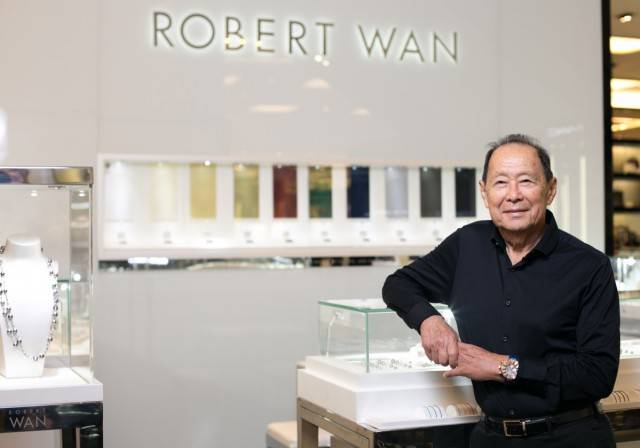 Known as the 'King of Pearls', Robert Wan has launched his first Pearl Bar exclusively at Bloomingdale's Dubai.
For more than 40 years, Wan has been internationally known for his exquisite Tahitian Pearls. Constantly focused on improving the quality of these unique gems and finding the ultimate perfection, Robert Wan has taken the beauty of the Tahitian Pearl, with its variety in shapes, sizes and colors, and created beautiful and innovative pieces of jewelry.
This November, he is showcasing exclusively in the Middle East at Bloomingdale's-Dubai, through the launch of his first Pearl Bar. The concept offers a personalized jewelry experience that allows customers to create unique and customized pieces. With a variety of more than 150 pearls and 50 coloured threads, the Robert Wan Pearl Bar allows customers to tell a story with each design. From Tahitian Gold to Peacock, Round to Baroque, customers will be able to choose the color and shape that perfectly corresponds to their personality.
Clients will also be able to enhance their Pearl Bar experience by choosing one of Robert Wan's most exclusive pearls, handpicked especially from the brand's limited edition collection. Each special gem is delicately finished with a gold setting adorned with diamonds, rubies, or sapphires. The marriage between these precious stones and the finest pearls forms a brilliant jewel that lasts a lifetime.
Now available in the UAE exclusively at Bloomingdale's-Dubai, discover the new Pearl Bar in the Fine Jewellery and Watches Department located on the Ground Floor of their Fashion Store in The Dubai Mall.
Bloomingdale's is located at The Dubai Mall. Tel: +971  43505333
Subscribe to discover the best kept secrets in your city