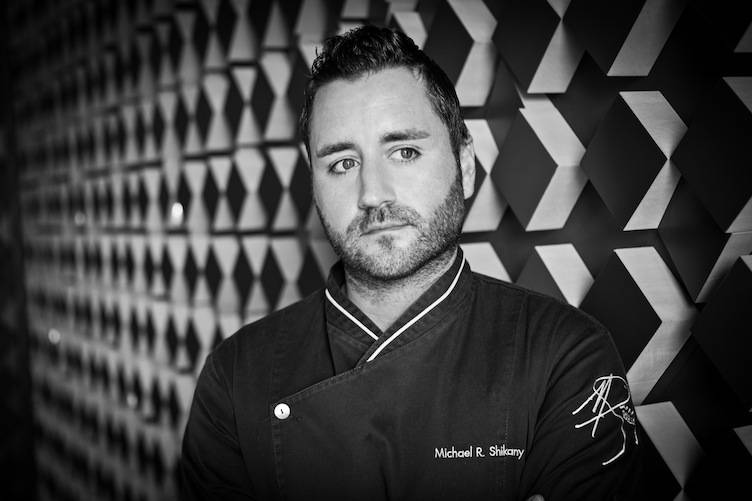 At the 4,000 square foot "culinary creative environment" in the heart of Wynwood, SHIKANY, patrons almost feel as if they are having dinner in a gallery, which is exactly what chef and owner Michael Shikany, who designed the interior space intended.
A bar and open-kitchen on opposite sides of the restaurant act as stages for the culinary theatrics that Shikany and his team of kitchen all stars and beverage wizards put on every night, especially Friday's when a center communal table is filled with a mélange of adventurous diners looking to eat outside of their comfort zone and at the chef's discretion. Through his eight to 20 course degustation menu and whimsical a la carte offerings such as nori macaron with ginger spiced tuna tartare, Shikany is shaping and pioneering Miami's palate into a multi-course and epicurean city.
Time spent in the kitchens of Gramercy Tavern and Le Bernardin make Shikany no stranger to this style of dining, although at SHIKANY, the chef is finding his niche in proteins. "Basically what we're doing is going with the seasons and utilizing whatever protein makes sense for the theme of every degustation menu," he says. "For summers we used a lot of oysters and shellfish, and now moving into winter we'll use more meat cuts, like lamb or pork, which we did recently." Sounds pretty basic (lamb, oysters, pork), right? Wrong. What Shikany is doing is using all parts of the protein throughout the meal in unexpected ways. That means brains, organs, oyster shells and scallop roe. On the menu tonight? 10 courses of white truffles. It's not a protein per se, but with the season just kicking off and to honor the delicacy, Shikany felt it was appropriate to give them the attention they deserve.
We caught up with the risk-taker and picked his brain on all things kitchen related, from his go-to book to the knife he can't live without and what the most underrated and overrated ingredients are.
My cooking mentor was: In Miami I would say Cindy Hutson who I worked with for six years and learned so much about Caribbean flavors and spices, but overall I would say Thomas Keller and his overall love for food and use of simple ingredients to make amazing dishes. The most important thing he taught me is that food is supposed to be fun and nothing is going to be perfect, but if you put your heart and soul people are going to like it.
Most underrated ingredient is: White pepper. It has a totally different taste than black pepper and brings out the flavor of food a lot more. When I studied classic French I learned that white pepper can bring out different aromas while black pepper just drowns it.
Most overrated ingredient: Salt. I think people use salt way too much sometimes and don't let the protein or vegetable speak for itself.
The cookbook I keep in the kitchen is: Culinary Artistry. It's not really a cookbook per se, but more of a flavor profile encyclopedia. It gives you things that pair well together when looking something up, so I always refer back to it.
The thing most people first notice about my kitchen is: How organized and clean we are and how meticulous we are in putting our dishes together. Presentation is everything.
At home my pantry is always stocked with: Ketchup or Sriracha. I'm at ketchup fanatic.
At the restaurant: We always have yuzu.
I'm at home and hungry. My go to meal is: I don't cook much at home. If I'm hungry I'll eat out or order in sushi from Moshi Moshi or go to Blue Collar and pick up from there.
In the kitchen, the pan I reach for most is: My non-stick 12" pan. I can do so much with it and it's very versatile.
If I only had to use one life for the rest of my life it would be: Petty knife. It's pretty small but I can do everything with it.
Kitchen tool I can't live without is: My cooking tweezers. I can use them for plating food, twirling pasta and play with different herbs and vegetables.
Non-kitchen essential: Salad shooter.
If I weren't a chef, I'd be: An interior designer. Big part of SHIKANY was my design; I wanted to have a dining room that was very much integrated with the kitchen so you didn't feel you were in restaurant, and I always wanted a vertical wall. There are 6,000 blocks on those diamond textured walls, which took about 9 and half months.
Items on your kitchen playlist: While prep it's chill, lounge-y music but after 10 we change it up to old-school hip-hop. Lots of Tupac.
Weirdest kitchen habit or pet peeve: Stainless steel being dirty. That drives me crazy; drives me absolutely insane. I don't like fingerprints, so the hardware always needs to be clean because you can see everything on stainless steel.
Tactics you use for gaging diners reactions: Servers are the messenger between the kitchen and guests. We do full closing reports with them at the end of the night to find out what everyone liked and didn't like for that night.
As much as people watch you in that open kitchen, you too can watch your guests. Do you ever see anyone doing things that annoy you? Stealing utensils. We've had people steal tongs and seen a lot of theft on silverware and other things. We've even had to ask people take it out of their bags.
Do you takeaway a lot of new food wisdom from your travels? I wish I had the time to travel — that would be wonderful. I do a lot of reading and check out menus online to see what the food world is up to. I also like to talk to purveyors a lot since they know what other parts of the world are using or really into at the moment. One thing I saw recently in New York is their utilizing suckling pig head, which we're going to do here. Should be kind of cool.
How is Miami different than New York and why did you think this city was ready for degustation type tasting menu experience? I think we're getting along closer to the level of other food cities and moving faster on catching up with trends. But while we're still on the gastropub trend right now, new York is moving heavily in the Mexican cuisine thing, so you'll probably see that here next.
As far as the multi-course degustation menus, it's actually become really popular. I think it's a really nice thing that people are being more open to that style of eating. They are understanding its' not about getting 9 to 10 courses of a lot of food, but a culinary experience that spans anywhere from 8 to 20 and takes about three hours and half. They aren't in a hurry to go anywhere because they just want to eat.