Caviar, sugar, sparkles and velvet…No, these aren't the titles of delectable foods or yummy little desserts. In fact, these are the names of Ciaté London manicure finishes that were developed by the British born beauty brand founder, Charlotte Knight.  
The former nail technician has been credited with pushing the boundaries of beauty by introducing innovative nail trends ranging from intensely pigmented colors to designer-inspired manicures.  For those who have tried Ciaté's uber cool line, you'll find find original polishes, textures, kits, and treatments will transform your nails into the ultimate statement accessory.
Now, Ciaté is moving into new territory with a brand spanking new makeup line.  According to Knight, expect the same eye-popping colors and innovation that the brand is known for. The beauty guru was recently in San Francisco and gave Haute Living the latest on Ciaté nails and their new foray into color cosmetics.
1.  Can you tell us about your background and how you ended up creating Ciaté?
I started my career in beauty at 21 when I moved to Ireland and opened Dublin's first nail bar.  Women flocked from all over the Country to experience our menu of hand and foot delights. During this time I worked as a session nail technician at London, Paris and New York fashion weeks Ciaté. I always blended my own colours and saw that there was a real niche for unseen unusual fashion shades and textures, which is still one of the key elements to the brand today and when my craving to launching my own nail brand began.
2.  How long did it take to develop the first product, and what was the most challenging aspect of starting your business?
I was working on colours for a while before I decided on the branding you see now and the addition of the iconic bow which is synonymous to the brand still today. The most challenging aspects are perseverance; trust in yourself and taking risks. As soon as Caviar launched in 2012 it has been a whirlwind and I sometimes have to stop and look at what we have achieved in such a short period of time.
3.  Ciaté has really changed the industry with textured nails; how did you find inspiration for such innovation, and how do you move it forward?
A lot of my inspiration comes from fashion, both on the catwalks and on the streets, pulling trends straight from the runway and onto nails. The creativity and inspiring people I meet. I work with some of the most talented and amazing people every day, from designers and photographers to hairstylists. Travelling the Globe and experiencing endless culture and scenery inspires me to create new trends and dream up new concepts. I often bring the strangest pieces of inspiration into the office and go to my colour lab and mix a new shade right then and there.
My mother is such an inspiration. She does everything with such child-like wonderment. She inspires me to think positively and believe in myself. My 8 year old daughter, Gracie Mae, helps me release my inner child and instill the whimsical flair we have become renowned for.
Inspiration is all around us….from street art on the walls of East London to museums and nature – we just have to remember to walk with our eyes wide open!
4.  What made you want to take the jump from nails into color cosmetics?
When I started the brand it was always with a view to grow into a full colour line. Ciaté is an acronym for the brand's philosophy: colour, innovation, aspiration, trend and extraordinary, which will reign true in our upcoming colour collection.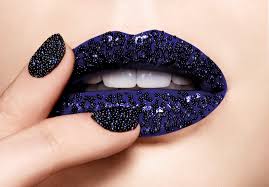 5. You're coming out with mascara and flutter fix adhesives; what inspired you to focus on lashes?
I felt that lashes were the next obvious move into accessorizing a look. I have always loved the fun of coloured mascara's but could never get the length and definition I achieve with my favourite black mascara. I also found most coloured mascara's lacked pigment and was looking for something that highlighted my eyes whilst maintaining definition.
6. What products can we expect with the new line of color cosmetics?
Without saying too much we are being sure to stick to our innovative roots and bring the edge and hype we created in nail into color.
7.  What is the running theme in the makeup line? [i.e. high pigments, anti-aging makeup, youthful and fun?] 
We want to find a solution to a need or find a product we liked but think we can do it better. Each product is innovative, some playful but very practical – The kind of products you wonder how you every lived without!
8. Whether cosmetic or makeup or lifestyle, what brands do you look to for inspiration?
At the moment I am obsessed with Glam Glow – they have a simple but inspiring business model and have leveraged their brand to unbelievable heights in just 4 years based on just 1 product –which is amazing by the way!
Sephora also does wondrous things with colour and cosmetics bringing the best of the best from all over the world to the consumer in a fun and educational way. I can always rely on Sephora for the newest innovation in skincare, hair and colour and come back from my US trips drowning in products!
9. Is there one (or more) celebrity that embodies Ciaté?
It is difficult to name one celebrity that embodies our brand as our offering appeals to such a wide audience and style.  Our loyal fans include Beyonce, Blake Lively, Adele, Kate Hudson, Rita Ora, Jessica Biel and Iggy Azalea.
10. What new trends do you see coming up in both nail and color cosmetics?
Nail is moving back towards a cleaner nail with nail art featuring on a token nail rather than a full manicure. Super glossy dark nails are always hot for Fall and this year is no exception. I get excited for a short, squared off, high shine black mani – it's the first thing I do when I move into my fall wardrobe.
11. You were recently spending time in San Francisco.  Where are some of your favorite places to shop, eat, and hang out?
I love shopping in Union Square, there are so many amazing places to eat – my favorite is Coqueta at Pier 5.
—————–
Like Haute Living San Francisco? Join our Facebook page or follow us on Twitter @HauteLivingSF. Want Haute Living San Francisco delivered to your inbox once a week? Sign up for our newsletter.