Jane Seymour's life is an endless summer in every sense of the word. Seriously, if it weren't for an insatiable need to travel, she might not even leave the house. "The great thing for me is that I never have to go on holiday, ever. I am already on vacation: all I have to do is stop answering the phone and pretend I'm out of town. When you're able to have a vacation in your own home, that's perfect," the 63-year-old British beauty admits.
When you live in a home that's as stunning as Seymour's is, it's easy to see why she is loath to leave it. Step out onto her balcony and you'll see not only a pool, fire pit and outdoor bar, but also the feature attraction:  an epic, in-your-face view of the Pacific. The actress, philanthropist, designer and artist definitely doesn't take her view for granted. We're quick to learn that she gives thanks for everything that she has—including her picture-perefect residence and the town in which she lives—on a daily basis.
"Malibu is a hidden treasure," she declares. "It's where I love to be. It's a real community. I love the cinema here, the restaurants here and the shops here. [Malibu] also inspires my art." It also has sunshine, sea, and sand, something that Seymour always longed for as  a young girl growing up in the notoriously grey and drizzly U.K. "For me, the idea of ever being able to look at a body of water anywhere in the world is just the ultimate, because I was raised just outside of London," she says. "To wake up every day, to see the water and the birds flying overhead, to be able to grow my own English roses, and have pines, redwoods and palm trees, is fantastic. I can walk down to the beach at any given time and on my way there, I can pick every organic vegetable that's ever been heard of."
The former Bond girl is proud of her home and what it represents: love and family. "When I first got the house, I didn't have any money, so most of the furniture that I have is from 20-something years ago. This is not a house where we just said, 'OK, let's get a decorator and spend a ton of money and build a Tuscan villa': that's not who we are," she promises. "At any given time, we have six children and four different grandchildren at the house. My office is here, I do all my design work in my studio here, and my kids rehearse with their band here; it's a very busy house. It's not the typical Malibu house." Like most of the grand Malibu palaces, Seymour's house has a recording studio, more bedrooms than she needs, and a cinema that converts into a full-blown stage. However, unlike most,  hers has a chicken coop, and furniture that has been lovingly reupholstered instead of discarded in favor of something shiny and new.
Jane is also an anomaly in that she absolutely refuses to succumb to the ever-present plastic surgery that is the norm in L.A. "I have no Botox, no fillers—I don't even do facials," she swears. "I never do anything hugely dramatic with hair and makeup and, in fact, I usually [style myself]. When people ask me how long it takes me to get ready for the Oscars, I say, 'An hour.' When they ask, 'Who does you?' I say, 'Me.' I like to look like me. I'm a painter; I paint portraits. Obviously I can look at my face and I know the bits that I don't like and all the bits that could be enhanced." You don't know how rare this is until you live in Los Angeles, where everyone has been enhanced (even if they claim otherwise). But Seymour is matter-of-fact about the aging process, and happy with how she looks.  "I'm an actress. I just did a movie (the upcoming drama Bereave co-starring Malcolm McDowell) that everyone says is the best performance I've ever given in my life. People who've known me for a long time watched it and said, 'It's a game changer.' I'd never have been able to do it if I had had any kind of plastic surgery."
 This kind of passion and conviction is part of what makes Seymour so successful. Her desire to become a prima ballerina, for example, led her, at the age of 15, to knit and embroider her own clothing so that she might buy herself ballet shoes. She inadvertently gained instant infamy for one of her creations: strategically placed patches on a see-through blouse sans bra. "I wasn't happy showing my nipples, so I embroidered a blue tit and a great tit—very famous English birds—on the appropriate places, and somehow I got in the newspaper," she remembers, adding that because of this moment, she was picked up as a designer by Browns, a boutique of which isnow one of the most exclusive  in London. The rest, as they say, is history.  Seymour finally realized her dancing dreams and joined the London Festival Ballet before finding fame and fortune as an actor.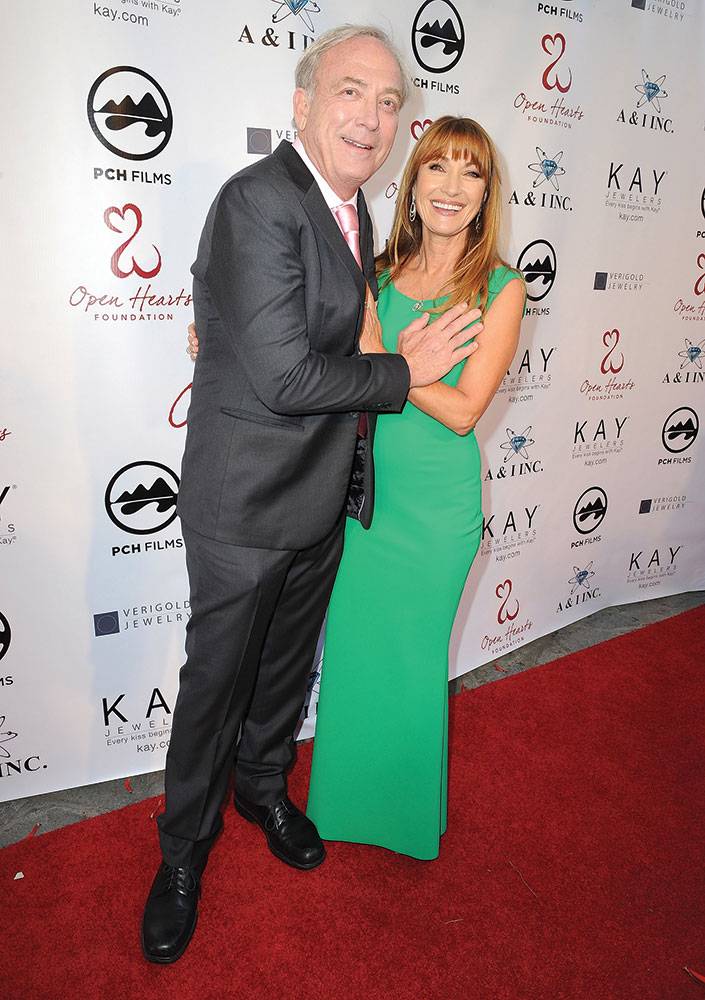 At this point, however, it's easier to ask what  Seymour hasn't done than the opposite way around. She has designed botanicals, furniture, and lamps, opened her own art gallery in Thousand Oaks; penned several self-help books; produced the Nashville Film Festival Grand Jury Prize winning documentary Glen Campbell…I'll Be Me; and was even awarded the prestigious OBE by Queen Elizabeth II, which she nonchalantly refers to as "a very nice honor by the Queen." She is also the founder of the Open Hearts Foundation, which supports organizations that are committed to positively impacting lives in the areas of education, arts and sports, as well as the corresponding Open Hearts jewelry collection. For Seymour, this open heart represents how she chooses to live her life. "If you have an open heart, you can accept what's happened in your life and in some way reach out and help someone else," she maintains.
Having an open heart also means that you never, ever rue the choices you make. "I don't have one single regret," she confides, adding, "I really believe that there's a cycle to life, and that if you're in an oppressive moment, that's part of the cycle. The cycle might be painful or stressful or scary, but it will continue to move and you will learn from it." Seymour is speaking from personal experience, especially as she's currently living through a particularly painful part of the cycle. In April 2013, she announced her separation from fourth husband James Keach, to whom she had been married for 20 years; Keach is also the father of her 18 year-old twins, Johnny and Kristopher. "I'm having dinner with James [tonight] for the first time in one-and-a-half years," she confesses. "We're completely [done]; we've been separated now since mid-November. It hasn't been easy—it's been incredibly painful—but I literally live by my own mantra, and I've slowly but surely processed it. I have to look upon this as an incredible opportunity for me to ask myself a lot of questions.It's terrifying at first, because at my age you think 'We're going to be together forever, we're just going to get old and die'; you don't think you're going to start dating again at 63."
But Seymour just picks herself up again, chalks the pain up to a learning experience, and waits for the wave to ebb. "You accept it, you're open about it and you forgive and move forward," she says, musing thoughtfully, "I think when you really love someone, even if it's for a short amount of time, those feelings never go. I think I was a pretty good picker. I picked guys that were really good people that I still care about enormously and who still care about me.  [James] was 'The One' then, but maybe there's another 'One' tomorrow." She adds, "I'm actually still close to all of my exes. You can call all three of my ex-husbands [Michael Attenborough, Geoffrey Planer and David Flynn], and Joe Lando, who I dated before James; every one of them is closer to me now than ever." Ever hopeful, Seymour is ready for the next flow of the wave. She confides to calling actress and daughter Katherine Flynn and asking her for dating advice. "I had to ask, 'How does this work [these days]?' She told me about Tinder, but I don't think I'll be Tinder-ing!"
Photography: Nils-Erik
Hair & Makeup: Erica Preus
Stylist: Cheri Ingle 
Subscribe to discover the best kept secrets in your city