What do Lani Lazzari of Simple Sugars, Megan Gage of Hot Tot and Dallas Robinson of Kisstixx have in common? We watched these three entrepreneurs pitch their beauty companies on ABC's Shark Tank. As if that task wasn't daunting enough, impressively, they each convinced Mark Cuban to invest in their respective business. These entrepreneurs exhibited at Cosmoprof in Las Vegas where Haute Living had a chance to profile each of the talented young innovators.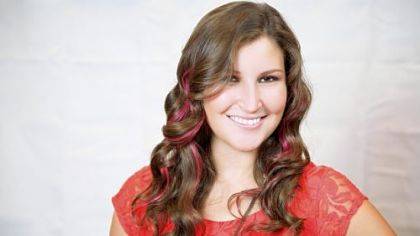 Founder: Lani Lazzari
About Simple Sugars: Simple Sugars makes all-natural handmade skincare products especially formulated for sensitive skin. Specifically, body, facial and foot scrubs gently exfoliate and moisturize leaving your skin its smoothest.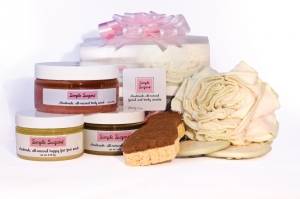 Q&A With Lani

You're only 20 years old!  How did you get the funds to start your business at such a young age?
When I first started out, I borrowed $2,000 from my aunt to launch my website, then all of the rest of the business was financed on my mom's credit cards because I couldn't even get a credit card in my name, let alone a loan. I didn't have a lot of capital to finance it.  It was always about growing Simple Sugars in a sustainable way where the startup costs would be low and we could continue to use the small amount of profit to invest back into the business. It was a fantastic way for us to grow in a sustainable manner while I was still so young, especially for the first 3 years when I was still in middle school – I had a very limited amount of time.
Were you nervous to go into the Tank and pitch your business?
No, I wasn't really that nervous going into Shark Tank because at that point, I had been doing the business for 7 years and I really felt like I was an expert in it. I knew absolutely everything about my business so I knew they weren't going to have any questions that I couldn't answer. I think that helped my confidence level.
Your business was going well before the show.  What are the biggest changes before and after the show?
Of course the exposure we had from Shark Tank was amazing.  We had no idea that people would respond so well after the show.  We ended up getting 10,000 orders and doing $600,000 in sales within 24 hours of the show airing, so it was an absolutely insane response.  We grew very quickly in the last year.
Are you still hand-making your products?
Yes, we have a team of 22 who do mostly production.  Everything is still entirely made by hand and we plan to keep it that way forever. It's very important to the integrity of the products; they have a very unique consistency because they're made by hand.  Also, I think it adds to the appeal of the products.
Where are you products available?
My products are available online and we also have 700 retailers nationwide.  Our largest retailer is Destination Maternity.  Simple Sugars products are perfect for new moms or pregnant women because they don't have a lot of time, and it's nice to be able to pamper yourself.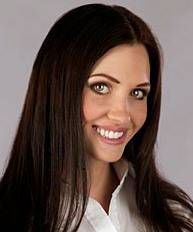 Founder:  Megan Gage
About Hot Tot:   Hot Tot is a high-end line of safe, professional hair products for babies and children that gives them style from the start.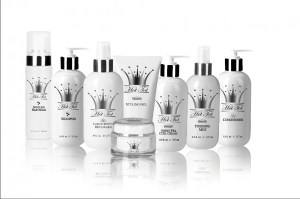 Q&A with Megan
What were some of the highlights of the Cosmoprof conference?
Post Shark Tank, we had some opportunity from big-box retailers that weren't a fit for us. Because Hot Tot is a luxury brand, we have to be careful. But Cosmoprof opened the door to find a few like-minded businesses that are connected to those high-end, innovative type of salons.  We've already signed one distribution deal and we're looking at a few others.
How did you start Hot Tot?
It started when my son was born in 2009, and I used to mix lotion and pomade to give him that little baby "woop-de-doo" curl.  Every time we went out, someone would ask us about the little hairdo that my baby had. After being stopped like 50 times, I cracked a joke with my husband that someone would be really smart to make a baby hair product. It was kind of a joke, but my husband saw something there. He started telling me that I should find out what it would take to start, so I found a lab that would develop a few products.  I didn't think it would go anywhere, but I sent out a press release and right out of the gate, we were Pregnancy and Newborn's "crush of the month."
Tell us about the effect Shark Tank has had on your business.
There are so many steps to getting on Shark Tank, and even after you go through them, you still don't know that your'e gonna be on TV.  In my mind, it wasn't gonna work, but it did.  Shark Tank was our big launch.  Until that time, we had been doing ok, but the show really changed the game for us.
How did partnering with Mark Cuban improve your business?
So the best thing that Mark did for us is he gave us money for clinical testing.  We can now market them as hypoallergenic, soy and gluten free and peanut free. We really have a lot of data to back up the sales pitch for these products.
What are some other key differentiators of your products?
Our signature scent was actually inspired by the Cabbage Patch doll – we actually had a doll sent to the lab to have the scent replicated.  I have such vivid memories of being a little girl sniffing on my doll's head.  As moms, we're pretty particular with how our kiddos smell, so I always describe it as a mixture between marshmallows and baby powder, but most moms just describe it as "clean baby". Also, we're toxin free, and all of our packaging is recyclable.  Everything is very gentle and eco-friendly.
How many products are in the line right now?
We have 8 products in the line with options to cleanse, condition and style.  Like skin, hair changes over time. The products were formulated for kids' hair prior to puberty.  It's for kids from birth to 10 years old. They're light and water soluble and will wash right out.  You can layer them and cocktail them so the user and the mom can control the power.
Where are the products selling right now?
We're selling on our website and also select high-end salons.  We're in this new phase of growth where we're exploring distribution possibilities.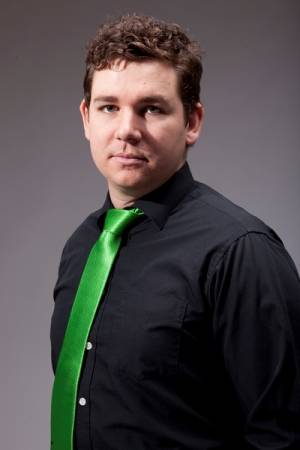 Founder:  Dallas Robinson
About Kisstixx:  Kisstixx has revolutionized the kissing industry with Kisstixx lip balm. Mix and match different flavors to enhance your kissing experience!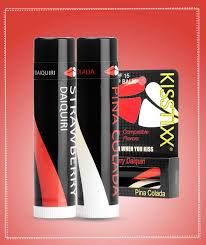 Q&A With Dallas
Take us back to the days before Shark Tank to now; what are the main differences?
I thought of the idea in high school.  Then in college, I used it as a college project throughout some of my business courses for my Junior and Senior year. From then, all the professors thought it was a really cool idea so I thought I'd start building it.  By the time we went on Shark Tank, we had about $80,000 in sales.  We were very small and we went on the show wanting someone to partner with us and to help us build this company.  And that's exactly what happened.
Did you have a favorite Shark in mind?
We wanted to do business with Mark (Cuban), but I really liked the idea of doing business with any of them.
What was it about Mark that made you want to pick him?
He just seemed like someone who is approachable, who would be able to take time and to really help us with what where we needed to go.  Plus, he's connected and there's no one that won't take his phone call.
How has your partnership with Mark improved your business?
His team works with us as a distribution and marketing team.  He has people that are very connected and help us look for opportunities like Cosmoprof, for example. He's helping us show our products to people that we wouldn't have access to ourselves.  The exposure that he gives us is priceless.
How is the business is going now?
The business is going great.  This will be our best year.  We're expanding internationally into Japan, Korea, and China.
What new products are you working on?
We're creating a new lip balm that's going to be called Spark. When you put it on, it makes your lips go crazy.  It has this buzz effect that's like Pop Rocks on your lips.
Where are your products sold?
We have in and out programs at Walgreens, all the Kroger stores nationwide, we're in thousands of grocery stores – all over the place.
———
Like Haute Living San Francisco? Join our Facebook page or follow us on Twitter @HauteLivingSF. Want Haute Living San Francisco delivered to your inbox once a week? Sign up for our newsletter.