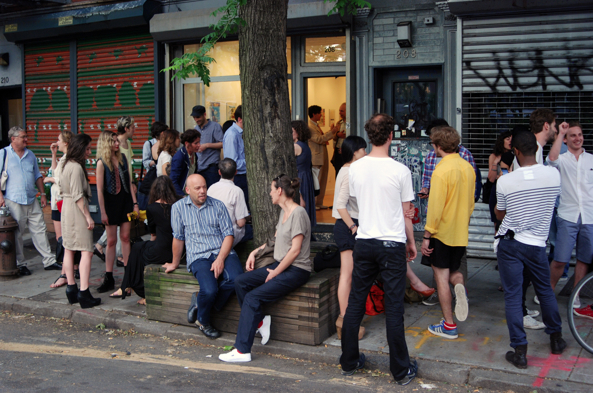 One of the best aspects of living in New York City is being constantly surrounded by immensely talented people. In every creative field; fashion, music, publishing, design, one comes into contact with the very best from each of these worlds. Perhaps no creative field more than visual art has always been so entrenched into the culture of New York City. Across the five boroughs and through the decades, from lo-brow street art to the most critically-lauded museum exhibitions, to live here is to be constantly surrounded by visually stunning art. So in reality, this list can be compiled for any given month of the year. But, summer is quickly coming to a close, and maybe you want to blow off at least one Saturday of brunch-eating and day-drinking and take in one of the various art events that are always going on throughout New York City. Just one day, it won't kill you. Here are some of the must-see events for the month of August.
Marcel Duchamp
Gagosian Gallery
980 Madison Ave, New York, NY
Monday to Friday 10-6 pm until August 29
Lucky for you slackers, one of the biggest art events of the summer, Gagosian Gallery's huge exhibition of Marcel Duchamp's ready-made art has been extended to August 29th. Duchamp, whose subversive attitude continues to heavily influence today's young avant-garde artists, first showed these ready-made works 50 years ago in this same building on Madison Avenue where the works are being displayed now. This is a serious exhibition from an artist who was a key figure in 20th century Dadaism and Conceptual Art.
Rene Ricard REMEMBER
Half Gallery
43 E. 78 St, New York, NY
August 5 to September 8, Tuesday to Friday 12 to 5, Saturday 12 to 4
As most people hip to downtown NYC's art world know, the late Rene Ricard passed away this year on February 1. Ricard was mainly known as an art critic, poet, and fixture of Andy Warhol's Factory scene who helped launch the careers of some of the most exciting new artists of the late 20th century including Jean-Michel Basquiat (Who painted a portrait of Ricard pictured above), Keith Haring, and Julien Schnabel. But Ricard was also a talented artist in his own right, and a career memorial is showing appropriately at the Upper East Side's Half Gallery, a venue that has showcased numerous artists influenced by Ricard including Wes Lang and Dustin Yellin.
Aperture Summer Open
Aperture Gallery
547 W. 27th St, New York, NY
Until August 14, Monday to Saturday 10 am to 6 PM
Aperture Gallery is overwhelmingly awesome for any self-proclaimed photography junkie. At any given time the massive space's sizable walls are littered with images from some of photography's most creative picture snappers. But until August 14, the gallery is celebrating the medium of photography itself and as such have carefully reviewed and selected photographs from a variety of photographers either famous or unknown, rich or poor, art or advertising, it doesn't matter. Aperture's executive director Chris Boot simply wanted to showcase the best contemporary photography out there
Lydia Janssen: A Course Change
Susan Eley Fine Art
46 W. 90th St, 2nd Floor, New York, NY
Until September 5, Tuesday to Thursday 11 am to 5 pm, Saturday 11 am to 3 pm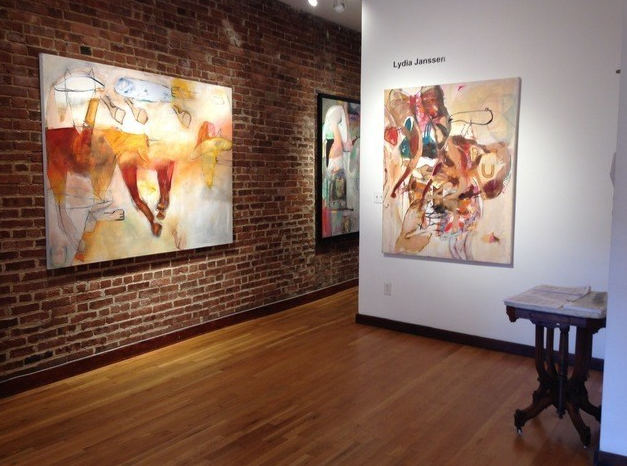 Lydia Janssen once pursued a career in in professional dance performing with modern dance troupes Pam Tanowitz Company and Jordan Tobback before returning to visual art. However, the influence of her dance career is always felt in her work, and her paintings give off the rhythmic and visually arresting elegance that one finds in dance. Janssen's evolution from dancer to painter to mother have caused her to re-think the aspects of her own body, and that exploration can be found in her show at the Susan Eley Gallery. Janssen begins each painting with a gessoed canvas on which she outlines animals in broad strokes of charcoal. According to the Susan Eley website, "The animals, seen in parts or whole, are caught and  stilled on canvas, while also cantering across the surface."
Eden
Odetta Gallery
229 Brook St, Brooklyn, NY
Until August 24, Thursday to Sunday 1 to 6 pm
It's safe to assume that most of the Haute Living readership hasn't spent much time in the Bushwick neighborhood of Brooklyn, which if you are interested in visual art is a shame, because aside from having the highest concentration of creative people in New York and being littered with murals by the likes of Kenny Scharf and How and Nosm is also home to some of the more exciting new galleries in New York, like this one, Odetta. Right now at Odetta is the Eden show which according to the gallery's website showcases the works of five young artists Michael Drury, Charles Geiger, Melinda Hackett, Lina Puerta, and Sylvia Schwartz. The theme tying together this group show is the idea that man has the innate tendency to destroy paradise, possibly a metaphor for themes ranging from industrialization to gentrification.
DIY Or Die!
The Milk Gallery
450 W. 15 St, New York, NY
Until August 10, 10 am to 8 pm Daily
Before Rihanna and Chris Brown started putting Crass and Discharge patches on leather jackets to up their hip credentials, these images meant something. They were symbols of a furious youth culture propelled by nothing than passion, rage, and rock n' roll. The Milk Gallery's DIY or Die! show celebrates the zines, posters and record jackets that propelled the late 70s punk scenes of the United States, the United Kingdom, and Australia as well as the late 70s Dub and Reggae scenes of Jamiaca while drawing connections in the ethics and music of both scenes. What makes exhibits like this most spectacular is one can see the influence that non-art such as the imagery seen in this show eventually has on the modern art world of today. It reminds that before co-opted to the mainstream world, punk and reggae were movements unto themselves and their practitioners delved in all the creative output not because they wanted to, but because they had to.
New Horizon: New Work by Jiwon Han
Able Fine Art NY
511 W. 25th St, New York, NY
July 30 to August 12, Tuesday to Saturday 11 to 6 pm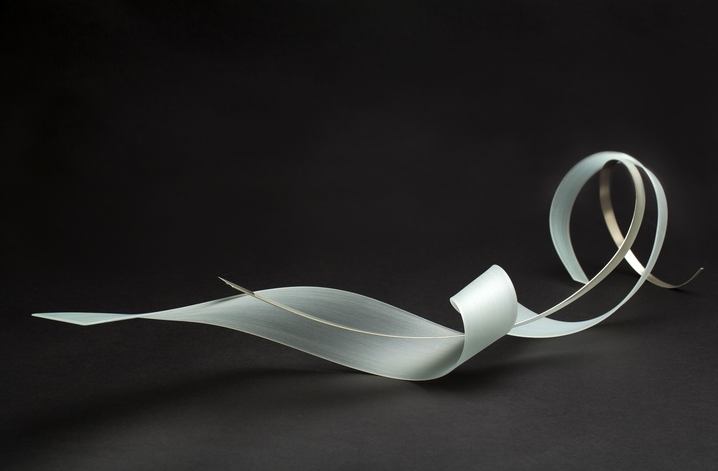 Korean film has infiltrated Hollywood as of late. Whether it be Korean directors like Boon Jong-Ho debuting his first Hollywood film Snowpiercer this summer to much acclaim or Hollywood directors like Spike Lee remaking Jong-Ho's classic Old Boy. A similar infiltration is brewing in the fine art world, and is being embraced by Able Fine Art NY showcasing the work of Jiwon Han, a Korean artist working in refined jewelry sculptures. She has worked in the fields of metal craft and jewelry design for over 20 years. Her delicate and visually inspiring sculpture expresses human emotion as motion with her unique approach to space and materials. Her sculptures emphasize the relationship between spirituality and the Earthly world.
Marni Kotak: Mad Meds
Microscope Gallery
4 Charles Place, Brooklyn, NY
Until August 25, Thursday to Monday 1 to 6 PM
Never for the faint of heart, conceptual artist Marni Kotak's work always reminds us, especially women, of the stark, sometimes disturbing realities of life. Her first show at Microscope in 2011, she gave birth to her son for an audience. Meaning she birthed him into the world, in the literal sense. Now in her third show, Kotak will publicly withdrawal from psychiatric meds that were prescribed to her after being diagnosed with post-partum depression. The installation will also feature video, photography, and sculptures. If you are the type of art fan who likes to feel thoroughly uncomfortable, then maybe you want to go see this. Maybe you don't. But either way this is something that's currently happening. You can be the judge as to whether or not this is art.