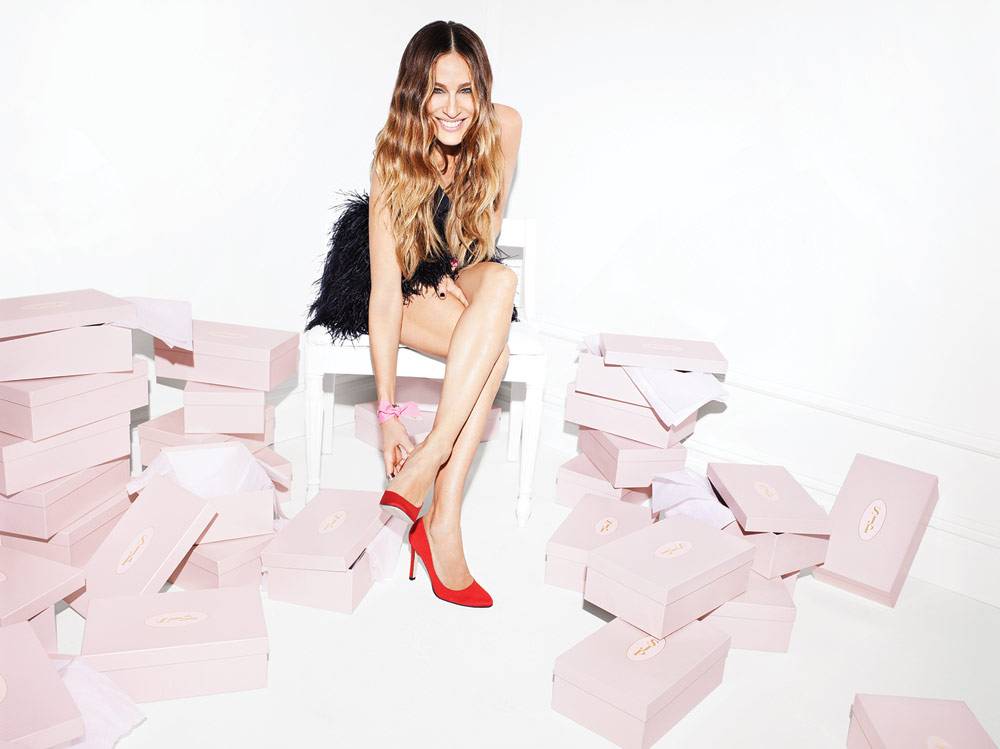 "I Don't Know How She Does It" is the title of one of her films, but it's also a genuine thought you're likely to have after meeting Sarah Jessica Parker. The fashionista of Sex and the City fame has come straight from a parent-teacher conference to discuss her current passion project, which, as fans of her footwear-obsessed SATC character Carrie Bradshaw will find quite fitting, is a line of shoes.
The style icon released the SJP Collection by Sarah Jessica Parker, 25 styles of boots, pumps and heels as well as bags and a trench coat, exclusively at Nordstrom on February 28. Parker took a moment from her whirlwind lifestyle to sit down with Haute Living and discuss how she convinced Manolo Blahnik CEO George Malkemus to become her business partner, the truth behind the rumors she'll be taking over for Vogue editor Anna Wintour and the one article of clothing you'd be shocked to find she can't live without.
How did the collaboration come about?
I had had some other opportunities [to do collections in the past] and wasn't quite sure about them, but I still felt there was one idea I hadn't yet pursued. It was my big dream, and rather bold of me to work with George. We first met in 1985, but I got to know him while working on Sex and the City. I was having lunch with friends, all successful businesswomen, who told me to pick up the phone and be brave. I told him it was a long shot, and asked if he would consider producing a shoe collection with me. He told me to be at his office at 9 a.m. Before I met with George, I knew I wanted to do a beautiful collection that I could speak of with genuine enthusiasm. I wanted it to be made in Italy, and I wanted it to be affordable, not $1000 shoes. I wound up partnering with someone who wanted the same things I wanted, coincidentally, and wonderfully, someone who had a position of reference. [George] arrived in New York at the same time I did. As a young woman taking the cross-town bus, the same things I saw upon my arrival were the same things he saw. I wanted a collection that wasn't so much '70s, but where the inspiration [of the '70s] was a driving force. I wanted to make purple T-straps that could be worn to dinner or work and that could be used as a neutral; I wanted purple to become the new black.
Can you walk us through the collection, how each piece directly recalls a time in your life?
The shoes aren't drastically from many different points in my life. The inspiration was the late '70s and the mod resistance of New York, Charles Jourdan, Bennis and Edwards and countless others that were prominently a part of the New York shoe business. [I incorporated grosgrain in my collection] because when I was a little girl, I had to wear ribbons in my hair every day. We were required to wear them by our mother, and we took them out of the ribbon drawer and ironed them ourselves. Sitting on the floor with George – where we conduct all our business – I said, 'George, do you think we could put grosgrain on the back of each shoe?' He was delighted with the idea and it became our signature, as well as a nice nod to my mother. We picked a beautiful, salmon-y peach color, which is incorporated into every shoe. In a wonderfully crowded shoe market, it's a nice distinguishing signature.
Do you have a favorite piece or pieces in the collection?
I don't have a favorite. There's a few that I've been inclined to wear more than others. [The collection] is suited to different ages and sizes, it's cross-generational, but there are certain ones I love. I'm fond of the Carrie, the Tawny in French blue, the Etta in charcoal and dusty rose, the Pola in black and the Wallace in berry and raisin. The Alison is a great boot alternative for women who don't like to wear a traditional heel.
Can you describe your style and how it's changed over the years?
I don't think I can. I'm more prudent and less inclined to buy something that's trendy. I'm not a big shopper anyway, and I never really have been, but I would tend to buy something that I can return to again and again unless it's a beautiful indigenous thing or fabric. I tend to buy things that feel timeless.
If you could only buy one fashion item for the rest of your life, what would it be and why?
It would be shoes, I suppose. Why I don't know. Why do any of us buy shoes? It allows you to feel differently and walk differently than you might otherwise. The colors change every year, and a shoe can make the dress feel different every time.
Has a second collection for Nordstrom been discussed?
We're already to start working on spring. We're deep in it, happily. We're also doing a trench coat in navy on navy and taupe with salmon grosgrain and two bags for the launch in six different colors each.
You've done it all, from acting and producing to films, TV and Broadway. What's next?
I just finished a run of a play, and I'm producing a bunch of stuff and reading scripts all the time. Maybe I'll do a movie in the spring. I've blocked out this time though to work on this collection and to travel from store to store. It's the main focus of my work right now.
You've said that there's one story left to tell in Sex and the City. Whose story?
There's room [for one more story], but absolutely no discussion of it. Michael [SATC creator Michael King] and I know what the story is, but don't know whether or not to tell it. If I was going to do another Sex and the City movie, I'd have to block out that time; it requires me to star and produce as well.
There were rumors that you'd be filling Anna Wintour's shoes at Vogue. Do you think the rumors were just the media's wishful thinking that life might imitate art?
[That rumor] started because we had lunch a couple weeks ago. We were waiting at the elevator bank, and I was saying goodbye. We do have lunch occasionally. I was in no way positioning for that job, and she's not going anywhere, thank goodness. There are about 1001 people far better suited than me who are equipped to take on such a massive, important role, but I'm definitely not the one.
What is one fashion item that most people would be surprised to learn that you actually love?
Long johns. I wear them every single day. I've had the same long johns for 20 years in some cases. Hanes, waffle, old school. I bought some in Norway when I was there last year. With the exception of [one day] there's not a day that's past that I haven't worn layers. It's cold here!
THE SJP COLLECTION
Sarah Jessica picks her favorite pieces

Bobbie Pump Mint, $365

Carrie Pump Purple, $355

Etta Pump Pink Mauve, $425

Pola Pump Black Satin, $365

Slim Sandal Avio Blue, $345

Jill Sandal Pink Metallic, $345