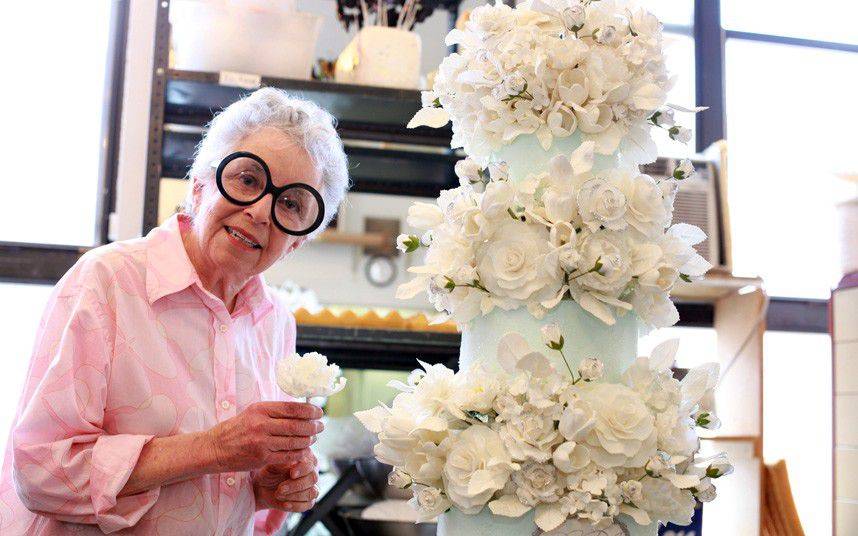 Many, many exciting food-related things went down this weekend at the Food Network's South Beach Wine & Food Festival. One of the most anticipated events on the program for socialites and recreational bakers alike was the Sylvia Weinstock Master Class at the St. Regis. Why was it such a big deal? Because the plucky 83-year-old's larger cakes can easily reach six figures and are a must for both socialite weddings in the Hamptons and royal weddings in Dubai.
Sylvia is famous for sugar flowers that look so real, you're almost scared to eat them. She's also known for eschewing fondant, something she considers tasteless. Sure, she has a team of artisans that will make you one of the fondant creations so in vogue today, but why would you when you're dealing with the only woman in the world who can cover a moist cake in totally realistic flowers? "First and foremost a cake has to taste good. It's not just about the decorations," says Weinstock from behind her famous glasses.
So of course, we were all eager to see how she does it and maybe, if we could do it ourselves. So while I learned a little about her technique and how long it really takes to make each of her famous sugar flowers. I came away with two important kernels of knowledge: unless you've got tons of free time and talent, you'll never be able to do exactly what she does and that $20,000 for a delicious cake with thousands of flowers on is actually a bargain. "We have a high-end product. We are certainly not inexpensive, but I think we are very fairly priced," she told the class.
Each student was given two plain vanilla cupcakes, piping bags of Key Lime custard, vanilla buttercreme icing and four colors of gummy sugar dough and tools to try to render a flower as per Sylvia's instructions. Real housewives, foodies and FIU students in the class were trying to make rose petals. Some did much better than others, but no one came close Syliva Weinstock's realism that needs a process of rolling out, shaping, drying and painting taking place over five days.
Sylvia was always crafty, knitting, sewing and baking. Her family had a vacation home in ski country – except she didn't ski. So while the family was out hitting the slopes she would bake. As she would bake more than the family could eat, she would sell items and soon discovered she could make a lot more money than she was at her $40-a-day substitute teacher gig.
When she launched her business she was already 50 years old and bought a building in what she describes as no-mans-land in lower Manhattan. "My neighborhood didn't even have a name. But it was cheap. Now they call it TriBeca and I've got very fancy neighbors like Mariah Carey." Sylvia is getting used to fancy real estate – outside of her Manhattan Bakery, now her cakes are sold at The Breakers in Palm Beach and the St. Regis in Bal Harbour.
photo 1
FIU student's rose
photo 3
Housewife's cupcakes
sylvia_split
Sylvia in action
sylvia-weinstock-20
Sylvia's cake
sylvia-weinstock-21
100% edible
sylvia-weinstock-11-605x453
$100,000 or more!
Sylvia-Weinstock-DEER
Very realistic deer cake
Subscribe to discover the best kept secrets in your city