Chris Paul is the first to admit that he has a split personality. There's CP3, the six-time NBA All-Star, double gold Olympic medal-holding athlete. Then there's the less-often seen Christopher "Chris" Emmanuel Paul, philanthropist, luxury enthusiast, gadget geek and family man. It is the latter we find on this particular Friday morning, lying in bed with his son, watching cartoons.
"I come out with a shoe every year called Jekyll & Hyde [the Jordan CP3.VI AE], and it describes my two personalities: on the court, and off the court," the 28-year-old point guard explains. "On the court, I'm just so competitive; I hate losing in anything I'm doing. Off the court, I'm pretty chill and relaxed."
Though he's horizontal at this present moment, trust that there isn't a whole lot of relaxing to be done – by his alter-ego or otherwise – during game season, despite being laid up with a shoulder injury that will have him sitting on the sidelines for up to six weeks. Dallas guard Monta Ellis tripped Paul during the Clippers Jan. 3 victory over the Mavericks, which resulted in a separated shoulder. Given how competitive he is, Paul didn't take the prognosis well.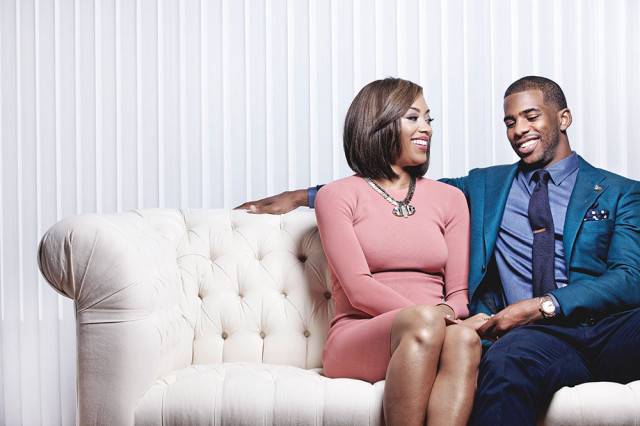 "I was mad. That's why I slammed my mouthpiece," he said before his team's Jan. 6 win over Orlando. "As an athlete, you prepare and do everything possible to try not to get injured. So that was the most frustrating part." Paul has been hurt before – he had knee surgery while playing for the New Orleans Hornets in 2010 – and after his recovery, was back in action with a vengeance. Just as he did with his previous injury, he now swallows his anger and focuses on moving forward. "I want to play and I need to play…but I'm cool. I woke up yesterday and was done feeling sorry for myself."
Aside from this temporary setback, Paul has a lot to be grateful for. He signed a five-year deal worth nearly $108 million last July after becoming a free agent, has a stunning $8.5 million mansion in Bel-Air with its own home cinema, man cave, game room and his-and-hers walk-in closets, as well as the support of a huge, loving family, all 40 of whom he flew into L.A. for the New Year.
"Everybody knows that there is absolutely nothing I love more than my family," he says. "My job prevents me from traveling home, so I said 'If I can't go home for the holidays, I'm bringing my family to me.' This was my Christmas gift to myself."
Though he clearly hates to lose, having his family on hand softened the blow of the Clippers' 19-point loss to the Phoenix Suns on Dec. 30. "It was one of the worst losses we've had, and the only thing that made me feel good was knowing that my family was there," he says. "There is no greater feeling than having the family that I have. I get so excited to be with them."
The feeling is mutual. His family members are proud of his success and have supported him every step of the way, from his days playing at West Forsyth High School in Clemmons, North Carolina to his two-year career at Wake Forest University to the day in 2005 he declared for NBA draft. "When I was in high school, my family was deep at every game. In college, my family was at every game in numbers. Now that I'm in my ninth season of the NBA, you'd think that [me playing] isn't that big a deal to them, but it is."
Though he enjoys being in Los Angeles, there's a big part of Paul that yearns to be back in North Carolina, and that's because – you guessed it – home, and his family, is where his heart is. "I really enjoy it out here [in L.A.] – the weather is amazing – but I definitely miss home; I miss North Carolina," he admits. "One thing I miss is watching my cousins grow up. I grew up going to church and then going to my grandma's house every Sunday. While I wouldn't change my life for anything, I wish my kids had the same thing."
Paul's children may not have the massive extended network of family that he had growing up, but they don't have it too badly, either. In addition to their doting parents, Chris Jr., 4, and Camryn, 17 months, have an uncle and new-born twin cousins who live nearby.
It is Chris Jr. in particular who has it the best, especially when it comes to Take Our Daughters and Sons to Work Day. Not only does little Chris get to see his dad in action, but this year, he became part of the action: he made his television debut in his father's State Farm commercial on Christmas day.
In the spot entitled "Heritage of the Assist," Paul plays himself as well as his imaginary brother, Clifford Paul. Chris Jr. inevitably plays his son in the minute-long ad, which revolves around, quite naturally, the giving nature of the Paul family.
For CP3, appearing alongside his son was just another opportunity to spend quality time together during the hectic basketball season. "Chris receives a lot of notoriety. If he's going to be on a TV show, it's important for him to be involved strictly because he's with me. He's not doing commercials on his own – he's doing them with me and we're spending time together," Paul points out. "Years from now, we'll look back on that day and laugh about it."
Raising his children to be famous isn't important to the NBA player, but raising them to treat others right – the way he himself was brought up – is non-negotiable. "For his mother and I, who grew up in the South, being respectful is the most important thing. It's important for us that he says 'yes, ma'am' or 'yes, sir.' It's important that he has manners." Paul adds, "My son is my main man. I'm hard on him as my dad was hard on me. My job is to be his dad, not his friend."
He may sound tough, but the NBA star just calls it like he sees it. He is pragmatic and realistic in regards to everything from his parenting skills to his career to his relationship with wife Jada Crawley, his college sweetheart.
The two have an enviable relationship. They touch often and look at one another so lovingly it's as if no one else is in the room, but Paul is quick to note that they aren't a Hollywood fantasy couple. "It's not effortless," he swears. "We're just like any other couple; we have our ups and downs. But I'm blessed to have the woman that I have. She's an amazing daughter, mother, and wife."
After 10 years together, Jada knows Chris inside and out. For example, for Christmas this year, she bought him a piano to accompany the lessons she purchased for him in the past. Though he has simply not had the time to learn a new skill, she knows how much he wants to play, and how much music means to him. This kind of love is the most valuable; she knows his heart's true desires.
Just as importantly, he and Jada share a love of philanthropy. In addition to her own initiative, Jada Paul's Prom Dress Giveaway, she helped her husband to establish the CP3 Foundation in 2005, a philanthropic partnership with the Winston-Salem Foundation in honor of his late grandfather. Its initiatives include collaborations with Feed The Children, Make-A-Wish Foundation, Boys & Girls Club and Habitat for Humanity, among others.
"Anyone who knows me knows that I have a passion for kids," Paul says of his charitable nature. "I love to give back, and to be involved in the community. Kids that come from tough neighborhoods think they're overlooked, and that no one is in their corner. It's important for me to help, and to show them that there are people who care."
Technically speaking, Paul doesn't put his money where his mouth is – he gives something of much more personal value: his time. "For me, it's always been about being there. Monetary gifts are easy, but the most valuable thing I have to offer is my time. Being hands-on, being there is more valuable than any check I could write," he says. "Like many other athletes, I have a family; I have children, I have a wife who I love to spend time with, so when I actually get out and can personally impact others, it's the most precious to me."
Spending time with his family is the main reason why you shouldn't expect to ever see Coach Chris Paul. Though he's clearly an excellent leader – in addition to acting as captain of the Clippers, he's the President of the National Basketball Players Association and an official spokesperson for the United States Bowling Congress. "I don't think [I'd ever coach]," Paul reveals. "I've given it a lot of thought, and I never want to say never, but I already spend so much time traveling and playing now. We as players don't have a lot of free time, but coaches definitely don't. I want to see the activities that my kids are doing, I want to be there to see my kids grow up."
One day he'll most certainly return to his North Carolina roots, but for now, Los Angeles is where Paul has made his home. In the mansion he purchased from Avril Lavigne in 2012, it is where his kids have a spacious backyard for optimal game-playing, where Jada works her interior decorating magic and where he can have the guys over to play cards in his personal game room. "The guys" are friends and fellow NBA greats LeBron James, Dwyane Wade and Carmelo Anthony. There's not a lot of debauchery that goes on when they're hanging out at Casa Paul, but good conversation is always on the table. "We play cards, a lot of cards," Paul admits. "A card game leads to a discussion, where we talk about everything. While we all have our friends that we grew up with, it's always great to talk to guys who are in the same profession and going through things you're going through."
Like his All-Star pals, Paul has begun to enjoy the finer things in life because, well, he can. "I definitely love my Tom Ford, but I'm not into name brands. It may just be something from a regular place, like the Gap or Topshop, but for me, it's not about the brand. I like what I like." However, he does admit, "I am definitely into luxurious things." That includes a high-end watch collection of Rolexes, Breitlings and Audemars Piguets with an eye to buy a Patek Philippe in the near future.
However much he may enjoy designer duds and expensive time-pieces, it's abundantly clear that these tangible things are not of the utmost importance to Chris Paul. They are perks, and he enjoys them, but they do not rule him. "[My tastes have changed] not because I moved to L.A., but because I've grown as a person," Paul says. "As I've gotten a little bit older, I've begun to understand what's important. You realize that other people's opinions shouldn't really affect you, and that you shouldn't really worry about what others are going to say."
In a nutshell, this is why Chris Paul is really one of the true greats.
Photo credit: TAJ STANSBERRY for Haute Living. Stylist: COURTNEY MAYS.
Subscribe to discover the best kept secrets in your city