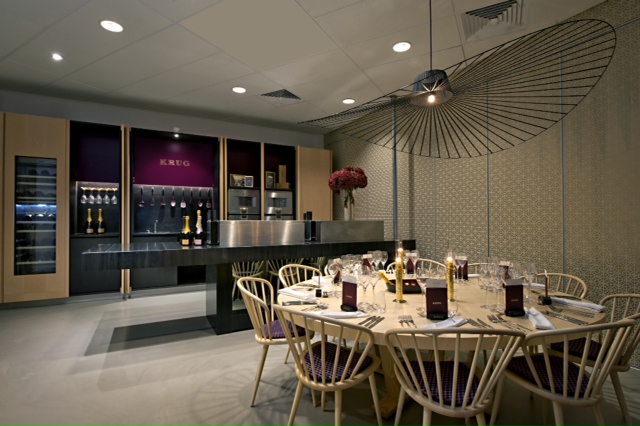 You know what is great about champagne? Well, everything really… but mostly the fact that it pairs well with all foods. A sweeping statement, yes, but you'll just have to trust us on this one. And if you don't believe it, perhaps it's time to pop into AVEQIA, the Swedish cooking and dining restaurant concept, which has just announced its Krug Kitchen.
The brilliant idea behind AVEQIA is that you bring your own party of about eight to ten people (hello, client entertaining/team building) where you will have your own private professional kitchen and dining room. Everyone dons an apron and takes part in preparing a stunning four-course meal with Michelin-star trained chefs. Of course it is all Scandi-inspired so you can expect plenty of fresh, organic ingredients and innovative flavor combinations. The concept has been an overwhelming success in Sweden, which is why they have branched out in London — the Krug Kitchen, however, is a first.
While AVEQIA's meals are always paired with wines, the new experience allows guests to try a variety of exceptional Krug vintages with each course. One part culinary adventure and one part champagne indulgence, this is one match made in foodie heaven.
AVEQIA
2 Bride St
London
EC4A 4AD
www.aveqia.co.uk
Subscribe to discover the best kept secrets in your city