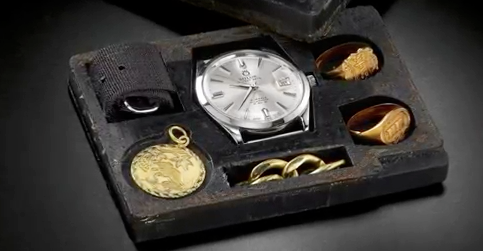 Haute Time recently had the fantastic opportunity to sit down with Doron Basha, CEO of Milus in The Americas.
One of the most buzzed about items at Basel World 2012 was the Milus "Snow Star" watch. The timepiece is truly a piece of history, dating back to the 1940s.
About a year and a half ago, a military historian contacted Basha to let him know he was in possession of a "life barter kit "and inside was a Milus watch. While Basha was unfamiliar with what a life barter kit was, he was immediately intrigued. Turns out, a life barter kit is a sealed rubber kit that was carried by Navy pilots in World War II in the Pacific campaign. The kit was designed as a way of protection if the pilots were to land in an a hostile indigenous area. The trinkets inside including gold rings, pendents and yes, a Milus watch could be used to trade, or as the name says "barter," for survival.
For Basel 2012, Milus released two special edition Snow Star watches, one in steel, 2mm bigger than the original and limited to just 1,940 pieces. It has an automatic movement and the face is almost identical to the original. It comes, of course, as a kit with compass cuff links and a customizable dog tag. The limited edition watch will retail for $2,950.
Milus also released a gold Snow Star model limited to just 88 pieces and is a hand-wind timepiece. The reason the gold is a hand-wind as opposed to the automatic steel version is Milus wanted to incorporate antique movements from 1940 and they were able to find just 99 of them.
Check out the video on HauteTime.com to get an inside look at the Snow Star as well as the other Milus timepieces shown at Basel World 2012 with Doron Basha, CEO of Milus in The Americas.
Like Haute Time? Join our Facebook page or follow us on Twitter @hautetime.
Subscribe to discover the best kept secrets in your city