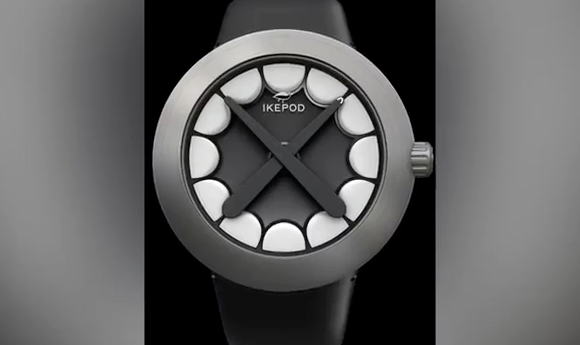 Haute Time had the wonderful opportunity to sit down with Alexandre David, CEO of Ikepod At Basel World.
Ikepod is a very unique product. While Ikepod is watch brand, it has become famous for its hourglasses. Ikepod created a special blue novelty hourglass for Basel World 2012 which would retail for around $16,000 USD. Their large hourglasses can fetch up to $27,500.
Demand for these hourglasses is outstanding. Last year the brand sold a small red hourglass at the Only Watch auction for 2.5 times the retail price. Ikepod also recently created a special edition copper plated hourglass exclusively for Westime in Los Angeles for a staggering $31,500.
While the Ikepod hourglasses get a lot of attention, the brand's watches are just as cool and unique. The brand recently collaborated with Brooklyn based graffiti artist KAWS to create the new "Horizon." The artist's signature is a big X  which is why you see the criss-cross deign on the timepiece. It will launch for sale later this spring at in Paris for $14,000 USD.
Check out the video on HauteTime.com to get all the inside scoop of my meeting with Alexandre David, CEO of Ikepod at Basel World.
Like Haute Time? Join our Facebook page or follow us on Twitter @hautetime.
Subscribe to discover the best kept secrets in your city