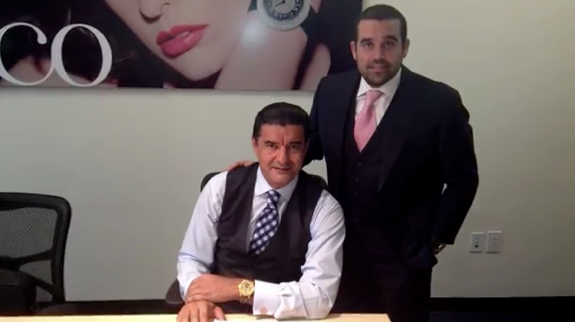 Haute Time recently caught up with good friend and one of the best in the business, Jacob Arabo, founder of Jacob and Co.
Jacob and Co. has had a very successful year and showcased a number of new timepieces at Basel World 2012. The first timepiece we looked at was the  "Crystal Ice Tourbillon" which is a stunning diamond set  tourbillon skeleton ladies timepiece.  Only 36 pieces of theses were made, 18 of which include a rose gold movement and 18 with a black movement. It's a very mature and sophisticated piece, truly a work of art. The Crystal Ice Tourbillon retails for a staggering $900,000
Another beautiful ladies watch by Jacob and Co. is a crystal diamond watch with the standard movement, diamond dial and mother of pearl. The $240,000 watch is more reasonable in price but is still very exclusive, limited to just 180 pieces.
One of of the hottest collections out there right now is the "Grant" by Jacob and Co. It's a 5-time zone watch with a sporty look that is available solid or with diamonds. It's a really unique shape and the feedback has been incredible. Price starts at $6,000 and goes up to $50,000 .
Jacob and Co. tourbillons are always impressive. We first looked at the a simple tourbillon with skeletonized movement, which would be a nice suit watch. It is limited edition of just 36 pieces in white gold for $120,000. We also looked at a rose gold tourbillon which boasts the most classic look. In fact, the only real way to tell this is a Jacob and Co. piece is by the case. The rose gold tourbillon retails for $150,000.
The watch that Jacob Arabo was wearing during our meeting was equally stunning. It is a "Rainbow Tourbillon" with all pave yellow diamonds and one of only three ever made.
But there is more to Jacob and Co. than just watches. Jacob Arabo gave Haute Time an exclusive sneak peek at some never before seen diamonds that he is carrying. He showed us a very rare 54 ct diamond which could be worn as a ring or a pendent, priced at $8 million. We also looked at a 30 ct emerald cut diamond with a price point of $ 5 million and a one-of-kind blue 17 ct flawless diamond worth $10 million. Another stunning pieces was a $6 million, 24 ct emerald cut cashmere sapphire ring.
Check out the video on HauteTime.com to see all the amazing timepieces and diamonds from Jacob and Co. and get an inside look at my meeting with founder Jacob Arabo.
Like Haute Time? Join our Facebook page or follow us on Twitter @hautetime.
Subscribe to discover the best kept secrets in your city