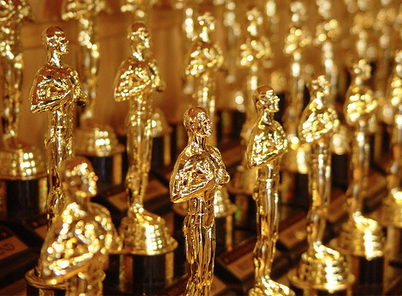 Can't get enough Oscar information? Whether you have an office pool or a private party where everyone has a vote without being an Academy member, you will want to have a leg up on the competition. Here are some apps that can really help you.
IMDb : See Road to the Oscars for a complete list of nominees in every category. All things Oscar and beyond, IMDb has the largest data base of all Movies, TV, Actors, Directors, Producers and casts of any other site. It is one app to have all year round if you are a Movie or Television buff. (free)
Awards Hero Oscars:  Has a comprehensive look at the 2012 Academy Awards nominees and let's you vote on your picks to win. It can create an Oscar pool for you and your friends (only for IPhone). Movie Trailers, Latest Photo's, share your picks on Facebook and Twitter. (free)
Oscars ABC digital: This app has an exclusive access to live streams from 24 cameras placed through out the Red Carpet, back stage, and the Governor's Ball to watch the live action. However it does not stream the live broadcast. (free)
E! Live From the Red Carpet: If your main guilty pleasure is watching Fashions hits and misses on the Red Carpet then this is your App! Also see Fashion Police app for you Joan Rangers.
Now, for you serious big betters on the Film Industries horse race you need to go to this website: http://www.goldderby.com This site pools the top publications from the entertainment industry and their users to predict their over all winners. The predictions are listed in a number of charts and are aggregated into a race track odds and percentages.
So, whether you are watching Oscar Sunday on your humongous flat screen TV or in a screening room or at Charity viewing event you might want to sneak a peek at these apps or web site's for an additional "Got to have everything Oscar!" And the Winner is?
See you at the movies!
Subscribe to discover the best kept secrets in your city