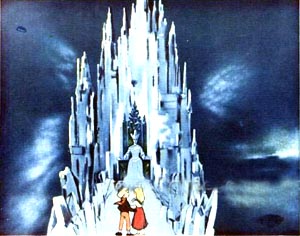 Currently on exhibit until Feb. 5 at the Na Solyanke Gallery in Moscow is the "Cold and Beauty: The Snow Queen is 55."  The exhibit features the work of modern world-renowned artists and animators, the airing of "The Snow Queen" and the original sketches by Alexander Vinokurov to the 1957 Russian award-winning animated film.
The exhibit honors the 1957 Soviet animated film "The Snow Queen" directed by Lev Atamanov -the film is based off of the story with the same name by Hans Christian Andersen- after its release, the film won numerous awards around the world.  It was incredibly popular in the Soviet Union and kids to this day still watch the "Snow Queen."
The film in a nutshell centers on a little boy Kay and a little girl Greta who are in love.  Kay's grandma tells a story about the Snow Queen who reigns over all the snowflakes and can be seen on snowy nights.  Kay see's the Snow Queen and is in a sense hypnotized to live with her.  The story unfolds as Greta faces many obstacles to try and save Kay from the grasps of the Snow Queen.
To mark the success and impact of Atamanov's animated rendition of the "Snow Queen," Na Soyanke Gallery featured works from many artists who created pieces themed after the dreamlike tale.  Some of the pieces include David Birkin's frozen video portraits of famous Russian athletes and celebrities.  Other artists involved in the exhibit were Andrei Bartenev, Khaik Simonyan and Katya Bochavar.
Like Haute Living Moscow? Join our Facebook page or follow us on Twitter @HauteLivingMag Want Haute Living Moscow delivered to your inbox once a week? Sign up for our newsletter.
Source: Moscow Times
Subscribe to discover the best kept secrets in your city