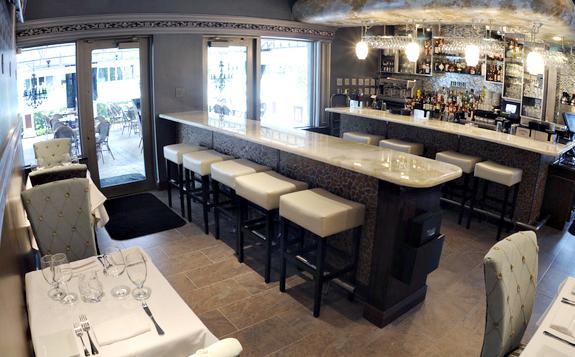 Frosty the Snowman will never know what its like to live in South Florida.  He would become a steaming puddle with a floating hat and pipe in about .1 seconds once the Florida sun beamed down on him.
But there may be one place in Florida where Frosty would feel safe and not fear his inevitable destiny.  That place is Tundra, the new 2,280-square-foot restaurant in downtown Fort Lauderdale.
This is not your ordinary restaurant.  Tundra is ice themed.  From the suave natural tundra theme, the nightly ice sculptures, chandeliers and misty LED ice beacons, Tundra is the perfect place for anyone trying to cool off from the Florida sun.
The bar, made of snow-white onyx,  stirs up specialty cocktail such as the Tundra Tini, a tasty drink ideal to sip on while gazing at the giant ice sculptures made every night.
Tundra came into fruition from restaurateurs David Berman and Alex Podolny.  They didn't just create an icy chic restaurant for people to cool off though; the eclectic global menu will have customers coming back again and again.
For those who can't just choose one meal on the menu, Tundra created the 'Tundra Taste Tour,' offering 16 small dished including beef meatballs, potato crusted black grouper and butter poached lobster.
Berman and Podlny plan on expanding their ice restaurant empire with the soon to be opening of Chill in South Beach and Alaska Ice Lodge in an undisclosed location.
There may be a lot of Frosty the Snowman sightings in South Florida this year, hopefully he doesn't drink too many Tundra Tini's and stumble outside into the sun.
Subscribe to discover the best kept secrets in your city