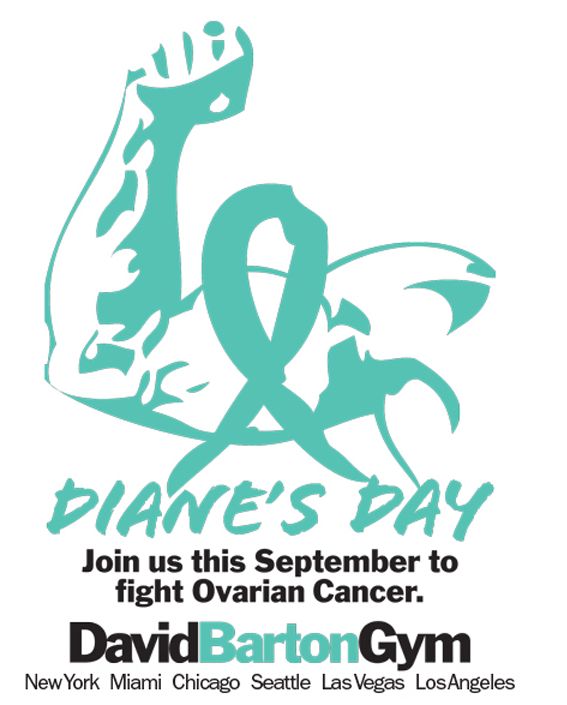 Following last year's charitable campaign in which DavidBartonGym raised over $115,000 to improve treatment options for women with ovarian cancer, gym founder and owner David Barton will proclaim for a second consecutive year September 24, 2011 as "Diane's Day" in honor of Barton's sister, Diane Barton. All DavidBartonGym locations in New York, Chicago, Miami and Seattle will donate proceeds from every personal training session on Diane's Day to The Clearity Foundation.
To raise additional awareness and funds, DavidBartonGym will host various local events, including a philanthropic luncheon at Vinter Grill The Strip at Neiman Marcus in Las Vegas, as well as a fashion presentation, styled by Barton. In addition, GILT Group's "Gilt Gives" will sell special training packages in local markets including New York, Chicago, Miami and Seattle, with all proceeds donated to the Clearity Foundation.
The Clearity Foundation optimized DavidBartonGym's financial contribution in 2010 by creating the Diane Barton Database, a valuable and accessible platform to help women make better treatment decisions.  By comparing each woman's individual molecular profiling data against the Diane Barton Database, treatment choices can be personalized and prioritized.
"Ovarian cancer is hard to detect but harder to treat. I have partnered with an organization whose research benefits people right now and who need additional funding to continue to make improvements in treatment and detection. Every penny gets us one step closer to improving someone's chances. I can't emphasize enough the importance of acting now," said David Barton, founder of DavidBartonGym.
"Thanks to the money raised by DavidBartonGym, The Clearity Foundation has improved its database of tumor "blueprints" and named it the Diane Barton Database, in honor of David's sister, a physician who was only 45 years old when she passed away," said Laura Shawver, Ph.D., Founder of The Clearity Foundation. "David is deeply committed to providing women with ovarian cancer resources that can positively impact their lives today. At The Clearity Foundation we offer resources to do just that."
Ovarian cancer tumors vary from patient to patient and do not uniformly respond to FDA-approved treatment; therefore they need customized treatmentplans. Molecular profiling enables the individualization of a patient's treatment by matching tumor alterations with one or more drugs.
"David recognizes that The Clearity Foundation's approach to finding personalized treatments for ovarian cancer patients is unprecedented, and I had the opportunity to tell him about my personal experience with molecular profiling," said patient advocate Aimee Jungman. "DavidBartonGym outdid itself with this terrific series of events that raised money that will have a profound impact on The Clearity Foundation. I appreciate David's and his team's enthusiasm. They are making a difference in the lives of women with ovarian cancer."
Subscribe to discover the best kept secrets in your city