It's 47 acres of South Pacific paradise.
Located in Fiji, the Rai Ki Wai Wakaya Estate is located on Wakaya Island, a 5-mile long and 1.5-mile wide privately owned island in the Fiji chain.
Rai Ki Wai is touted as one of the most beautiful homes in the South Pacific and was even named "The South Pacific's Ultimate Address" by Private Islands Magazine. The stunning private estate boasts more than 20,000 square feet of living space and unparalleled views of the glistening ocean and reef.
The estate is currently for sale by owners John Farrand, former CEO of Panavision and Giselle Fernandez, world-renowned newscaster. Asking price is now $6,950,000.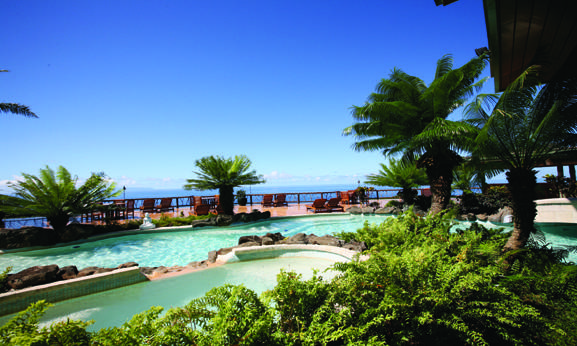 The home is decorated in a hybrid Balinese and Asian style.
The pair has nothing but praise for the palatial escape.
"It's a beautiful 50-acre estate on a really romantic, private island in the Fiji chain, probably the most exclusive, beautiful, pristine sanctuary in all of Fiji," Fernandez said.
The story of how the couple grew to call the island their home is equally beautiful.
"We traveled the world after we got married and stopped [in Fiji] as one of our stops," Fernandez said. "We never left. We ended up buying a 50-acre estate that is absolutely press and paparazzi free, one of the few islands remaining in the world where you are assured privacy, just a real sanctuary to relax and enjoy the tranquil beauty of tropical life."
The stunning home, replete with polished Fijian hardwood, boasts seven suites and nine baths within the main house pavilion, a separate master bedroom pavilion, a guest pavilion with two guest suites and three detached Fijian-style guest bures, or villas, making it the perfect place to host visitors.
The home is decorated in a hybrid Balinese and Asian style. A stunning entryway leads to the more than 4,000 square-foot grand room in the main pavilion, which boasts more than 40-foot ceilings and a vibrant color scheme. A 7-foot gold Buddha adorned with gems even holds court in the grand room's Buddha Bar.
In most rooms, the views of the ocean are nearly 260 degrees.
"You really feel like you're out in the middle of nowhere," Fernandez said. And she's right, as nearly 1,500 miles sit between Fiji and any other major landmass.  "You're at the top of the world, the highest point on the island."
The privacy is unrivaled. As a privately owned island, Wakaya is not accessible to the public and any inbound visitors are closely monitored.
Subscribe to discover the best kept secrets in your city