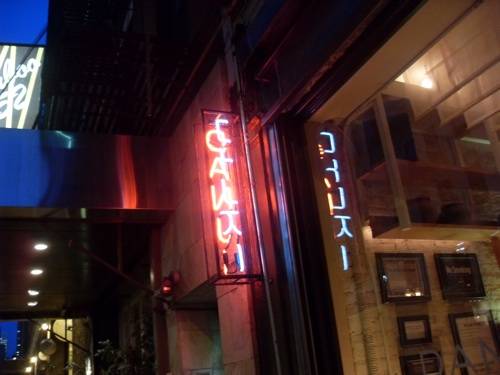 Korean food has a special place in my heart. I love the strong flavors, the use of fermented vegetables and the fact that the culture emphasizes eating huge quantities of food with people you love. I also love French food. I love the reverence that the French have for their food, the passion that French chefs have for their craft and the fact that French ingredients are either top of the line or simply not used. So…what do you get when you meld French technique and Korean ingredients?  Danji.
Opened by Hooni Kim, who has worked at both Daniel and Masa, Danji is a diminutive Hell's Kitchen restaurant that is easy to walk right past. Entering the tiny space, you are greeted with a bar, industrial-chic decor and several long communal tables, as well as more intimate tables in the back.
Start off with the trio of kimchi
From the left: Daikon. Crisp, slightly salty, umami filled and rich. Cabbage. Crunchy, fishy, garlicky, spicy…all these things are EXTREME compliments and meant in the BEST way possible. This is one of the finest kimchis I have ever had. Cucumber. Sweet, salty, mild. A bit too mild for me, but it was my mother's favorite.
Spicy yellowtail sashimi with cho jang, jalapeño.
Buttery, tender yellowtail that was both sweet and burst with the freshness of the sea. Wrapped around herbal and fragrant microgreens, swathed in a tangy sauce and topped with a jalapeno that just flashed some heat at the end, this was a raw fish preparation that would be welcome at the finest sushi restaurant in NYC.
Rock shrimp tempura with flying fish roe mayo.
This isn't the popcorn shrimp you get at Red Lobster. Think snappy bites of lobster because this shrimp really did have the rich, buttery taste of lobster. Then coat that in light, crispy batter, eat it with a sprig of sweet licorice-y chervil and dip in in creamy mayonnaise tempered with the briny salinity of roe.  Oh good, you are drooling.
Bulgogi filet mignon sliders with spicy pickled cucumber & scallion salsa.
These are not too hot–really more spicy than fiery. Think ginger, aromatics and just a touch of heat. Think sweet, salty meaty flavors colliding with the pickled cucumber kimchi from the appetizer and a cilantro and scallion sauce cooling everything off and adding tangy and citrusy hits. Think a butter brushed bun in between a potato bun and a brioche.
Spicy pork belly sliders with scallions & kochujang.
What I am about to say may get me in trouble with the foodie community. These are now my favorite Asian sandwiches in NYC. Sorry Momofuku…your pork buns have been dethroned. These were truly spicy. Lip tingling, tongue engaging spicy – not blister-causing hot, but spicy enough to make me sit up and respect it. The pork belly was thick, velvety and unctuous while somehow managing to have crunchy and caramelized bits of the meat. The scallions were a welcome vetetal note and the kochujang added that funky fermented note that makes Korean food so notable. And those buns…That's what she said.
Poached sablefish with spicy daikon.
I ordered this upon the recommendation of our extremely helpful and competent server. I had tried sablefish before, and found it to be tough, oily and overly fishy. I was not holding out any high hopes for this. Sometimes I love being wrong. This was the best cooked fish I have had quite some time. It had the same mild flavor and velvety texture as cod, but with the flakiness and slightly drier (read – less mucus like) mouthfeel as haddock. It was not oily or tough at ALL! It was so clean and easy to eat. In the sweet, salty, tangy miso-teriyaki type sauce, with the crisp and cabbage-y daikon, this dish was one of the favorites of the night. Simply perfect.
'Danji' braised short ribs with  fingerlings & pearl onions.
Our last dish, and perhaps the best example of the philosophy of this restaurant. A classic French dish, cooked in a french way, so the beef was soft and tender but not at all stringy, the potatoes were creamy, the onions were sweet, and the flavors were layered. Asian ingredients, like miso and ginger figured into the sauce so that there were herbaceous and spicy notes in there. This was not a French dish, not a Korean one. It was familiar yet entirely new. It was so totally…Danji.
And that's what this place is. It is a cuisine and an entity all its own. The food is as refined as any I have ever had, yet the atmosphere is hip and relaxed. The portions are small, but the flavors are hearty and huge. The ingredients are Korean, and the technique French. The result is my new favorite Hell's Kitchen restaurant. And I bet it will be yours, too.
Like Haute Living New York? Join our Facebook page or follow us on Twitter @HauteLivingNY. Want Haute Living New York delivered to your in box once a week? Sign up for our newsletter.
To read more from Sarah, visit her blog, www.fritosandfoiegras.blogspot.com.
Subscribe to discover the best kept secrets in your city