While volume manufacturers like Nissan and Chevrolet increasingly vie for buyer approval for their new affordable electric cars, an equally heated battle is shaping up for the highline electric sports car segment.  Segment, you may ask?  Yes.  What was briefly a one-man-race dominated by Tesla Motors has quickly burgeoned to a full field of competition that should increasingly take flight over the coming 18 months.  Fellow California-based independent Fisker Automotive is poised to enter the race with their long-under-development Karma, while big boys such as Audi and Mercedes-Benz have duly taken the hint with their respective e-tron and E-Cell, essentially conceding that a potentially thriving market for upscale electric sports cars lies just around the bend.  Even Porsche got into the act when they announced last summer that they had approved production of their 918 Spyder.  So it was hardly surprising when the lone German holdout, BMW, announced early last month that they would also enter the race with production approval of the Vision EfficientDynamics.
As much as it sounds like a mandatory physics course for aspiring rocket scientists, the Vision EfficientDynamics is actually an uncharacteristically named BMW concept car that first appeared at the Frankfurt International Motor Show in Fall 2009.  The sleek and self-consciously futuristic car is a 2-door, 4-seat sports coupe powered by a different motor for each axle.  While a 3-cylinder turbo diesel with a hybrid synchronous motor drives the front axle, a full hybrid engine is responsible for the rear axle.  In tandem, the two motors produce 328 horsepower and can reportedly launch the car from 0 – 60 mph in less than 4.8 seconds, with a top speed of 155 mph.  Average fuel consumption is projected to be 75.1 mpg.  The original showcar was conceived as a plug-in hybrid with a chassis-housed lithium-polymer battery capable of a range of 32 miles when operating on electricity alone.
Signaling the seriousness of their intentions, BMW invited a small group of journalists and three lucky contest winners to drive a curiously decorated functional prototype of the new car in Leipzig a couple weeks ago.  Of course the contest winners were enthralled with the car's fast and quiet performance (what ordinary driver wouldn't be under such circumstances?), but media feedback has been muted thus far.  Considering that the car is only an early prototype, though, perhaps final judgment is best saved for a finalized production version.  Regardless, it's reasonably clear that much of the car may be changed before a street-ready version hits showrooms in 2013.  In addition to the side impact issues that will likely reduce the feasibility of the transparent vertical doors, the car's demonstrative paint job and even its promising shape may be altered.  If one thing is sure to disappear, though, it's that name.  I never thought an actual word name would have me missing the maddening numeric nomenclature that dominates car titling today, but Vision EfficientDynamics?  Somebody get these guys a thesaurus.
For a full rundown on the Vision EfficientDynamics, visit www.dontblogaboutthis.com
Below, the 2009 BMW Vision EfficientDynamics concept car as it appeared at the 2009 L.A. Auto Show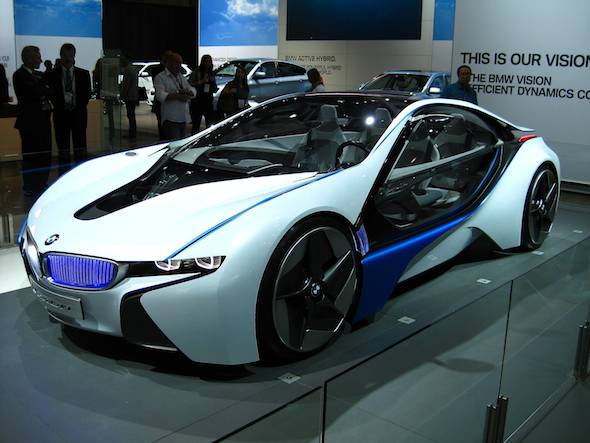 Subscribe to discover the best kept secrets in your city