Before sitting down to a private 18-guest luncheon at The Black Dahlia, at which The Forge Restaurant Wine Bar Executive Chef Dewey LoSasso dished out an exquisite four-course meal including pumpkin cakes with caviar and mint crème fraiche, jicama and cured salmon salad with dried fig, Florida snapper in a bag with truffle and apple tatin with rose petal ice cream, I sat down with Olivier Krug, director of the House of Krug, and Margareth Henriquez, better known as Maggie, president and CEO of Krug, for a glimpse into the prestigious Champagne maison. Now you may think I'm being a bit dramatic, and I would have once thought so as well, but once you've had your first sip of Krug Champagne, you are in for a lifetime. Because as Henriquez asserts during the erudite affair, lavish of cuvée, "What you understand you may forget. What you feel you will always remember."
I first met Krug and Henriquez sitting in an intimate library setting boasting a palatial chandelier. Surrounded by books ranging in subjects from Freud to Aspen, to "30,000 Years of Art," with a regally set fireplace ablaze, Krug and Henriquez spoke about their beginnings with the Reims-based brand.
Krug is most likely to be the only person who cannot remember his first taste of the Champagne. "I had Krug on my lips from the day I was born," he says. "It is a Krug family tradition." But although his love for Champagne goes back to infancy, Krug was given free rein to go his own way. After graduating, having studied business and economics in Paris and Reims, and upon accepting his first job, Olivier's father offered him the opportunity to learn and work alongside him. "My father planned on retiring 10 or 15 years after that point, which is about how long it takes to learn everything needed to take the reigns of the Champagne House," Krug says. Olivier could not deny his innate passion for cuvée for long, following his pedigree to become the heart of the business to represent the sixth generation of the Krug family.
How Henriquez arrived at the Krug House is by a much diverging path. Coming out of school with a Harvard degree in advanced management, she began her career as a systems engineer before going on to become president or CEO of several companies in Venezuela, Argentina and France, including Seagram Company Ltd., Nabisco and Bodegas Chandon. Henriquez eventually became head of all Moët Hennessy properties in Argentina, and is now responsible for setting the vision and general management of the House of Krug, an elite asset in Moët Hennessy's model portfolio of labels. Henriquez also sits as a member of the executive committee of Moët Hennessy International.
As crucial as Olivier has been to the Krug family, Maggie has been indispensable to the brand, even inventing a new process for tasting the four marks of Krug, coined, "From a Point to the Universe," or as Maggie interjects, "A Journey Through the House of Krug." We move to another stately setting within the restaurant, this time with artisinal glass bubbles raining down in the background, surrounded by enomatics, the tasting then ensues.
The journey begins at a sole point, the overture: Krug Clos du Mesnil, the purity of the house. Made from grapes from a single grape variety, from a single parcel, and a single year, Krug Clos du Mesnil plays as a soloist in the orchestra of Krug. The tasting continues with Krug Vintage, the character of the group, made from a trio of grape varieties, from selected parcels, and a single year, brought together in a sonata.
From the premiere cuvées cultivated by the founder of the house, 20 years are needed to make a single bottle of the next label, Krug Grande Cuvée, best expressed as a formula: 10 vintages plus three grape varieties plus six years of aging equals 20 years to enjoy a glass of Krug's signature Grande Cuvée. It is the only Champagne resulted from blending seven to 10 different vintages, with the oldest wine being 15 years old, before taking six years to rest, and one after disgorging, before going to the market. Blended to offer a remarkably complex, stylish, and versatile wine, at the pinnacle of the art of blending, Grand Cuvée expresses the entire orchestra. Once Krug Rosé is introduced, the fresh fruit sensation and provocation of the house, representative of the standing ovation, and the outro of the journey, my tasting through the house of Krug c'est fini.
With a rich history that dates back to 1843, Krug has been shyly redefined over six generations, with Olivier Krug befitting the crown of the latest lineage to be coronated. What remains axiomatic in every bottle of Krug, still today, is founder Joseph Krug's ambition of creating Champagne with a taste quite unlike any other. Krug makes only Cuvées de Prestige, starting where others stop. "What has been said for Krug over nearly 170 years, excellence everyday, today, we are just as obsessive with each and every minute detail," Krug says.
Breaking the rules of Champagne production, Krug is indeed the haute couture of Champagne houses, accounting for only 0.2 percent of Champagne production. "Krug's prices are due to rarity, not quality, each bottle of Krug captures elegance, balance, and contrast," Henriquez explains as to the varying price points among the four marks. "Krug is about tasting the best, and enhancing it."
No matter your age or breadth of Champagne knowledge, whether you're an aged connoisseur or know not a thing about brute, Krug's full-sensory experience is a notable one. Evident from the initial aroma as it envelopes your nostrils, to the exquisite taste, to the ever-so-slight bubbles that tickle the senses and finish off the experience, its superior quality is prominent, and at the risk of sounding poetic, Krug is history, passion and energy in a glass ("Never a flute!" Maggie insists.)
I was fortunate enough to experience my first taste of Krug sitting among the heart and soul of the brand, but for those of you that have not yet welcomed Krug into your traditions, I urge you to sit down with a loved one, surround yourself with family and friends, and toast to passion, the very embodiment of Krug. I guarantee you that it will be an experience you will take with you for years to come. Once you've raised your glass with the fruit of the epitome of Champagne houses, you will find it hard to settle for anything less. As Olivier never fails to resound from the House of Krug to the four corners of the world, "You will never forget your first taste of Krug."
Like Haute Living South Florida? Join our Facebook page. Want Haute Living South Florida delivered to your in box once a week? Sign up for our newsletter.
Maggie Henriquez takes Haute Living on a journey through the House of Krug at The Forge
Guests arrive at Krug luncheon at The Forge
Krug Champagne
Olivier Krug speaks in the library at The Forge
Olivier Krug addresses guests at Krug luncheon at The Forge
Krug luncheon at The Forge
The four marks of Krug
Olivier Krug, Maggie Henriquez and Diana Gdula at Krug tasting at The Forge
Krug tasting at The Forge
Krug luncheon at The Forge
Olivier Krug and Maggie Henriquez in the library at The Forge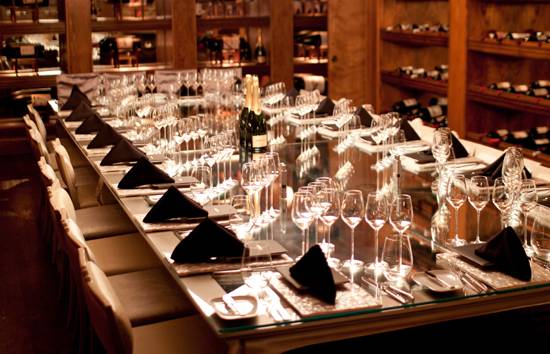 Table setting for Krug luncheon at The Forge
Subscribe to discover the best kept secrets in your city