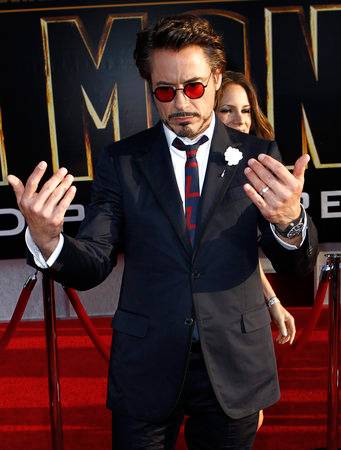 Our Haute 100 list details the accomplishments of the most influential people in each of our markets—Miami, New York, Los Angeles, and San Francisco. These people continue to make moves, so rather than waiting for the next Haute 100 issue to come out, we thought we'd provide you with regular updates on those Haute 100 members who are making headlines. Check back daily for more info on the most powerful people in your city. Robert Downey Jr. has plenty of movies coming to a theater near you in the near future, and opens up to Playboy about an anticipated due date for his future daughter in an interview in the magazine's November issue.
Robert Downey Jr.
Category: Entertainers
Industry: Film
What Made Him Haute: He's known as Hollywood's comeback kid, stemming from several major career comebacks. In particular, he made a comeback in 2008 with an Oscar-nominated performance in Tropic Thunder and playing Tony Stark in Iron Man, which he reprised in Iron Man 2 earlier this year. He reportedly ranked in around $33 million in 2010 with upcoming flicks like the Sherlock Holmes sequel and Due Date.
What Makes Him Haute Now: In an interview in Playboy magazine's November 2010 issue, Robert Downey Jr. reflects on having more kids and his career. Downey Jr. and his wife Susan Downey have started a production company called Team Downey and the actor tells Playboy that he thinks he will be directing "in three years." Downey Jr., who is already father to 17-year-old son Indio with former wife Deborah Falconer, tells Playboy, "I think I will be wrist-deep in doo-doo within 18 months. I'm calling it right here." The 45-year-old adds, "I think we should probably try to have a girl because I don't want another male entity to have to compete; I don't want Indio to feel there's another boy in my life. But I don't know what we'd have to do. Do we have to put it in a spoon and hang upside-down? Of course that's wrong, and I think, 'Wait a minute, I don't get to make that decision. 'It's the stupidest conversation ever because it's like saying 'Red or black?' You have a 50 percent chance of being right and a 50 percent chance of being wrong. I think we're going to have a girl."
In the meantime, Downey Jr. is keeping himself well occupied with another due date, his new movie Due Date, which is due in theaters Nov. 5. He is starring in the drama Love and Distrust also due out early November, and is working on shoots for the yet-to-be-titled Sherlock Holmes sequel, The Avengers and Iron Man 3. He was also planning on adding the sci-fi thriller Gravity with Natalie Portman to his schedule, but rumors are swirling that he may be pulling out due to scheduling conflicts. Other rumors have it that Downey Jr. is set to produce, and possibly star in, the new Columbia Pictures film based on the 2009 bestselling non-fiction, "Emergency! This Book Will Save Your Life," by Neil Strauss.
Like Haute Living Los Angeles? Join our Facebook page. Want Haute Living Los Angeles delivered to your in box once a week? Sign up for our newsletter.
Subscribe to discover the best kept secrets in your city