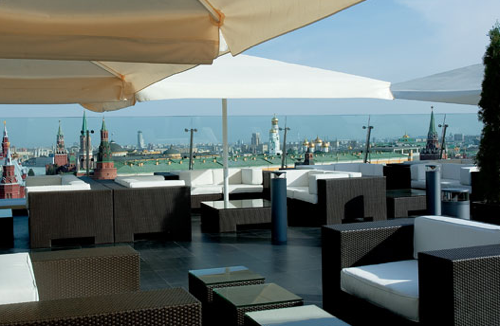 With the hottest summer for a millennium in Moscow, the Russian capital's restaurateurs are having a hard time persuading Muscovites to dine on anything warmer than ice cubes. And that is understandable; abnormal temperatures soared to up to 104 degrees Fahrenheit when the heat wave covered the capital more then a month ago. The French Riviera is packed with Muscovites who feel disinclined to swap the beach-front terraces for a sweltering city with melting asphalt. So the Russian capital's eateries are pulling out all the stops with some dazzling menu ideas.
Take The Tsar's Hunt restaurant, for instance, situated in Reblevo-Uspenskoe highway and home to the billionaire beau monde of Russia. The favored haunt of former British Prime Minister Tony Blair and seemingly every other major politician who comes to town. Even this bastion of elegance has been compelled to install a giant pool with specially selected seafood to cajole the reluctant owners of the shiny new Bentleys parked at the entrance. These salt water delicacies are delivered several times a week, and of course can be prepared at the request of the diner. You might want to try exquisite Kamchatka crab sea cock, Black Sea mussels. And then there are the Russian pre-season oysters straight from Sea of Japan.
Another great place to be this August is the O2 Lounge bar at the top of the Ritz-Carlton hotel. It's the place to go because, first of all, from the roof you get the best panoramic view of the Kremlin and Red Square while sipping your favorite refreshment. But the thing that will undoubtedly grab your attention is a new exquisite cocktail list from the senior bartender. All ice-cold and refreshing. By all means try Flower Valley, made from gin, rose vermouth, lemon juice, real rose syrup and lavender foam. It both looks and tastes divine. Or perhaps you might want to fix your attention on Mesmerised, a mixture of vodka (what else, we are in Russia!) and whisky liqueur, with the addition of red currant, clove, lime juice, syrup and lemongrass foam. Of course, a lot of more traditional cocktails are also on the menu.
Although if you have a taste for something classic like a Cosmopolitan or Mojito, then an alfresco drinking option is just waiting to be devoured at Café Gallery. It is one of the best night spots in the capital. Its roomy summer terrace is long-term choice of Moscow's beautiful people. Mocha decor, comfy sofas, and the green and flowery location accompanied with great cocktails makes for an exquisite evening. This summer Gallery has introduced a revolutionary redesign of its menu. It's actually more of a gadget, than a cocktail list. It looks like an ordinary book, but when you unfold it, it illuminates (the pages are made of flat square lamps working from batteries installed inside that automatically switches on when opened). The glow it produces enlightens the whole table. Perfect for a sweltering night as you let time fly watching the who's who of Moscow. Its heady mixture of cocktails from margaritas and Bellinis to fruity variations of English Pimm's will keep you amused as heat slowly subsides in the capital.
The Tsar's Hunt, Rublyovo Uspenskoye Shosse, Zshukovka Village, Bldg. 186a, +7495418 7982.
O2 Lounge Bar, Tverskaya Street 3, Moscow,  +7 495 225 8888
Café Gallery, Moscow, Petrovka, 27, www.gallerycafe.ru/en
Subscribe to discover the best kept secrets in your city