Living up to its billing by top travel publisher Frommer's as one of the "300 Unmissable Events & Festivals Around the World," the annual Rodeo Drive Concours d'Elegance offered a wide range of beautiful and unusual automobiles during its well attended staging last Sunday.  Held every Father's Day on the famed Beverly Hills luxury shopping corridor, this year's Concours on Rodeo was themed "A Different Road," and as such, featured some unique one-offs and concept cars, in addition to more familiar corporate sponsors.  Bookended by platforms from Jaguar and Ferrari, the Concours provided the English manufacturer an opportunity to further celebrate its 75th anniversary and promote its new XJ, while the Italian sports car company displayed its recent California and the soon-to-be-released 458 Italia.
Despite the official presence of these marques and an in-person glimpse of the forthcoming Italia, it was the lesser-known gems that lay between the two displays that really generated interest.  Jaguar's exhibit extended to a row of lovely XKs and E-Types from the 1950s and 60s, culminating in a rare 1956 Jaguar D-Type Long-Nose Racer owned by Creg Johnson, which won the 2010 Jaguar "Best in Class" Award.
Johnson's racecar was displayed in tandem with a race-prepared E-Type, and immediately behind the two sat a typically strong contribution from the Petersen Automotive Museum, including a 1937 Jaguar SS-100 that was once owned by the Velvet Fog himself, Mel Torme.
The Chairman's Award went to another unusual car, the Timb's Buick Special, owned by Gary Cerveny.  Employing a futuristic streamlined body, the car was designed in the late 1940s by aircraft engineer Norman Timbs, and has rarely been publicly displayed prior to last March's Amelia Island Concours d'Elegance in Florida, at which Cerveny debuted a recent restoration of the car.
Bill Tilley's 1954 Ferrari Mondial, a little red barchetta that encapsulates the purest distillation of the Ferrari essence, was rightly awarded the ICON Award for Most Sporting Classic.
Other notable vehicles to draw accolades:
1934 Packard Twelve Model 1108 owned by Mr. and Mrs. Jack Nethercutt
2010 Svend Ingerslev Award for Best in Show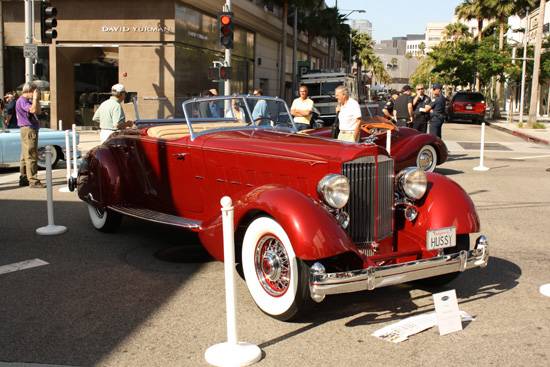 1952 Cadillac Custom "Elvis 2" owned by John D'Augustino
Beverly Hills Award
My personal selection of Haute Honorable Mentions:
1998 Jaguar XK180 Concept Car owned by Jaguar
1954 Pegaso owned by Chuck Swimmer
1951 Delahaye owned by Peter and Merle Mullin
1965 TVR Griffith owned by Eric Breslow
1955 Mercedes-Benz 300SL Gullwing owned by Paul and Sherri Colony
1967 Lamborghini Miura owned by Dr. Mark Murphy
2009 IDA/Mosler owned by Intense Automotive
According to restorer Justin Cole, his 1948 Tucker is the only example of the car to have been bodied as a convertible, though it was not completed by the original factory.
Michael Kadie stands by his 1965 Shelby Daytona Coupe replica by Factory Five.  Kadie took the unusual step of installing an electric powertrain in the car, which he uses as a daily driver, creating the ultimate automotive oxymoron – an alternative power Shelby (well, sort of).
Subscribe to discover the best kept secrets in your city