Jared M.
For over twelve years,
Jared M.
has become the leading custom designer and manufacturer of finely-crafted garments in the most lavish fabrics from around the world. Their clientele are men of stature: athletes, celebrities and professionals who live their lives without limits and have ferocious appetites for luxury clothing. Jared M.'s designs are tailored to your exact measurements and specifications. If you're looking for custom clothing that projects your style, Jared M. is your place! At Jared M., they do more than just tailor custom suits. They are a leading custom designer and manufacturer of finely crafted garments that will handle all aspects of today's modern man's wardrobe.
900 S Miami Ave., Miami; (305) 374-0800; www.jaredm.com
En Avance
Jon Secada and Robert Dinero approved, En Avance in the Miami Design District delivers a luxe selection of designers, jewelry, fragrance and footwear perfect for today's modern man. With fashion-forward designs, En Avance invites the most fashion-forward men in Miami who enjoy shopping in pure ambiance.
Design District
161 NE 40th St., Suite 101
, Miami; (305) 576-0056
Ermenegildo Zegna at Bal Harbour
For the leading multinational in men's luxury clothing and one of the oldest business families in Italy, excellence does not happen overnight. It takes years of passion, creativity and dedication. For 100 years, the Zegna family has pursued excellence in all its forms. It began with the vision of its founder Ermenegildo Zegna who imported English technological innovation to advance Italian fabric craftsmanship. Four generations later, Zegna has evolved into a global brand, a leader in men's fine clothing and accessories, says its catalog. Today, the name Zegna represents an international symbol of modern style and time-honored standards.
9700 Collins Ave., Miami Beach; (305) 865-8652
Dolce & Gabbana in Bal Harbour
One of few stores in America, Dolce & Gabbana's Bal Harbour location screams high fashion and glamour for today's boldest men. Merging sensuality and talent, this located presented by Domenico Dolce and Stefano Gabbana is a favorite among Miami's most elite males. The store itself is uplifting and colorful with each design a piece of art.
9700 Collins Ave., Bal Harbour; (305) 866-0503
The Webster
The Webster, a 20,000 square foot luxury multi-brand boutique located in the heart of Miami Beach, is the go-to location for fashion-foward men. Featuring ready-to-wear designs, shoes, bags, photography, jewelry and watches, the three-level boutique is the perfect place for an afternoon of shopping with the guys or with a significant other. And after you've shopped till you've dropped, check out the restaurant!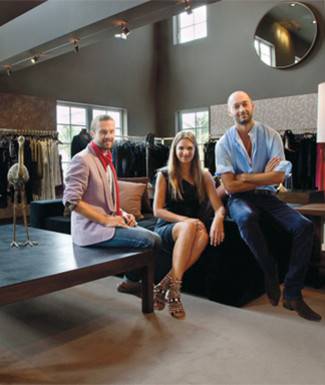 The Webster Temporary Boutique, 919 Collins Ave., Miami Beach; (305) 674-7899
Subscribe to discover the best kept secrets in your city