Opulent and lavish like the city of Dubai, staying at one of the following Presidential Suites treats you to an experience of pure luxury. You will stay in rooms fit for Kings and Queens decorated in grandiose and artful style while being pampered and taken care of to your heart's content. These presidential suites are located in Dubai's most renowned hotels. One of kind in décor, service, and class, you won't ever forget the experience.
Burj Al Arab
Overlooking the Arabian Gulf from high up on the 24th floor, the Presidential Suites at the unrivaled Burj Al Arab are grandiose in size, amenities, and décor. Each suite covers an area of 667 square meters and has two floors. The lower floor is comprised of the living area, private bar, dining area with kitchen and separate butler entrance, study, and library while the upper floor contains the Master bedroom and second bedroom each with marble bathrooms with a spa bath and walk-in shower all done in porcelain. During your stay you will receive a chauffeur driven Rolls Royce, BMW or helicopter for transport. True opulence, you can't beat the Burj Al Arab when it comes to majestic luxury and elegance.
Raffles
Already renowned for its sophistication and artistic décor, each of the Presidential Suites at Raffles is designed to reflect the elements of earth, wind, fire and water, the four elements of life which were central to ancient Egyptian philosophy. For the "fire" themed suite rich red fabric and gold accents decorate the room inspired from the classical Chinese style. Gilded with mother of pearl, the "earth" theme suite recalls the city's heritage as a renowned fishing port for pearl diving. The "air" themed suite is painted a soft cream palette while the suite representing the element of water is imbued with pale colors recalling the sea.
With a size of 301 square meters each, the grandeur of such rooms is enough for you to feel as if you escaped to another era. Each suite includes beautiful panoramic views of Dubai, a dining room with seating for up to 10 people, a large balcony, stunning bedroom with private his and her bathrooms, and a living room with a state-of-the-art entertainment system.
The Monarch
The Presidential Suite at The Monarch Hotel similarly features stunning views of Dubai from the 31st floor. Comprised of two en suite bedrooms, a king-size master bedroom and a twin guest room, the suite also includes a dining room able to seat up to 12 and luxurious deep-seated sofas for lounging. Large wardrobes are found in each bedroom along with a wall-mounted 42-inch Plasma TV for entertainment. Guests have access to 24-hour butler service and an extensive range of menus prepared by the Monarch's chef.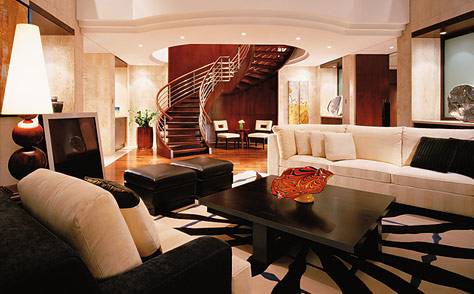 Shangri-La
The luxurious Presidential Suite at the Shangri-La includes a sitting room, kitchenette, dining area and master bedroom and is decorated with bold and sophisticated modern fittings. There is a large main bathroom comprised of a deep soaking tub, a walk-in shower with a rainforest showerhead, and L'Occitane bath products. The living room is complete with Bang & Olufsen televisions which one can easily enjoy from the relaxing plush sofas.
The Address
One of the highlights of the Presidential Suite at The Address Dubai Mall are the stunning views overlooking the Burj Khalifa. Boasting to be some of the best views of the tower, they easily compliment The Address's superb atmosphere and sleek modern décor. Each suite is 350 square meters in size and is comprised of a master bedroom, a private dining room and luscious living area. The large bathroom includes a Jacuzzi, dressing area and Acqua di Parma bath amenities. Guests also have access to the exclusive club lounge. A Dubai treasure, the Presidential Suites at The Address are perfect for business or for a luxurious getaway
Subscribe to discover the best kept secrets in your city