Photos by Javier Herrera
Now that the weather in Dallas is finally warming up (snow in March proves that Hell has in fact frozen over), it's time to enjoy the sun-splashed patios of our city's culinary hotspots, especially on that particular day and time when the world gets a little quieter and the mimosas flow freely—Sunday brunch. However, after taking a tour around a friend's new sprawling downtown terrace (makes Taverna's patio look like an outdoor closet), I had to ask myself: Would brunch not be that much sweeter if enjoyed with friends in the comfort of your own home?
The drinks I could handle, but what about brunch dishes? Standard eggs and bacon simply won't do. I had to beat the goods out of someone… enter Brian Luscher. When it comes to rousing you out of your Saturday night slumber, no one says brunch like lower-Greenville staple The Grape. "When I get up in the morning, I'm starving," says Chef Brian Luscher, who bought the 35 year-old restaurant from the original owners in 2007 and now runs it with his wife Courtney. "I could eat a dozen eggs, so I know the importance of a hearty breakfast." Hearty indeed. Luscher is proud to smoke and cure his own ham and bacon, make his own breakfast sausage, and purchase the freshest ingredients to concoct his made-from-scratch creations. As for the "minor face-lift" Luscher is said to have given The Grape post-purchase, the changes are small, perfunctory, and inspired. So far the only differences lie in the ambient lighting, a few decór improvements, and the removal of the mandatory two-week menu change, which he felt was more forced than emoted.
Below you will find three of his delicious recipes (the sticky buns are an off-menu favorite recipe of his) to inspire you to try your hand at brunch-hosting. A cautionary note: concocting said recipes may lead to friends appearing at your door weekly and without notice.
The Haystack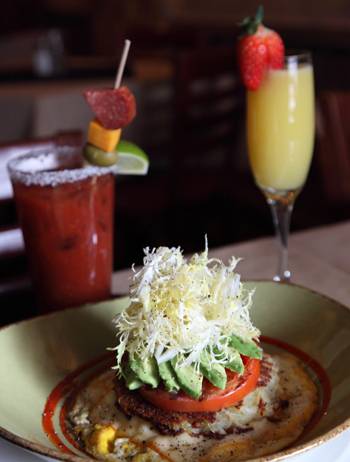 Ingredients:
1 large Rosti potato
4 thick slices of tomatoes
4 eggs
2 slices Muenster cheese1 avocado
Sriracha sauce
1/2 head friseé endives

Method:
Boil potato until ¾ of the way done and let it air cool. Next, peel, grate, form a ¾-inch ring mold and cook in a skillet with butter until crispy and golden brown. Place on plate. Next, grill slices of tomato and add on top of potato layer. Crack the eggs into a sauté pan and swirl a couple times to break the yolk, but don't let them mix with the whites. Flip to finish. Add slices of cheese and sliced avocado scooped from its shell on top of that. The sriracha can be added around the edge of the plate as desired. Add friseé tossed with a simple vinaigrette on top to finish.
Frittata
Ingredients:
2 Tbs Butter or olive oil
1/2 cup broccoli
2 tbs oven-dried tomatoes
2 tbs Pancetta, cooked
Salt & pepper
2 oz Asiago cheese, shredded
4 eggs, whipped
2 big chunks of goat cheese
Method:
Preheat oven to 400 degrees. Over medium high heat, sauté broccoli, tomatoes, and pancetta in pan with butter. Season with salt and pepper. Add eggs and stir with heat-proof spatula. When starting to form around the edges, place pan in oven. Cook until eggs are almost done. Remove pan and flip frittata over—please be careful!  Sprinkle Asiago on top and return to oven to brown. Remove when completely cooked.  Slide frittata onto platter and garnish with crumbled goat cheese, cut into wedges.
Sticky Biscuits
Ingredients:
Biscuits:
1 cup flour, A.P
1 tbs baking powder
1/2 tsp salt
1 oz butter
1/2 cup Buttermilk
Topping:
1 cup brown sugar
1 cup butter
1 tbs honey
Pinch salt
Pinch cinnamon
1 cup pecan pieces
Method:
Preheat oven to 375 degrees. Combine dry ingredients for buns in mixing bowl, stir to incorporate. Cut in butter, and add the liquid ingredients until blended. Roll into 3-inch log and cut into 9 rounds and reserve. Place all ingredients for topping in small saucepan over medium heat and stir until butter and sugar have melted. Pour topping into a sprayed 8-inch pie pan. Place reserved biscuit dough circles in pan on topping. Bake at 375 degrees for 15 to 20 minutes until biscuits are golden brown. Remove from oven and let cool slightly. Carefully invert onto serving plate.
Subscribe to discover the best kept secrets in your city