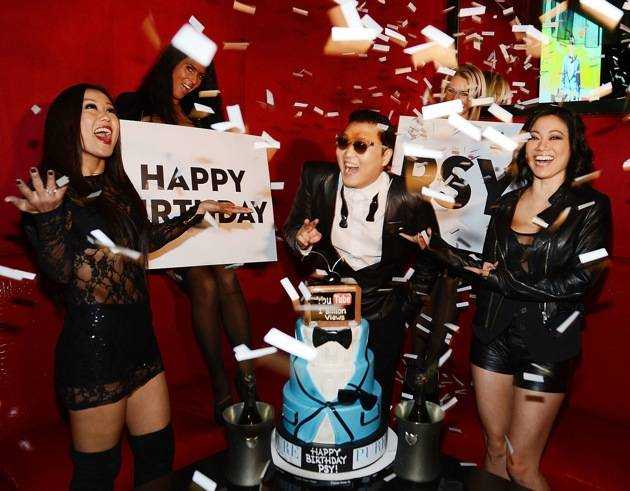 Pure Nightclub at Caesars Palace kicked off New Year's Eve weekend "Gangnam Style" as Korean superstar PSY celebrated his birthday with a special live performance. The dancing sensation arrived at the nightclub around 12:30 a.m. and was greeted by hundreds of fans surrounding the red carpet.
Looking more stylish than ever in a black suit with leather jacket, sequined bow tie, sunglasses and loafers the star made his way down the red carpet, posed for photographers and waved to his fans. PSY was escorted to a private room inside the nightclub, where he could prepare for his performance.
Wanting a more intimate birthday experience, PSY was welcomed into the Red Room, where he was joined by his guests along and presented with his five-tier, baby blue tuxedo cake stylishly decorated with bow tie, sunglasses and topped with a television honoring his YouTube accomplishment of reaching 1 billion views. As confetti flew through the air, PSY was spotted grinning ear to ear as he admired his cake. Loving his cake so much the star requested it be brought to his VIP table and displayed for all his fans to see.
Just after 1:30 a.m., the attention of the packed club was focused on the main stage as the record-breaking artist appeared and took over the mic. Welcoming his admirers to the famed New Year's Eve weekend, PSY announced it was a very special event as he was celebrating his birthday and showed off his cake. Just before he began his highly anticipated performance, PSY asked everyone on the dance floor to take three steps back, on his count, to allow room to dance along. On three, the sea of people shifted back and PSY, thrilled by the action, cued resident DJ Shift and began his hit "Gangnam Style."
After his performance PSY took the time to greet his fans as he made his way to his VIP booth where he sipped champagne with his guests and enjoyed the remainder of his celebration.
Also spotted catching a glimpse of the Gangnam Style master were "That '70s Show" actress Laura Prepon, UFC heavyweight champion Cain Velasquez after his title winning match and UFC Hall of Famer Chuck Liddell.
Click on the photos below to enlarge.
Like Haute Living Las Vegas? Join our Facebook page or follow us on Twitter. Want Haute Living Las Vegas delivered to your in box once a week? Sign up for our newsletter.