Dr. Shoib Myint ( Las Vegas )
Speciality : Face Expert
An innovating surgeon, author, and academic, Dr. Myint is a board certified fellowship trained Oculofacial Plastic and Reconstructive Surgeon He is a Fellow of the American Academy of Cosmetic Surgery. Dr. Myint is actively involved in teaching residents, students, fellows and other doctors from around the world in the field of Oculofacial Plastic and Reconstructive Surgery.
After attending Columbia University in New York City and receiving his medical degree from Nova University College of Osteopathic Medicine in Miami, Dr. Myint began his internship training in Michigan in 1991. He completed his Ophthalmology residency program at Henry Ford-Bicounty Hospital in Detroit. Dr Myint also completed a Neuro-Ophthalmology fellowship at Michigan State University. At this time, Dr. Myint developed a passion for microsurgery, which led him to apply and get accepted to one of the most prestigious fellowships in the country in Oculofacial Plastic and Reconstructive Surgery at Providence and William Beaumont Hospital in Michigan. Dr. Myint is a protégée of Dr Frank Nesi, a pioneer in Oculofacial Plastic and Reconstructive Surgery. Because Oculofacial Plastic Surgery is such a highly subspecialized discipline within plastic surgery, there are only a few hundred fellowship trained physicians around the world.
Early in his career, Dr. Myint became the Co-Director of Oculofacial Plastic Surgery and Orbital Diseases at William Beaumont Hospitaltraining ASOPRS (American society of Ophthalmic Plastic and Reconstructive Surgery) fellows. Dr. Myint was a visiting Professor of Oculofacial Plastic Surgery at Kresge Eye Institute Wayne State University, Assistant Clinical Professor of Ophthalmology at Michigan State University, and Visiting Professor of Oculofacial Plastic and Reconstructive Surgery in Oviedo, Spain where he taught surgeons in Europe and continues to do so. Currently he is an Associate Professor of Plastic Surgery at the University of Nevada School of Medicine Las Vegas.
Dr. Myint has published five textbooks in the field of Oculofacial Plastic Surgery widely recognized as the go to book for residents and surgeons from around the globe. He has published many peer review articles nationally and internationally as well as written chapters in some of the leading textbooks on plastic surgery. His recent book titled "Nonsurgical Periorbital Rejuvenation" has been well received by his colleagues.
Dr. Myint was the past president of the American Osteopathic College of Ophthalmology and Otolaryngology Head and Neck Surgery and served on their foundation fundraising board to help deaf and blind children.
Dr. Myint spends his time between his practices in Las Vegas and Beverly Hills.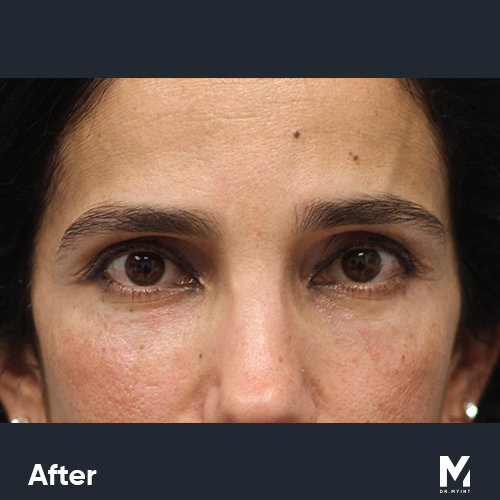 Dr. Myint is an artist
I have been very hesitant getting my eyelids done because I was afraid of looking "done" but Dr. Myint exceeded every expectation I had in bedside manner (superb), level of professionalism (amazing) and knowledge (he's written many books on this procedure). My results have been so natural and age defying, I'm so ready to do more surgeries with Dr. Myint. Can't recommend him enough!!!
The best experience.
I had the pleasure of visiting Dr. Shoib Myint in his practice in Las Vegas. Very professional and very pleasant disposition and demeanor. He was friendly and very candid. Reminded me of Dr. Marcus Welby Md from the 70s TV show. I had no complications and the recovery from the visit was so smooth. He is always available to speak to when you need him. I would highly recommend him not only for his personality but his credentials are superb. People can't believe when I tell them my real age. Thanks Dr. Myint!
I will fly across the world for this exceptional service
My consultation with Dr. Myint was professional, educational, emphatic and caring. He spoke with authority, compassion and addressed every concern that I had. I felt comfortable and supported at all times and never experienced such a level of service in this field. Dr. Myint is not only a true professional, he is a practitioner that is driven by excellence, perfection and customer satisfaction. He genuinely cares for his clients and is as dedicated to his aftercare as he is delivering a service. It was a privilege to have him work on my face. I am beyond delighted with the results Dr Myint has created for me and would recommend he and his team to anyone and everyone I meet looking for facial work.
Articles

by

Dr. Dr. Shoib Myint
From botox to fillers to facelifts, there are limitless popular procedures to help fight the signs of aging. However, the one procedure that is seldomly discussed is the Liquid Facelift. Plastic surgeon Dr. Shoib Myint sat down with Haute Beauty to discuss the unique procedure and how it compares to a surgical facelift. What is a liquid…
Daily water intake, consistent facials, and product overloads are no longer the only answers to ideal skin – lasers are. Whether your skin concerns are acne, wrinkles or discoloration, laser resurfacing is key in improving cosmetic flaws. Board-certified Dr. Shoib Myint sat down with Haute Beauty to discuss the many benefits of the new cutting-edge technology…