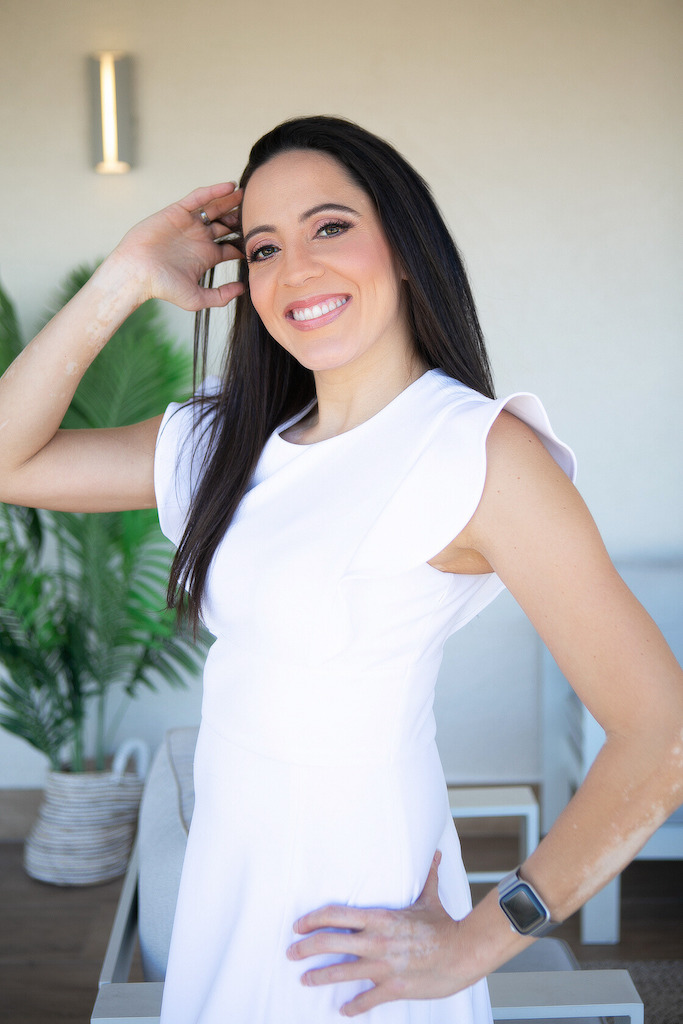 Photo Credit: Courtesy of Purely You Spa
It all started with a simple yet powerful idea: it's all about YOU. At Purely You Spa, we believe that every aspect of what we do is dedicated purely to YOU. Our passion for incorporating organic ingredients into our services aligns perfectly with our commitment to your well-being. Hence, the name Purely You, By Jenn, LLC was born.
As our business has grown and evolved, and with the addition of other experts, we transitioned to Purely You Spa. This name encapsulates our mission of empowering individuals to proactively prioritize their skin and overall health wellness. We invite you to embark on a journey with us, where your health and happiness are at the heart of everything we do.
The Inspiration Behind Purely You Spa
Opening my practice was influenced by a personal journey that ignited a strong desire to make a difference in people's lives. It all began when I was misdiagnosed with cancer, later we found the tumor in my leg was not actually cancerous, but it was still an aggressive benign tumor needing to be removed and I underwent surgery. Unfortunately, the tumor reappeared, leading me down a path of chemotherapy treatments. This experience caused me to experience acne.
From that moment, I knew that I had to make my skin and health a priority and I achieved my skin specialist licensure simply to have clear skin myself.  When I was researching other acne causes, I found that everything you put on your skin influences your skin.  Also, everything that you eat affects the skin as well. It became increasingly clear to me that my true calling was to help others with their skin and health as I was able to completely cure my acne and then improve my own health. I was propelled to open my own space, where I could provide personalized skincare solutions tailored to each individual's unique needs and concerns. Most recently, I created Functional Health Coaching options for individuals who are ready to uplevel their own health.
The Purely 'You' Mission
At the start, Purely You Spa's mission was centered around helping people achieve healthier skin. I started with a foundational approach, using organic ingredients and customizing treatments to suit each individual's unique needs. I had a deep appreciation for brands like Eminence, and I ensured that every facial I offered delivered a distinct experience. Even if clients received the same facial, I recognized that their skin's condition could vary significantly from one visit to the next so they would have ingredients that pertained to the way their skin presented in that moment.
Over time, my mission evolved to encompass more comprehensive, cellular-level treatments. I committed to expanding my education to better assist people on a deeper level, leveraging my ability to assess not just the skin's surface but also what it reveals about their internal well-being. Drawing on my background in functional medicine, I incorporated this knowledge into all my treatments. Today, I find myself pioneering a novel concept of "biohacking" in my area, striving to offer innovative solutions that go beyond traditional skincare and delve into the realm of holistic wellness.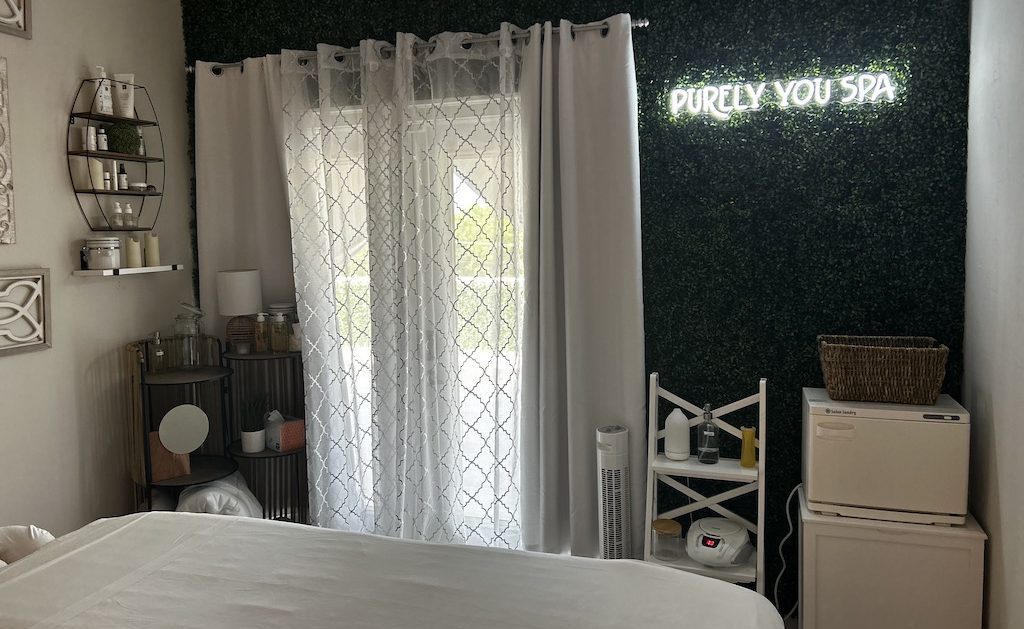 Photo Credit: Courtesy of Purely You Spa
Describe the Vibe
"Innovative," "Holistic," and "Energizing." Our space is a harmonious blend of modernity and holistic wellness, where you'll find a friendly face at the front desk welcoming you into a realm of relaxation. We offer a wide range of services, from rejuvenating facials, body wraps, and scrubs to unique therapies like chakra balancing mats and circulation-enhancing Beamer mats. Our themed rooms, including the tranquil Rain Room, bamboo-infused Asian Room, and the intimate Escape Room for couples' treatments, provide a diverse array of experiences. Belleza Room to our HOT room where our infrared sauna is located, we've expanded into functional medicine in our White Room, ensuring comprehensive care. We have our Arctic Room which is where our Cold Plunge will be located and our SPACE room which is where we have some of our NASA technology for circulation stimulation and anti-aging. Our Green Room is the home to our organic ingredients where we use a variety of Eminence Organic Skincare ingredients to customize the perfect facials. Our commitment to innovation is evident through our cutting-edge technology, and we aim to create a Functional Health comforting environment that vibrates with positive energy. Plus, our second location, featuring The Coastal Room, The Salt Room, and The Diamond Room provides another unique encompassing wellness experience.
The Most Sought-After Services
At our North Purely You Spa location, the Diamond Glow Experience stands out as one of our top-tier skincare services. Meanwhile, at our Main Purely You Spa location, we offer an array of Biohacking experiences, including The Cold Plunge, The Infrared Sauna, Bemer PEMF Circulation Therapy, Contrast Therapy, Frequency Therapy, and Rapid Release Therapy.
Are you curious about our latest additions? We are thrilled to introduce the NanoVi Exo, a scientifically validated solution known to reduce oxidative stress and enhance overall bodily function. Additionally, we've incorporated the Cold Plunge, which complements our Infrared Sauna beautifully, providing a contrast therapy solution for those dealing with arthritis or general pain. And for skincare enthusiasts, don't miss our Hydrafacial, DermalInfusion, and Glo2Facial, boasting seven customizable options, all utilizing cutting-edge skincare technology.
If you're looking for an underrated gem among our services, it's a tough choice, but I would highlight the combination of Bemer Circulation Therapy, The Infrared Sauna with Chromotherapy, and LED Light Therapy. These services offer exceptional benefits that often don't receive the recognition they truly deserve.
Our Unique Expertise
We take pride in our reputation for customization, utilizing premium organic ingredients and cutting-edge technology to craft unique sessions for each client. The Diamond Glow Experience, a testament to our innovation, exemplifies our commitment to excellence. Additionally, we seamlessly integrate various modalities into our sessions to address individual needs.
As a dually certified therapist with Functional Medicine Training, our expertise extends beyond conventional skincare. This training equips us to assist individuals dealing with various skin concerns, often linked to underlying internal health factors. We understand that the skin often reflects what's happening internally, making us a trusted choice for holistic well-being.
What Sets Purley You Spa Apart
Our practice stands out for its unique approach: we transform individuals from the inside out. We are at the forefront of introducing a local concept known as "Biohacking," which involves harnessing technology to gracefully age, enhance performance, reduce oxidative stress, fortify the immune system, and elevate overall physical and mental health.
Additionally, we offer an exclusive corporate wellness program, allowing us to partner with organizations of all sizes. Through this program, we assist employees in alleviating stress and pain, resulting in increased efficiency and workplace contentment.
The future of Purely You Spa is bright, and we're thrilled to remain at the forefront of cutting-edge technology, ensuring the best results through the healthiest approaches. If our services interest you, don't hesitate to schedule a consultation with us today. Your journey to well-being awaits!
For more information, visit Purely You Spa's social media: