Michele S. Green M.D., FAAD., is a Board-Certified Cosmetic Dermatologist, Fellow of the American Academy of Dermatology, and has been an international leader in cosmetic dermatology for over 25 years. Upper East Side patients and those around the globe flock to her practice for cosmetic dermatology treatment. A graduate from Yale University, with an MD and Chief residency from The Mount Sinai School of Medicine in NYC, Dr. Green treats some of the most discerning, demanding women and men in the world, with issues ranging from premature skin aging to hyperpigmentation, rosacea, wrinkles, acne, skin laxity, hair loss, and sun damage.
Photo Credit: Dr. Michele S. Green
What is Melasma?
Melasma is a common skin condition that causes dark patches and discoloration on your face and chest. In the private dermatology office of Dr. Michele Green, located in NYC's Upper East Side, melasma is one of the most commonly treated skin conditions. 
Melasma predominantly appears on the upper lip, the bridge of the nose, forehead, and cheeks. Additionally, it may also appear on sun-exposed areas of the forearms, neck, and shoulders. Patients with darker skin, such as those who are of Latin/Hispanic, African, Mediterranean, or Middle Eastern descent, are much more likely to suffer from Melasma. Patients with fairer skin may develop melasma, but it is much less noticeable. 
The dark patches of skin that are related to melasma are typically found on the forehead, cheeks, and the upper lip. Melasma has been found to be linked to an overproduction of melanin in concentrated cells of the skin via melanocytes (melanin-producing cells). But what leads to this overproduction of melanin?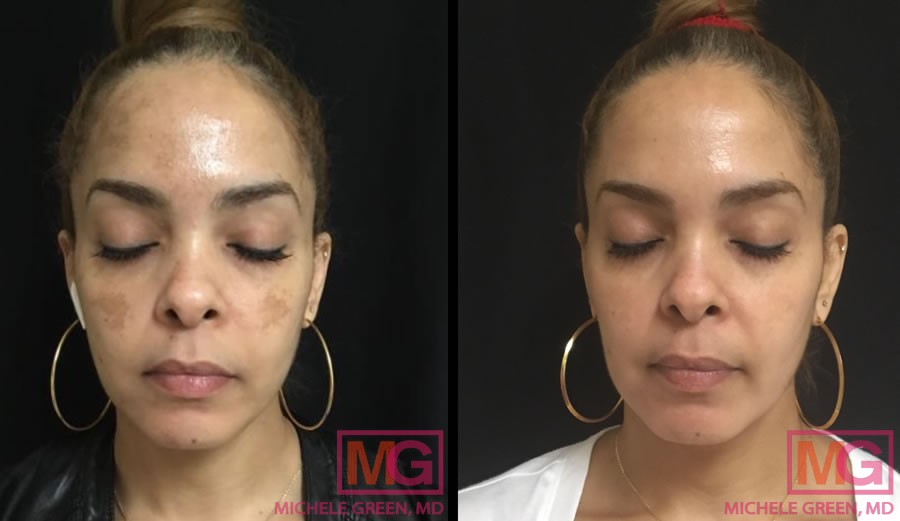 Photo Credit: Dr. Michele S. Green
What causes Melasma?
Unfortunately, the exact underlying cause of melasma is still unknown. There exist a number of contributing factors which can lead to the development of melasma. While the exact cause for Melasma is not known, certain groups of people have proven to be affected by it more than others. Apart from ethnicities of darker skin, the majority of those who struggle with the appearance of Melasma are women. While there are men who may experience melasma, according to the American Academy of Dermatology, just 10% of individuals who develop this skin condition are men.
Additionally, those who have a family history of melasma or facial hyperpigmentation are more likely to develop this skin condition. A family history of pigmentation or melasma indicates that there may be a genetic component involved in developing melasma. 
All that said, there have been three predominant triggers to the onset of facial Melasma. 
Sun exposure:

Ultraviolet light, both the UVA and UVB rays from the sun, stimulate the melanocytes to produce more melanin. This is the most common factor associated with facial Melasma. This is one of the many reasons as to why it is so important to practice complete sun protection and use a broad spectrum sunscreen daily, with an SPF of 50 or higher. It is also critical to avoid the damaging effects of these UV rays in order to best prevent the recurrence of melasma after it is treated. Even small amounts of sun can cause a recurrence of your melasma.

Hormones:

A surge in the levels of the female sex hormones, estrogen and progesterone, have also been linked to the development of Melasma. It has been found that the use of birth control pills, oral contraceptives, pregnancy, and hormone replacement therapy can all cause melasma to flare, since they impact estrogen and progesterone levels in the body. This is why melasma is often referred to as the mask of pregnancy, due to the increased amount of melanin and hyperpigmentation occurring on the faces of pregnant women.

Thyroid Disease:

Melasma has been shown to be linked with thyroid disease. Currently, it is thought that thyroid disease may be a cause of melasma in some patients, as many patients with melasma are also diagnosed with thyroid disease.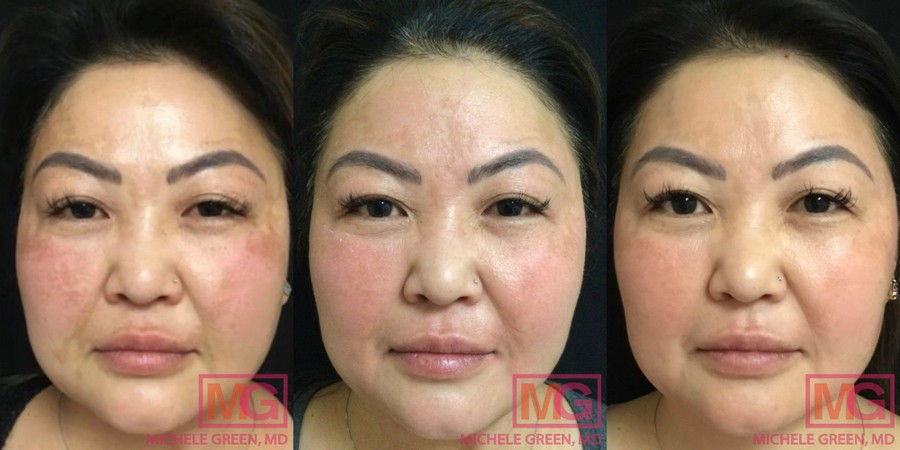 Photo Credit: Dr. Michele S. Green
How can you treat Melasma?
Regardless of gender, skin tone, and skin type, patients with melasma often tend to feel self-conscious. Thankfully, Dr. Green provides the best in-office treatments for Melasma, which can help diminish the appearance of hyperpigmentation. The menu of effective treatments include chemical peels, Mesopeels, Dermamelan, and a favorite, Cosmelan peels.
The Cosmelan peel is an effective treatment for Melasma and other skin conditions. Dr. Green recommends this remarkably effective chemical peel over skin lightening creams, lasers and other cosmetic treatments. As a matter of fact, patients who attempt to have laser treatments to remove melasma often have worsening melasma and hyperpigmentation, making it much more difficult to remove this unwanted hyperpigmentation. However, Dr. Green has been able to successfully treat this type of post-inflammatory pigmentation with specially designed Cosmelan depigmentation treatments in her NYC dermatology office. 
The Cosmelan depigmentation treatments includes a special in-office chemical peel followed by maintenance creams, sunscreens, and other recommended skincare products. In this unique in-office procedure, the Cosmelan mask will be applied directly to your face. Once Dr. Green determines how many hours you will need to keep the mask on, based on both how extensive the hyperpigmentation is and your skin tone, she will then carefully go over the maintenance home protocol. Daily compliance with the home maintenance products and sun avoidance will bring about the optimal results and help reduce the pigmentation both immediately and in the long-term. 
How can you get started with treating your Melasma today?
If you are bothered by concentrated pigment patches on your skin, Dr. Michele Green is here to help. Dr. Green is a world renowned specialist in Cosmelan and disorders of hyperpigmentation and is here to help you brighten your skin and treat your facial melasma. Dr. Green has been consistently voted as one of the "Best Doctors" by Castle Connelly, New York Magazine, Super Doctors, and The New York Times as a pioneer in the field of cosmetic and medical dermatology. Please call the office today at 212-535-3088 or contact us online to schedule a consultation to discuss if you are suffering from dark spots, hyperpigmentation, or melasma, it's time to schedule a consultation with Dr. Michele Green in New York.
For more information, visit Dr. Michele S. Green's social media: