Miami Skin Spa is a Brickell-based Medical Spa that offers the latest in Body Sculpting and Skin Rejuvenation services with our award-winning team of nurse practitioners. With our new machinery from top-of-the-industry Cutera, we can guarantee excellent results from our various treatment options. Miami Skin Spa is able to deliver the most efficient and holistic approach to achieving your skincare and shaping goals without surgery, injections, or downtime.
Photo Credit: Shutterstock
EMSculpt NEO is a treatment that you may or may not have recently familiarized yourself with. Whether you've seen it on billboards, heard about it in the doctor's office, or know of a friend who received the treatment, it is important to keep track of how this "fat-burning" treatment really works. Here Haute Beauty experts at Miami Skin Spa dives into the details about what EMSculpt NEO can do for you.
Essentially, EMSculpt NEO is a two-for-one special. It increases muscle tone and decreases fat. Sounds very promising, but how does it work? The EMSculpt NEO machine uses radiofrequency energy and high-intensity electromagnetic energy to target fat and muscle cells. With radiofrequency, heat is produced in the muscle and once the muscles have increased heat, the fat layer under the skin heats up, which leads to the death of the fat cells.
Photo Credit: Courtesy of Carolyn Jacob, M.D.
Our body then slowly reabsorbs and removes the fat cells for permanent loss. When the fat dissolves, the electromagnetic energy jumps in and does its job of building muscle. Like working out, the energy causes your muscle fibers in the targeted area to contract. Through this process, your muscle mass builds.
The two-part process has been shown to increase muscle tone by 25% and fat loss by 30% throughout the treatment. It is approved for reducing stomach fat around the circumference of the abdomen, improving abdominal tone in your stomach muscles, strengthening and toning the butt and leg muscles, and building your arm muscles.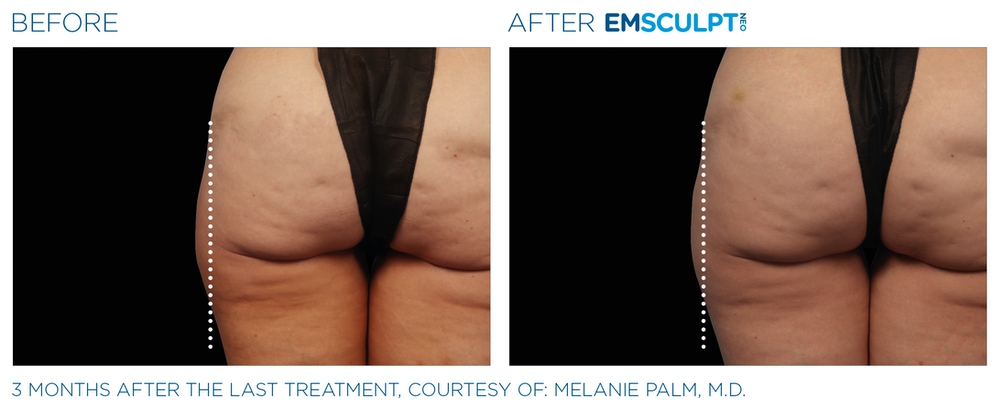 Photo Credit: Courtesy of Melanie Palm, M.D.
When you are ready to improve the overall firmness of your body significantly, this 30-minute painless treatment offers no recovery time and incredible results that can typically be noticed around three months after the last treatment session. To keep your new and improved body intact, it's best to maintain a healthy diet and exercise program to sustain your weight. Altogether, EMSculpt NEO presents a safe and effective way of achieving a gym bod – without the gym.