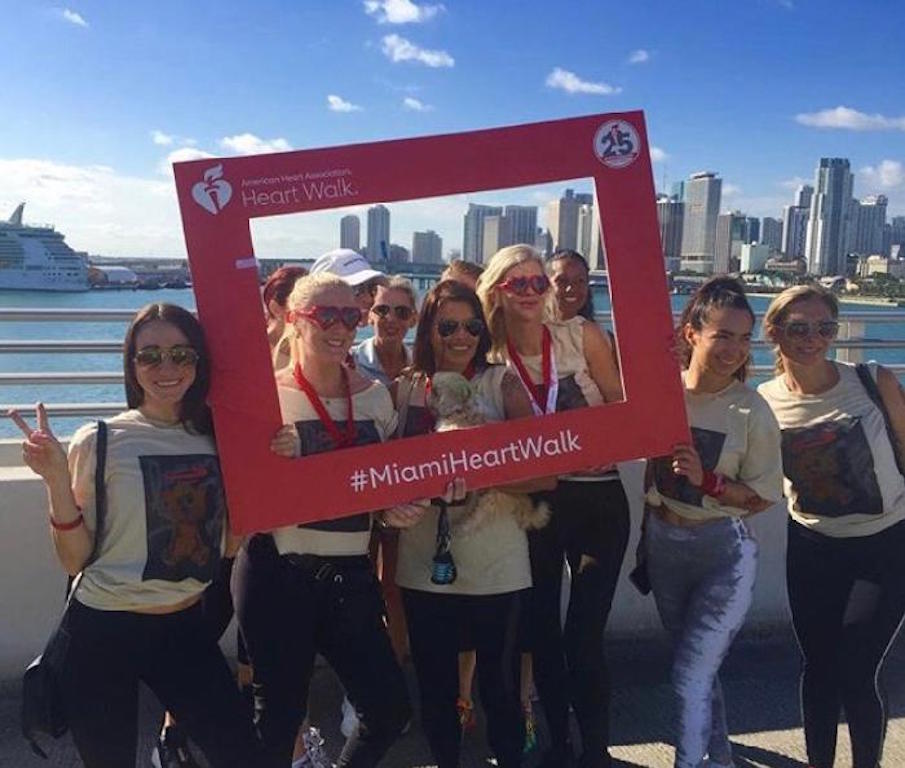 The American Heart Association, the world's leading voluntary health organization dedicated to building healthier lives, free of cardiovascular diseases and stroke, is hosting the 2019 Miami Heart Walk & 5K on November 24 at Maurice A. Ferré Park. The walk is among 300 Heart Walks held in communities across the nation. Nearly 1 million people walk each year for a singular mission. 
April Irene Donelson, who was named to the committee for the American Heart Association and Miami Heart Walk,  walked her first walk in 2018. Only sixth months after the sudden death of her fiance Ryan Patrick Carrigan, Donelson, along with family and friends formed Team Huggy Bear, to walk in Carrigan's honor. Carrigan tragically passed away on June 29, 2018 of Familial Hypercholesterolemia (FH). In that same year, Team Huggy Bear was the #1 Community team out of 49 in raising funds. To donate to Team Huggy Bear click HERE.  Since then, she has spoken on Capitol Hill not once, but twice to address members of Congress and Senate and to advocate to make FH a public health priority.
Every year at the Miami Heart Walk a tribute wall is erected to honor those that have been impacted by heart disease and stroke. This year, on the day of event, the American Heart Association, (AHA) will be honoring Ryan Patrick Carrigan.
Each time someone laces up their shoes or forms a team to participate in the Heart Walk they are instrumental in innovative breakthroughs. Every donation helps create new technologies such as the artificial heart valve, cholesterol drugs, stents, and the mechanical heart pump which helps extend the life of patients.
"I had no idea that heart disease is the number one killer of men and women. It strikes all ages. All Races. It doesn't discriminate via gender… And what was really striking is, with my personal situation, understanding that this is something that Ryan had. He had a condition called FH," Donelson said. 
Individuals with FH  have a high amount of "bad cholesterol" due to a mutation in a gene that controls the way cholesterol is cleared by the body. As a result, cholesterol accumulates in the bloodstream and can ultimately build up in the walls of the arteries. FH is oftentimes fatal if left undiagnosed and if left untreated leads to early heart attacks and heart disease. 90% of people with FH do not know they have the disease however it is treatable, especially when caught early. 
"He actually had been dying a little bit each day for a year of heart disease and he looked perfect," Donelson said. 
"So realizing that this is something that had slowly been killing him every single day and learning the signs of it that are often dismissed; he'd been complaining of jaw pain and toothache pain for a year. I never knew that that's actually one of the number one signs of heart disease. Who would have ever known that?"
The sudden death of her fiance left Donelson full of questions. "To survive, I needed to understand exactly what happened and I was on a mission. I was going to find out what did this and I was going to take it down," she says.
Over the past 26 years the American Heart Association and the American Stroke Association have funded $3.4 billion in research. Since the inception of the Heart Walk, mortality rates from cardiovascular disease and stroke have plummeted by 45 percent. But the work is far from done. 
For more information or to register as a team or an invidual visit www.miamidadeheartwalk.org. The fun begins at 8 a.m. and the walk/run begins at 9 a.m.
To donate to Team Huggy Bear click HERE