Photo Credit: Andreas Branch
MICHAEL CHOW — NOW KNOWN AS "M" —HAS MADE A CAREER BASED ON THEATRIC, BUT WHAT LIES BENEATH? HE REVEALS MOST IN THE NEW HBO DOCUMENTARY AKA MR. CHOW.
REPEAT AFTER ME," Michael Chow declares as he shuffles into his iconic Beverly Hills eatery, Mr. Chow, on a Tuesday morning. "All tragedy is universal. All comedy is a reference."
He looks at my crew imperiously through his signature round, black-framed Cutler and Gross spectacles. "You aren't repeating it!" the 85-year-old restaurateur snaps impatiently as we goggle at him, mouths unattractively agape. He stamps his Croc-clad foot for emphasis. "I said 'repeat after me!'"
We finally fall into line accordingly, and he smiles, the dimple in his left cheek denting in accordance with our deference. "Are you intelligent people?" he asks. Our "yes" is a resounding symphony — we are his puppets. Satisfied, he nods his head. "I'm glad you're not beta blockers," he says cheekily. (Though Chow's definition of "beta blocker" is vastly different than the intended meaning — a class of medications that are predominantly used to manage abnormal heart rhythms. His definition means: "motherf***er"; his code word is much safer to use publicly.)
Chow­ — who now goes simply by "M" — is not what I expected, nor does he follow any kind of script. I anticipated that he'd be driven, enigmatic, and likely even somewhat eccentric. I thought he'd be ready and willing to talk about his forthcoming HBO documentary, AKA Mr. Chow. Which he was, to be fair — eventually. I just didn't know that he'd be so wily, bossy, or that he'd curse like a proverbial sailor, peppering every other sentence with liberal F-bombs, and relishing our collective shock and awe. I never guessed that a conversation with him would be like a verbal tennis match, where he'd serve up aces with every other sentence. I never thought he'd tie my brain in knots, or that he'd take such pleasure in doing so (such as this gem, for instance: "People always say, 'I would never become a cannibal; I will never eat human flesh.' But you never know if you're going to eat human flesh or not until you're in that position. When you are about to starve to death, you eat human flesh to survive if you have to. Some people won't, but most people would for survival. It tastes like pork, by the way"). I didn't realize that he'd be so funny, or fun  — until we got down to the business of the actual interview, that is. The story of his life is, indeed, no laughing matter.
Given how he makes an entrance, his documentary, which premieres October 22, is quite serious. Director Nick Hooker, alongside a stellar team that includes Oscar-nominated producer Diane Quon (Minding the Gap), Emmy-winning editor Jean Tsien (HBO's The Apollo, 76 Days), and executive producers Graydon Carter (yes, that Graydon Carter, of Vanity Fair fame) and Annabelle Dunne (HBO's Everything Is Copy), present M as the greatest showman. A man whose creativity and passion paved a non-linear path from his native China to the U.K. and, finally, to the United States, the country he now officially calls home. Predominantly through his own narrative, the doc reveals how Chow overcame childhood trauma, personal loss, and systemic prejudice to become an actor, artist, and restaurateur.
Photo Credit: Andreas Branch
The film tells a much more comprehensive narrative than simply how he came to own some of the best-known celebrity restaurants in the world. But still, it feels like a full circle moment that we are shooting him here in Beverly Hills, at the first one he opened in America back in 1974 — soon to be followed by two locations in New York City, Miami, and Las Vegas.
It is also fitting that he should dress himself in 90210-appropriate attire — lovingly worn suits from Hermès in bubblegum pink and navy blue. But he's still far more into a custom-made Mandarin jacket and navy paint-splattered pants, the very same he wears throughout the documentary.
Having watched the film, I understand a bit better that these garments are, in fact, costumes. As his friend billionaire Kevin Lipton says in the documentary, "Mr. Chow is the caricature of a man who doesn't want people to know who he really is. Mr. Chow is a character he created." As such, each outfit he wears fits the part he is playing. But what would he wear if he was just being himself, I wonder? Now that is a closely guarded secret.
I'd love for the real M to please stand up, and there are moments, brief pockets during our time together, that I think he does. He's good at keeping the world guessing, at entertaining and being the caricature of himself that the world has come to know, from those curiously quirky frames to his imperious, wide-eyed stare. But with AKA Mr. Chow, he's allowing the masses a glimpse behind the velvet curtain — a look at Oz himself. And while he no doubt has less fun talking about the reality of his life, it was, truthfully, the point of doing the documentary — and this interview — in the first place. It was time to tell his story: the good, the bad, and the ugly.
The 'why now' of it all is the simplest part of the equation. "I'm coming to the third [and last] chapter of my life now, OK? It's a difficult reality," he admits. "I'm now living in my 80th decade. If you look at obituaries, the 80s are the most dangerous — I have an 85 percent chance of dying, which is half joke, half-truth. But right now, I feel young and fit as I'm active and physically OK despite having my share of medical problems, so I'm humble, lucky and all those clichéd expressions."
I'm intrigued by his age on paper versus the age on his actual birth certificate, but here, all traces of his potty mouth have vanished along with his laughter. "I'm a professional refuge," he says quietly — thus far, Chow has done nothing quietly. "I'm the number one; I'm the gold medalist; I'm the Academy Award-winning refuge. For you, it's easy: young, healthy, living in this wonderful country. For me to survive, I needed to lie about my age."
Photo Credit: Andreas Branch
The decision was his mother's: making him a year younger on paper was done for his own protection.
Chow was born Zhou Yinghua to Zhou Xinfang, the grandmaster of the Peking opera and one of the most famous Chinese performers in history. A man that, to this day, is still regarded as a national treasure. He was a star that shone so brightly that his stage name became "Qilin Tong" ("Unicorn Boy"). But Xinfang was considered a revolutionary after the Communist takeover of China and was imprisoned during the Cultural Revolution for his portrayal of the Jiajing Emperor — a direct attack on Chairman Mao Zedong. He refused to recant, and though he was eventually released from prison, he was placed on house arrest until his death in 1975.
But Chow was spared his father's fate because of his mother's smarts.
Lillian, the daughter of a Scottish tea merchant who made waves in Chinese society when she ran off with the older (and still married) performer, was one tough broad. She was among the first Chinese feminists of the 20th century, gun-toting and selflessly saving her son by sending him in 1952, at the age of 12 (13 on paper), to Wenlock Edge, a boarding school in England. He never saw his father, whom he idolized, referring to him as his "North Star" and "Picasso and Puccini, rolled into one." Even now, over 70 years later, he has never forgotten that loss and lives with it daily.
"My mother lied about my age because she wanted to protect me," he shares. "I lived in a dangerous world when I was young, and at 12, I became alone in the universe. I lost everything, including my culture."
But as alone as he was, he was also armed with his parents' power, their smarts, their gumption, and the resolve of what they had given up to save him. Although it would never be enough, it got him through the lonely, cold British nights.\
Photo Credit: Andreas Branch
"I lost it all," he remembers now. "But eventually, I had to crawl out of the darkness. And to do so, I became an artist."
Alone in an alien world, it was painting that kept him safe and became his outlet of survival, helping him find beauty and meaning in the world. By definition, fine art is four things only, with everything else secondary: sculpture, painting, poetry, and music. In becoming a painter, Chow was able to become a fine artist, but also release his grief, his fear, and his loss.
Four years after arriving in London, he enrolled at the prestigious Central Saint Martins School of Arts, and, the following year, at the Hammersmith School of Building and Architecture. After painting vigorously for the next decade, and despite one-man and mixed show exhibitions — including one at the esteemed Institute of Contemporary Arts — he struggled to overcome the attitudes of exclusion he often encountered. This, I come to find, has been a common theme throughout his life.
Though art has always very much been a part of Chow, he put a pause on his painting, taking a 50-year sabbatical to focus on his restaurants and — also like his father  — acting. He appeared on the silver screen for upward of 60 years and in nearly 30 films, inclusive of the 1967 007 flick You Only Live Twice, Lethal Weapon 4, and the three sequels of Rush Hour while also playing himself in pal Julian Schnabel's Basquiat.
But, nearly a decade ago, his passion for painting returned. With the encouragement of A-list artist friends, including gallerist Jeffrey Deitch and artist Julian Schnabel, he launched his first solo exhibition at Pearl Lam Galleries in Hong Kong. In 2015, his solo show Voice for My Father exhibited at the Ullens Center Museum for Contemporary Art in Beijing, China, followed by a turn at the Power Station of Art museum in Shanghai, China. The same year, Voice for My Father was reimagined as an homage to his father at the Andy Warhol Museum in Pittsburgh, Pennsylvania. In November 2023, M's exhibition Bridges, held at the Waddington Custot gallery in London, set him center stage as creative master.
Chow is now back and more creative than ever. "I became a painter so that I could take a noble path," he says confidently. "I'm an abstract expressionist landscape artist. I explore the fourth dimension. I breathe what I call one breath, so that I am pursuing that perpetuity continuously. That's what I will be remembered for." (I understand about half of this, but I nod accordingly, lest he call me out, which he is wont to do.)
In Chow's eyes, art is to be his legacy. But I might argue that it is only one of his legacies. He is, after all, the Mr. Chow of Mr. Chow. Which is why it makes perfect sense that the renowned restaurateur should say, "One of the greatest recipes I've ever put together is my art — and it is the perfect f***ing recipe."
ACT II
Photo Credit: Andreas Branch
"I am a motherf***ing namedropper," M declares.
This admission is followed by references to Jean-Michel Basquiat, Julian Schnabel, Andy Warhol, Ed Ruscha, Richard Prince, and more influential artists that he called and calls friends. Well, I think, at least he's honest about it. Also, Chow really does know every A-list name he drops. You can't own one of the most highly lauded celebrity-favored restaurant chains in the world without, well, knowing celebrities. When you add in that he was previously married to Vogue editor Grace Coddington, socialite Tina Chow, and fashion designer Eva Chun Chow [his fourth and current wife, Vanessa Rano, 50 years his junior, is a social worker he met in his doctor's office in Beverly Hills], that his daughter — one of five children — is actress China Chow, and his sister erstwhile Bond Girl Tsai Chin, his next statement makes sense.
"OK, I love name dropping," he admits, adding, "But also, I hate name dropping. Lady Gaga agrees with me; that's my standard joke. I think name dropping is important because it's very quick. You name drop, and immediately you have a reference."
Point taken.
And that might be true, but really, I see him as a chameleon, a jack of all trades, with art and theater at his core. If he didn't have this dramatic, show business essence inside of him, he could not have created that for which he is, perhaps, best known: his Mr. Chow restaurants.
There's a sort of poetic justice in that the very first of his high-end eateries opened on Valentine's Day 1968 in Knightsbridge, London. It was the ultimate love letter, one that paved the path for the remainder of his life.
The restaurants started with a radical yet simple idea: Chinese food served by Italian waiters, with a menu that the British, and then the Americans, could understand. It was created specifically by his design: an elegant black-and-white eatery with cool green floor tiles, white walls awash with art by the likes of Peter Blake, Patrick Caulfield, David Hockney and Jim Dine that became nearly as famous as the fare. Many, in fact, are paintings of him: he has a substantial collection of self-portraits by world-renowned artists, including an Andy Warhol that graces one of the dining room walls of his Beverly Hills location.
Photo Credit: Andreas Branch
Though he is, perhaps, best known for said restaurants, he has, today at least, very little interest in talking about them — despite having had the shoot take place at his American OG location. "The restaurant is just another medium," he allows. Meaning: it was another way to express his art. But at the time, it felt like the only way.
"For me to start this project, which I call Mr. Chow's restaurants, we have to go back a little," Chow says. "In the West, for a Chinese man, there are only two options, right? I did the restaurant thing. From day one, I bridged the greatness of Chinese cuisine, introducing it to the West and turning the restaurant into a theater that blended two cultures. I succeeded, and that's a big deal — it was a very powerful motivation. I wasn't allowed to paint because [that medium] was very racially and culturally closed. Just think: there were no great Black artists until Jean-Michel Basquiat. Can you imagine? The whole fundamental basis of contemporary art is African art. The whole thing is f***ed up. We were very close, and our most common theme was anti-racism. He suffered so much, and same with me — I suffer all day long. It's a 24-7 thing."
Racism has played a major factor in Chow's life, and it's highlighted prominently in AKA Mr. Chow. He wants the world to know that he has succeeded and achieved greatness despite the limitations that have been put on him for most of his life. In the documentary, he says, "If you take away my glasses, my big tipping, and my Rolls-Royce, I'm not good enough."
Chow is now extremely serious. All traces of humor are gone as he says: "When I walk down the street, I receive racism all the time. At one time, I used to collect one racism a day. There is racism everywhere. It's horribly painful, but I'm used to it. I'm a professional. I deal with it."
How? I wonder, aghast.
"The master hides his weakness; the grandmaster uses his weakness. I have become the grandmaster of anti-racism. Do you understand? I use all that weakness and turn it into something positive, something good. That's what this documentary is all about: to expose the truth. And for me, it's important for the team — all of them here in this restaurant — to be true to themselves, so that our world of imperfection and racism cannot affect them anymore. Those are the moving moments of
truth I'm proudest of."
It sounds like Hooker and his crew got it right and did his life story justice. Did they tell the story that Chow wanted to tell though? That would be a yes, but he says so in a very M way. "I am very proud of this documentary. I'm quite funny sometimes, and always honest." He smiles, and his dimple winks out at me. All the world's his stage, right? He is showing me the Mr.. Chow he wants me to see. He smiles a rather secretive smile and says, "I have a touch of a**hole, but a very specific kind of a**hole. And aren't we all just looking for transcendence?"
That's M for you. Aka Mr. Chow.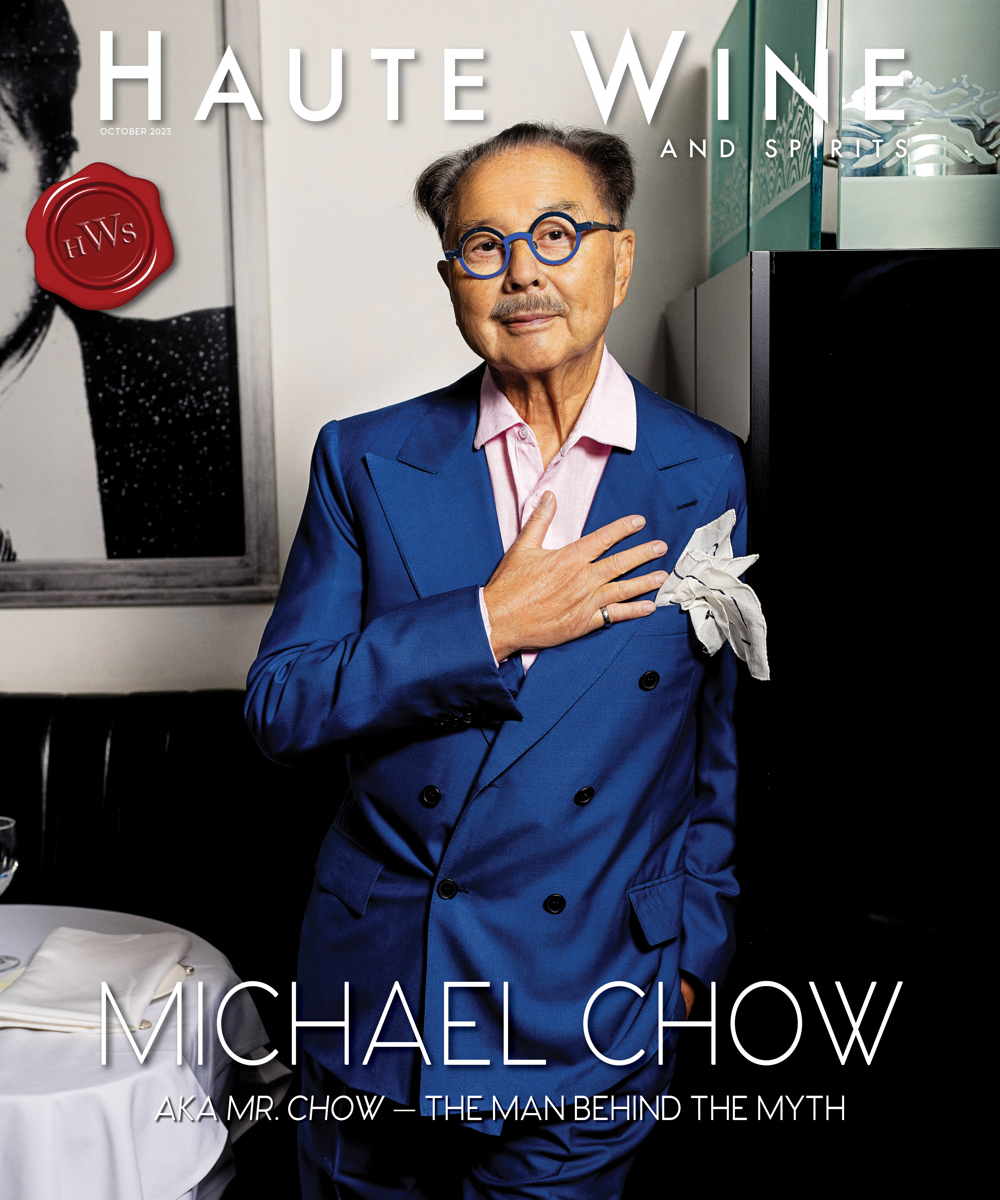 Photo Credit: Andreas Branch
Subscribe to discover the best kept secrets in your city