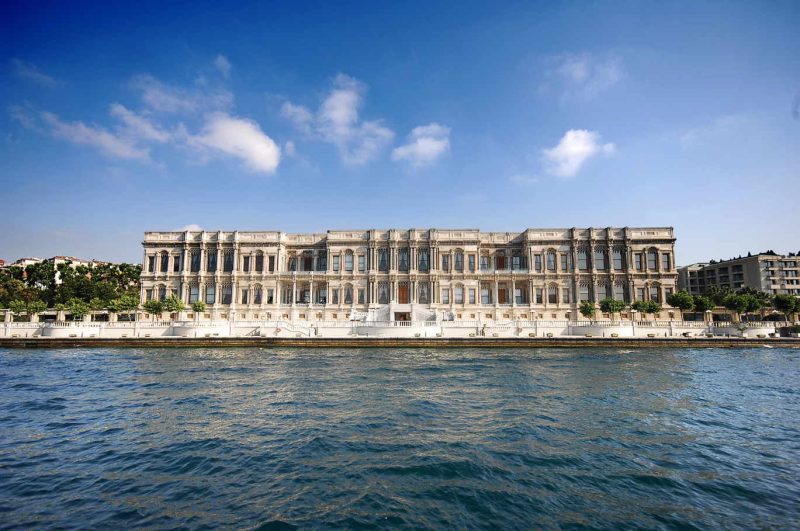 Photo Credit: Çırağan Palace Kempinski Istanbul
Istanbul is a city with a rich history, straddling both Asia and Europe across the Bosphorus Strait. But, like its location, this is a city that cannot be pigeon-holed. Its Old City reflects cultural influences of a plethora of empires. In its Sultanahmet district, the open-air, Roman-era Hippodrome was for centuries the site of chariot races, which, rather inexplicably, share real estate with Egyptian obelisks and the iconic Byzantine mosque Hagia Sophia.
But truly, no hotel understands that sense of having two identities more than Çırağan Palace Kempinski Istanbul. Dating back to the 17th century, Çırağan Palace Kempinski Istanbul is the one and only Ottoman Imperial Palace and hotel situated right on the Bosphorus. It is the "home" of the last Ottoman sultans. As such, its Palace wing remains untouched by necessity, a historical building that has withstood the test of time, while its hotel is quite the opposite, with all-new, completely refreshed interiors inclusive of its entrance, lobby, rooms, suites, and two new restaurants, whose every detail has been redesigned with inspiration from the history and architecture of the Çırağan Palace that somehow manages to feel timeless thanks to an original interpretation by Ottoman art expert Serdar Gülgün.
But what should you expect, and where should you choose to stay when presented with so many options? Read on, and decide for yourselves!
The Hotel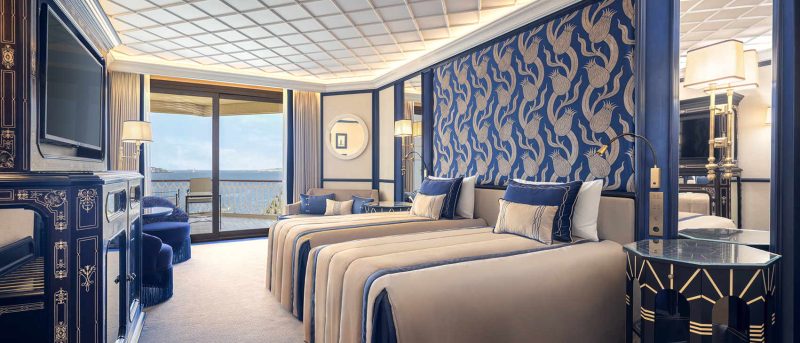 Photo Credit: Çırağan Palace Kempinski Istanbul
The elegantly designed entrance of the redesigned hotel section bears traces of the palace gardens. Lattice columns, a dome-shaped ceiling, specially designed chandeliers, the floor paved with podima pebbles inspired by the garden of Topkapı Palace, and the marble ornamental fountain create a unique integrity. The magnificent hotel lobby meets with the splendor of burgundy tones in which Iznik ceramics inspired by the 16th and 17th Iznik tiles, flamboyant chandeliers inspired by Murano chandeliers, an octagonal sitting group that is frequently seen in the center of very large palace halls, adorned with turtle figures that refer to the history of the Çırağan Palace.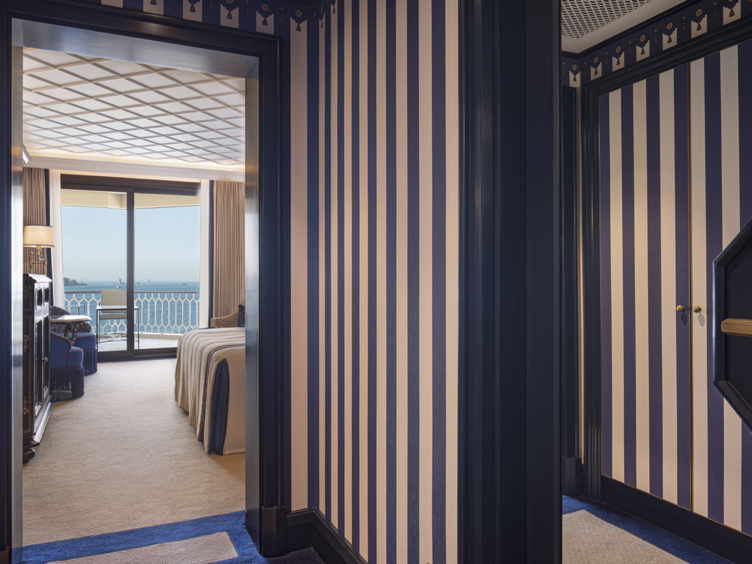 Photo Credit: Çırağan Palace Kempinski Istanbul
The 299 rooms and suites, meanwhile, draw inspiration from the Ottoman Empire. Guests will discover corridors in striped styles designed with inspiration from ostentatious Ottoman tents; special headboards adorned with cintemani, tulips, and patterned fabrics used in Ottoman art; mother-of-pearl furniture; armchairs inspired by the art of marbling; and marble bathrooms referring to deep-rooted Turkish bath traditions throughout. The top-level suite in the hotel building offers a unique experience with tangible fabrics, furniture, and accessories with opulent designs, a bathroom with a hammam, a dining room section decorated with a special wallpaper made from an old Bosphorus engraving, and large balconies overlooking the Bosphorus.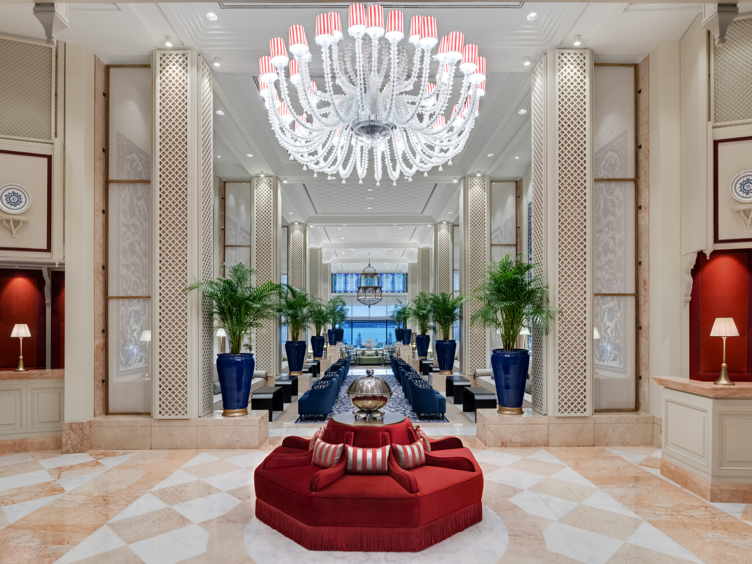 Photo Credit: Çırağan Palace Kempinski Istanbul
There are also two brand-new restaurants on site: Akdeniz by Esra Muslu, a Mediterranean eatery serving up one of the most lavish, laden breakfasts you'll ever hope to see — think tiny pots of honey, fish, DIY mimosas and Champagne, delicate Turkish pastries that melt in your mouth, and platters of raw fish, cheeses, and meats. But dinner here is an event as well given the success of celebrity chef Muslu's career. She has crossed continents with her talent and spectacular taste, and her restaurant, which introduces unique Turkish flavors in London and has earned a spot on the Michelin Guide's favorite places list, are the defining factors of the taste and restaurant identity. These dishes are accompanied by an overall Mediterranean ambiance in the gardens of Çırağan Palace and with magical view of the Bosphorus. The first area entered in the restaurant, the library and the waiting area, is dominated by green colors and silk screens, while the area jus invites the guests to the Mediterranean garden, with folding screens covered with special wallpapers on which many trees unique to the Mediterranean are located. The blue, white, and red furniture upholstery and details in the restaurant come together with giant cubes and elegant vases referenced from Ottoman tiles, reflecting the warmth and vitality of the Mediterranean.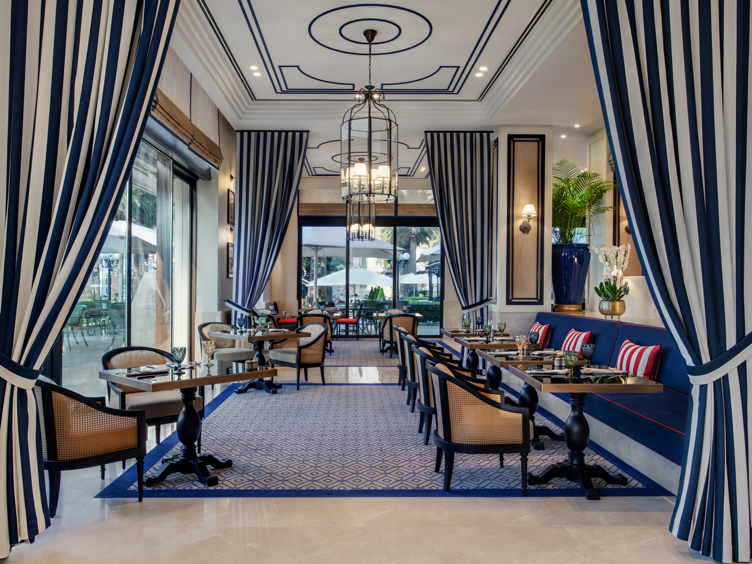 Photo Credit: Çırağan Palace Kempinski Istanbul
The second new eatery is Gazebo, which adapts vintage Ottoman garden art to the present in its new design. The interior opens to a wonderful garden overlooking the Bosphorus, with four separate square seating areas which unite around an ornamental fountain and a huge cage stylized with Ottoman arches. The sitting groups reflect the elegance of rose, tulip, carnation and hyacinth flowers, which are said to be based on Ottoman art. Tones that evoke nature show themselves in decorative elements such as chairs, armchairs and pillows. Here, an incredible and lavish afternoon tea is served from swinging cages, tiny treats, delicacies, cakes, and sandwiches that are both mouth-watering and visually incredible.
Photo Credit: Çırağan Palace Kempinski Istanbul
To note: there's also the chic bar Le Fumoir, surrounded by palm trees and water views, with presentations via handmade humidors. There's also the charming Sanitas Apa, an old-fashioned yet lovely indoor pool area, a top notch salon, and an outdoor infinity pool that leaves guests feeling as if they've been floating on the Bosphorus.
The Palace

Photo Credit: Çırağan Palace Kempinski Istanbul
There are only 11 suites in the Palace, but they're mighty. This is where royalty stays, or celebrities that require absolute privacy. There's a separate entrance for Palace guests, all of whom are treated to dedicated, 24-hour butler service. Checking in here is a treat like no other. Said butlers will place your luggage, unpack, and clean if you'd like, welcoming you to tables full of exquisite Turkish treats, displayed majestically in crystal bowls and decanters. I felt rather like Alice in Wonderland as I made my way through each jar. "Eat me," the five different types of Turkish Delight seemed to scream. But there's more. Your butler will also entrance you with a custom soap and scent bar, to make your stay as perfect as possible.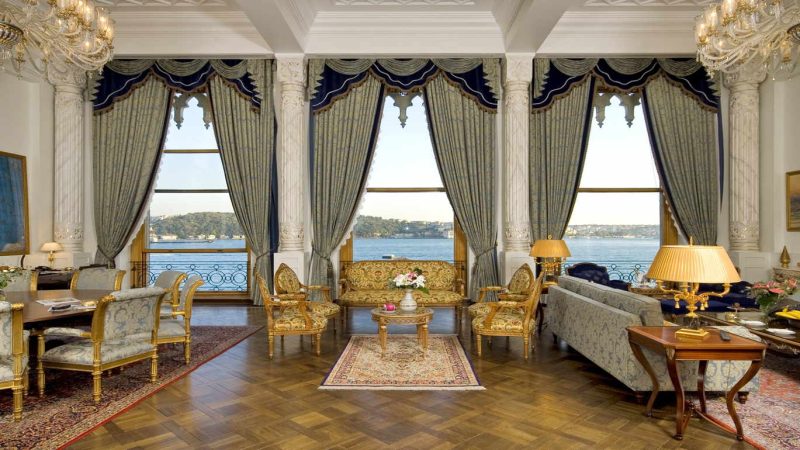 Photo Credit: Çırağan Palace Kempinski Istanbul
While all 11 suites are special, the grandest is the Sultan Suite, in reference to the rulers of Turkey. This is considered to be one of the largest suites in Europe, never mind just in Turkey. It offers panoramic views of the Bosphorus, has a magnificent living room with a dining area for 12 people, a specially decorated large bedroom, and a guest room. The royal Sultan Suite guests also distinctly have the privilege of a chauffeur-driven luxury transfer service and point-to-point city transfers with the hotel's 1974 Rolls Royce Silver Shadow throughout their stay.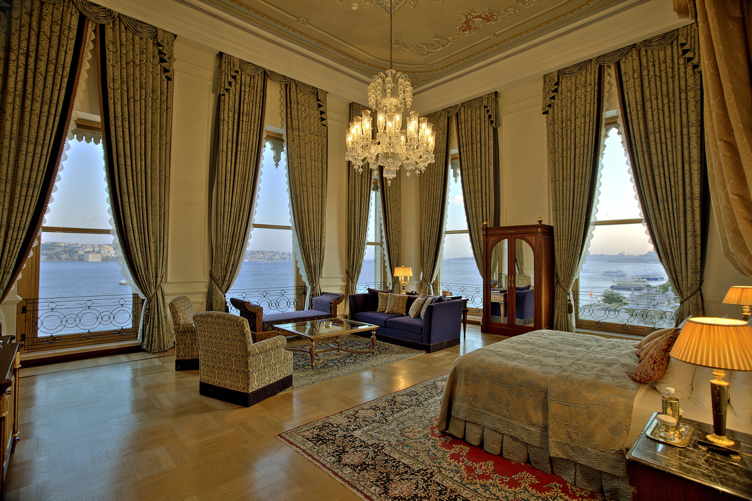 Photo Credit: Çırağan Palace Kempinski Istanbul
There are also varied dining concepts here, inclusive of 'Tuğra' ( a word used to describe the Ottoman sultans' calligraphic signature, used like letterhead or imperial seal, a motif of which the restaurant has specially designed plates using). This elegant eatery with views of the Bosphorus offers up s Ottoman dishes to accompany glittering Bosphorus scenery. Bellini Pasta & More is also located at the Palace and offers Italian delicacies such as homemade pastas and risottos, which accompany homemade limoncello, classic and twisted Bellinis, and Negroni.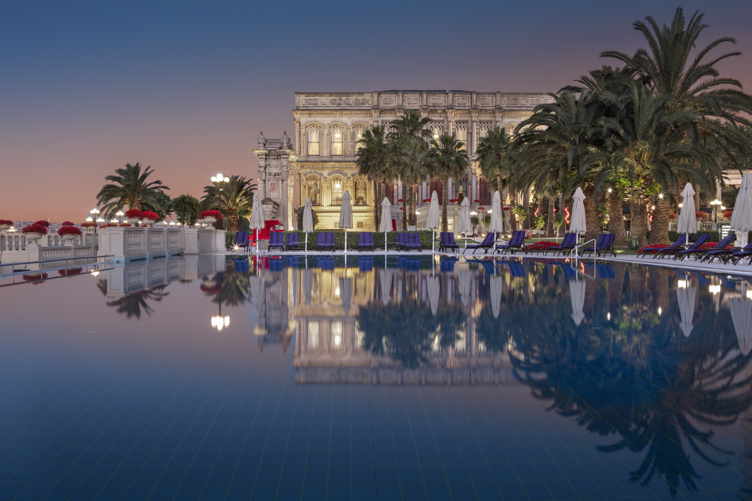 Photo Credit: Çırağan Palace Kempinski Istanbul
Bottom line: both locales appreciate and embrace history, and both stays are exquisite. It's just a matter of personal preference as to where you'd stay. But truly, you can't go wrong because this luxury hotel is so, so right.
Yıldız, Çırağan Cd. No:32, 34349 Beşiktaş/İstanbul, Türkiye
Subscribe to discover the best kept secrets in your city