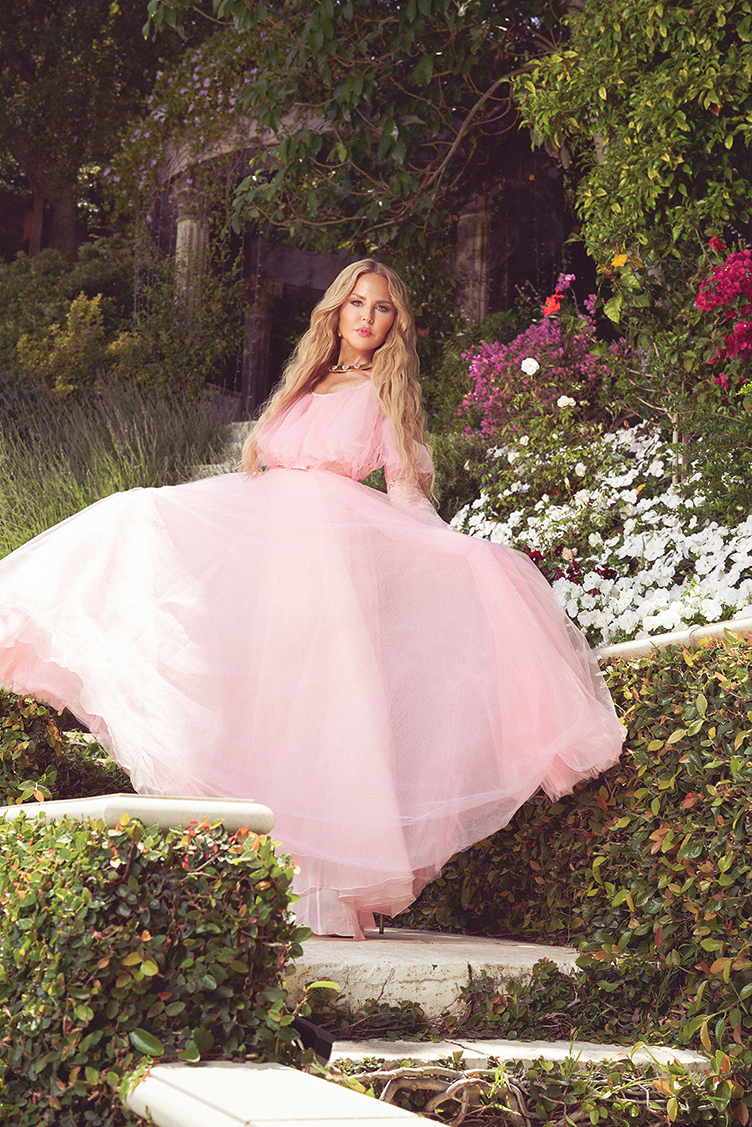 Photo Credit: Mark Hanson
BY LAURA SCHREFFLER
PHOTOGRAPHY MARK HANSON
GROOMING EMMA WILLIS
SHOT ON LOCATION IN LOS ANGELES
Photo Credit: Mark Hanson
Not wearing white after Labor Day has always been a hard and fast fashion rule that most don't really understand but blindly adhere to anyway. Although we're currently in the summertime swing of things, it wouldn't matter to Rachel Zoe either way: she's always played by her own set of sartorial rules.
"[I'm for wearing] white all day, every day, in all of its forms," the 51-year-old multi-hyphenate says when we sit down to chat in late May. "I treat it like I would black." Being the style guru that she is, she does one better, sharing constructive feedback along with her professional opinion. "Stay away from white with a lot of yellow undertones; it's the least flattering. When in doubt, I go with optic white; it always wakes people's faces up."
It makes sense that she would go against the grain and completely dismiss such an antiquated imperative, one that was, in fact, born out of exclusivity. (In the early 20th century, high society members would flock to tony seaside communities between Memorial Day and Labor Day. Later, they would pack away their lighter summer clothes in favor of elegant dark pieces, a sign that the season was over; hence "no white after Labor Day.") Although Zoe finds herself each and every summer in the Hamptons, which absolutely embodies this affluent beach aesthetic, inclusivity is the name of her game. Throughout her career, she has made it her mission to support, empower, and inspire others — the opposite of making them feel "less than."
While the Hamptons, located on the east end of Long Island, is known for being a notoriously expensive summertime playground for the rich and famous — especially hamlets like Sagaponack and Water Mill — to Zoe, it is, quite simply, home. Growing up in nearby Short Hills, New Jersey, it is to the Hamptons that she would head to with her parents every summer instead of the anticipated Jersey Shore.
"People always [say], 'So you must know the Jersey Shore,' and I'm like, 'Actually, I really don't. I genuinely don't know it at all.' I went there for one of my proms — I went to six — and that's it. I've always felt a connection to the Hamptons. We have pictures of me and my sister where I am literally not even a year old, in the dunes of Amagansett, so my earliest memories are of the Hamptons. To this day, even after living in LA now for almost 20 years, the Hamptons is the summer to me, and it is, in so many ways, home."
The area is where, she says, her biggest moments have occurred: where she and husband of 25 years, investment banker Rodger Berman, got engaged, and where she discovered that she was pregnant with their first son, Skyler, now 12.
"I think everything sort of memorable in my life has happened there," she says now. "I don't want to say everything, but most things, certainly, as a family. I remember sitting at Nick & Toni's [in East Hampton] and my niece and nephew telling my mom and dad that I was pregnant. There are so many memories — those endless summer days that go into nights and roll into one. We have a whole life there, so many friends, and it's my children's favorite place in the world. So, to me, the Hamptons means home, means summer, and in a weird way, peace."
Zoe waxes almost poetically about the beauty of her favorite place, sharing, "There's a different light there. The beaches are the prettiest beaches in the world. I live in LA, and they don't even compare; they're far more vast — clean, wide, endless."
She's equally as enthusiastic about the restaurant scene, citing the Crow's Nest and Duryea's in Montauk, Le Bilboquet in Sag Harbor, Wölffer Estate Vineyard in Sagaponack, Tutto il Giorno and The Golden Pear in Southampton, Candy Kitchen in Bridgehampton, and Round Swamp Farm in East Hampton as her ride-or-die destinations. And when you've been going there as long as Zoe has, it's safe to say that she knows what she's talking about when it comes to experiencing the best of the area.
Interestingly enough, although she spends two months of the summer in the Hamptons without fail each year, she does not own property there. But every year, regardless of where she stays, be it Sagaponack (as she has done for the past three years), Water Mill, or Montauk, she and her husband always throw a joint end-of-summer/anniversary/birthday party — with an emphasis on any part but the birthday.
"The end of summer is my birthday, as well as [my] and Rodger's anniversary, so every year we make this gathering of all our closest friends and family, and we always do a beautiful dinner somewhere. I always give some sort of speech, like, 'This is our end-of-summer party and our anniversary party and a really good excuse to get everyone together.'"
You see what she did there? She deliberately left out the birthday bit.
"I hate my birthday," she admits, but revises said statement, sharing, "I love my birthday because I'm grateful to be alive, but it does mean you're getting a year older."
And wiser, I remind her. And more successful. Which Zoe indisputably is. She has achieved literally everything she's ever set out to do, and then some. In her 20-plus years in the industry, she's styled some of the biggest names in Hollywood; is the co-CEO and founder of Rachel Zoe Inc.; the luxury shopping membership Curateur; the Rachel Zoe Collection; and The Zoe Report, as well as Rachel Zoe Ventures. There are her two New York Times bestselling books; her eponymous Bravo show, The Rachel Zoe Project; and two podcasts, Works for Us and Climbing in Heels.
She attributes her success to her perfectionism, which she sees as both a blessing and a curse. "Perfectionism can be very toxic at times, because it's hard for us to move on from that," she acknowledges. Not that this has stopped or changed it for her in any way, mind.
"No matter what I do, I have to try and be the best at it, because I don't know how to function any other way," Zoe admits. "Whatever it is that I'm doing — whether it's being a mom, baking cookies, launching a new platform, doing a new partnership — I have to give it a thousand percent. Whatever I'm launching has to work; it has to succeed. And it's not about being ego driven necessarily as much as it's about like, 'Okay, well, we're doing this, so let's make it amazing.'"
Photo Credit: Mark Hanson
I'M SURPRISED TO HEAR that Rachel Zoe fell into styling by accident given that it's such a major part of her personal brand identity. But it's the truth. Her initial intention, while attending The George Washington University, was to become a psychiatrist. But instead, she decided to wing it and interviewed to become a fashion assistant at now-shuttered teen magazine YM without quite knowing what the job actually was. And the rest, quite clearly, is history.

That said, Zoe feels that her psychological studies prepared her fully to be the kind of person she is: not just a stylist, but a confidante, a cheerleader, a nurturer.

"One may argue I've used my [psychology degree] every minute of every day of my career," she says, admitting, "I do definitely play psychiatrist to clients and to friends. It's a role that comes naturally to me. I think I help people navigate their issues. People always ask me, 'What's the most rewarding part of your career?' and I think from more of a stylist's perspective, it was always those moments where clients would say, 'I've never felt more beautiful,' or when they'd send me flowers the next day and say, 'Thank you for showing me the way.' Every day, women have come up to me and said, 'Your show got me out of depression,' or 'I feel like a woman again,' or 'I'm going through cancer and I watch your show and I've read your books, and now I want to start a career and I want to put clothes on and I want to get dressed and feel like me again,' and hearing those things have been huge drivers in my career."

When I ask if she'd ever go back to school for a doctorate, she adamantly declares grad school a hard pass. "No way, and I'll tell you why. My career has been more of a lesson in psychology than I could ever learn in a textbook. I graduated with a great GPA, but very candidly, I really did not enjoy being a student. I could not wait to work. I like to be the navigator of my own path; I'm not great at fitting into the box of how you need to learn what you need to learn."

Plus, all that schooling would take away from her primary goal: to reach and connect to as many women as possible, to be a spokesperson for female support. Her own experiences were the opposite — outside of a few rare exceptions, she was constantly thwarted by those of her own gender who would have rather seen her fail than succeed — and as such, she made a promise to herself to be the change. 

"I had a very hard time coming up in my career," Zoe admits. "I was constantly met with women that wanted to see me fail and knock me down. Funny enough, it was men that supported me more, outside of a handful of women — women that I still call friends today — like [fellow stylist] Elizabeth Saltzman, [Project Runway judge, author, and Elle editor-in-chief] Nina Garcia, and [Net-a-Porter founder] Natalie Massenet. I feel that women have a lot of superpowers but are scared to show them. They're insecure; we're knocked down by our own selves, to be honest."

It was 9/11 that brought this concept full circle for her, that made her ultimately decide to create the brand behind her name. "I really wanted to think about my greater purpose. Not to sound corny, but I was a severe workaholic for 15 years before I had my children. I couldn't see the light of day. I was going out every night, traveling nonstop, barely sleeping, not living a very healthy life at all, but living for my job. I was making all this money and getting all this press attention that I never really asked for, and I think ultimately what I realized was that there needed to be more to what I was doing. There were days where I woke up and thought, Why am I being paid so much money to dress people like this? It makes absolutely no sense. It was starting to really eat at me. But when I wrote my first book, and then when I started doing my show, I realized that my greater purpose was to help other women with this process of being a woman. How do we navigate that? How do we wake up every day feeling our femininity, embracing our beauty, whatever that may look like? I can't tell you how many women I see that go, 'Oh my God, don't look at me — I didn't even get to comb my hair.' They walk around with a shield of 'Don't look at me.' I started to figure out how I could style as many women as possible, advise as many women as possible, build confidence in as many women as possible, through different parts of what I do."

She found that women would approach her on the street, slide into her Instagram DMs, even accost her at the grocery store to ask advice and express their desire to be styled by her in order to ultimately feel good about themselves. It was hard to ignore, and so, she didn't. She used her bestsellers, Living in Style: Inspiration and Advice for Everyday Glamour and Style A to Zoe: The Art of Fashion, Beauty & Everything Glamour, as ways to share this applicable advice, as well as Curateur, her shopping platform, to give them her tried-and-true style tools. 
Photo Credit: Mark Hanson
Female empowerment was also the reason she launched her Climbing in Heels podcast last fall. "I started Climbing in Heels because I have an exorbitant [number] of powerful women in my life that constantly inspire me," Zoe explains. It just so happens that this epiphany coincided with an intimate dinner party she attended last year with 40 different women — all powerful, all of different backgrounds, and all from different walks of life.
She decided that she wanted to celebrate these women, to talk about their paths and how they express their femininity on a daily basis. "[Climbing in Heels] doesn't necessarily mean they wear heels; it's very tongue-in-cheek," she says. "I say 'in heels,' which to me really represents our ability to command a room or a situation but still embrace our superpowers, whatever those may be." Zoe also wanted to make it known that these women worked hard to get where they are — their successes weren't the stuff of happenstance. "Not one of the women I have had on was in any way, shape, or form an overnight success; they went through many failures or perceived failures to get to where they are, and it's very important to me that my listeners really understand how brutal it can be to become successful, and how long it can take.
Sometimes it takes as many as 10 failures to even see light. Sometimes it takes one. We've had tears, we've had confessions, we've had such gratitude. I had a friend on [jewelry designer Jennifer Meyer, daughter of CAA co-founder and former studio head Ron Meyer] that was like, 'I'm a nepo baby, kill me. My dad said, "You're getting a job because you're not famous; I am, so figure it out."' I think it's important to speak candidly about her inner jealousy and constant comparison to other women. I think it's important that women hear these things, because everyone's going through it."

Ultimately, it's fitting for Zoe to lift up fellow females and help dispel the stereotype that they are catty and want to see their peers fail, and because of her platform, she has every intention of doing so, as often and in as many ways as possible. "I want to change that narrative," Zoe declares. "We're coming up in this time now where it's like, women for women. But women were the ones that literally, every time I got up, kicked me down — every single time. I was canceled before canceling was a thing. But if I had quit every time a woman tried to have me canceled, I would have been done 20 years ago. The only thing I can say that helped me get up, in all honesty, was that I had very supportive clients: badass females like Salma Hayek, Cameron Diaz, and Kate Hudson — women who said, 'We know who you are, you know who you are, Rodger knows who you are, so why are you listening to anyone that doesn't know you? They don't have that right.' I made friends and mentors like Tommy Hilfiger, my greatest mentor and friend to this day, and knew that if enough people gave me a chance like Tommy did, then I was able to stay motivated to keep going."

This begs the question: has a woman like Zoe, who constantly seeks to inspire others, found that confidence she knows others so desperately crave? Or is some small part of her still looking for it, just like everybody else? The answer is unclear. "It's funny, because some people describe me as confident, and yet, I would never describe myself as confident," she confesses. "Confidence is something that we try and work on as women every single day, whether we're doing it subconsciously or consciously. Am I confident? Sure, I'm confident about certain aspects of my life, but I also have tremendous insecurity, like all of us. However, I can help women navigate toward being a more confident version of themselves. That makes me happy. That's my purpose."

But, like she said before, Zoe, the perfectionist, is going to give whatever she's doing her all, no matter what that is. Hard work is one of the major secrets to her success, after all. It's a simple recipe, to be sure, but one that many (especially these days) aren't willing to execute.
"There's this thing — which I'm sure you've experienced in this world — where people don't work as hard anymore. They say, 'I really want to have a work-life balance. Do we have flex days? Do we have unlimited vacation days?' And listen, I'm not here to judge anyone on their life — I think everyone should do whatever it is that makes them happy — but for me, constantly needing to prove to myself that I could succeed at everything was just how I went about life, and how I still go about life. For example, I don't think I'm trying to be the mother of the year, but at the same time, I only know how to give a hundred percent to my children. It's not like I want a medal: I actually do want to over-love them this much, I do want to teach them this much, I want to take them wherever I go. It's the same way with my work: I only know how to give 100 percent. At the end of the day, I'm driven by my passion for whatever it is that I'm doing, and I think that's ultimately the force that pushes me."

Luckily for her, Zoe has the same passion for the Hamptons that she does for working. Because Lord knows, if anyone needs a break from climbing in heels, it's her.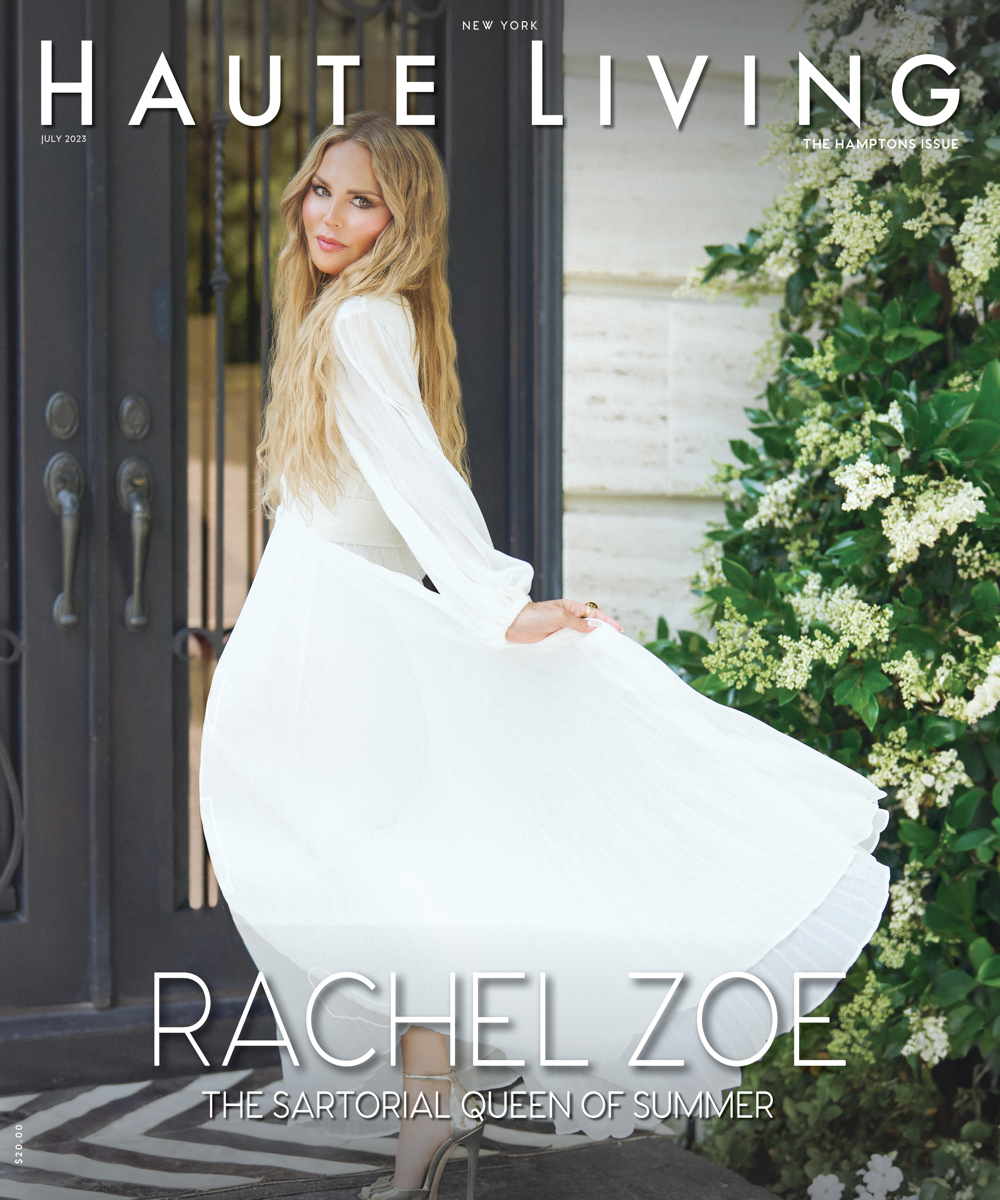 Photo Credit: Mark Hanson
Subscribe to discover the best kept secrets in your city