Photo Credit: Franz Mars
BY LAURA SCHREFFLER
PHOTOGRAPHY FRANZ MARS
STYLING CHARLES REYNOLDS
GROOMING TERESA FOSS
SHOT ON LOCATION AT
WILLARD INTERCONTINENTAL WASHINGTON, D.C.
Photo Credit: FRANZ MARS
  I can officially tell you that Sam Howell isn't yet too big for his britches. How do you know, one might ask? Well, I'll just say this: the 22-year-old, newly minted Washington Commanders starting quarterback is considering joining  a fantasy football league — and he's still humble enough that he wouldn't dream of picking himself.

"I might do it," he admits to me after our Saturday morning cover shoot. We're sitting in the never-ending Thomas Jefferson presidential suite in the Willard InterContinental Washington, D.C., one of the most iconic, storied hotels in the city, and he's slowly but consistently shoveling down grilled chicken (basically the only food he eats) as if it's his job. Or his second job, as it were.

"I mean, I haven't done it before, but I might actually do it this year. All of my friends do it, and I've always wanted to be a part of it but just never did because I was always playing," he says, without inflection. It is what it is: there are sacrifices that must be made for the actual game of football, and fantasy is one of them. But he didn't need fantasy to graduate from the University of North Carolina as the most decorated player in the school's history, breaking 21 of its records, including the most passing yards, most passing touchdowns, passing efficiency, and total offense. He also earned a place in ACC records, finishing second in passing yards per game and passing efficiency. So yeah, I think he's doing OK for himself.

One might argue that this year, more than ever, is not the year for Howell to live in a (football) fantasy world given that it's his first year as the starting quarterback of a major franchise. But he's young and hungry and still sees football as the greatest of games. He's not quite starry-eyed about his competitors, but he's more excited to play against some of his role models than not.
Photo Credit: FRANZ MARS
Which is why, ostensibly, he wouldn't snatch himself up in a fantasy situation. "I would hope that one of my friends would pick me before I picked myself, but also, I really admire some of the other players in the NFL, so I probably wouldn't pick myself," he admits, noting, "It's not that I don't think I'd do well, but you know, just … yeah."

Again, as a relative NFL newbie, Howell doesn't have that earned and learned narcissism just yet … and might not ever get it. Heck, he's only been in the league for a year since he signed a four-year contract with the Commanders, but he's earned the respect and faith of his teammates after starting in his first game — the final of the 2022-2023 season — leading them to victory against the playoff-bound Dallas Cowboys, with 11 of 19 passes for 169 yards and a passing and rushing touchdown, thereby solidifying himself as the future face of the franchise.

At the end of the day, he says, "I'm a big football fan, obviously. I've grown up watching a lot of these guys, and I'm excited to play against some of the best quarterbacks in the league. Like, this year, we play the Jets, and it will be cool to play against Aaron Rodgers. Also, I grew up a Cowboys fan, and this year we're playing them in Dallas on Thanksgiving, so that will be a fun game. I'm super excited for that one, but honestly, I'm excited for all of the matchups, especially the new teams we didn't play last year, and to travel to new places to play them, to see what they're like."

For Howell, it's all about friendly competition. In addition to going head-to-head with Rodgers on Christmas Eve, he'll get to see long-time friend and Jets running back Michael Carter, as well as running back Javonte Williams in Week 2 on September 17 when he plays in Denver against the Broncos. Best of all, he plays alongside wide receiver Dyami Brown, whom he — quite successfully, given the aforementioned accolades — played college ball with. The two are a dream team, and he can't help but enthusiastically refer to seeing their on-field relationship play out in the upcoming season as "a lot of fun."

As such, he's not looking at his first true season as a starter as an albatross around his neck, but rather with true joie de vivre and enthusiasm. Pressure? Who needs that?

"I mean, I really try not to look at it like that," he declares. "I'm just super blessed to be in the position I'm in, and I just try to do everything I can to just be the best version of myself and to do everything in my power to help my organization win football games. I try not to look at it as pressure. This is what I dreamed of, you know — this is what I worked my whole life to do. So now that I'm here, I try to do everything I can to take advantage of the opportunity and just have fun with it."
That he's playing in Washington personally holds a lot of weight for him, too, but again, no pressure. He's easy like Sunday morning about it, in fact. "Obviously, the name is powerful and we're right here in the nation's capital, so that comes with a lot of weight, but I love it. I love being here in D.C.; it's awesome. The name 'Commanders' is also kind of a lot — it can be some added pressure — but I embrace it."

On that note, his only plan for the coming season — besides winning, of course — is to be himself — all 6'1" and 22 laid-back years of it. "I'm pretty chilled out about everything in life," he admits in his Southern drawl, and my head goes to Matthew McConaughey as Wooderson in Dazed and Confused. All right, all right, all right, and so forth. "I try to stay even-keeled: I never get too high, never get too low, and [am] always about looking toward the next thing. That's just kind of how I was raised."
Photo Credit: FRANZ MARS
I think the fact that he plays such an aggressive sport is at odds with his personality, but he disagrees. According to Howell, it's the reason he has a leg up against the competition. He's never going to trip about losing or feel wrath off the field — he's able to separate the two, and just compete. It's almost like a superpower.

"Honestly, I think it's another way that I can excel, because I can always stay even-keeled," he confides. "Throughout a game, there's a bunch of highs and lows, a lot of emotions, but I always try to filter all of that stuff out. For the most part, it's easy to just stay focused. It's something that I really don't even think about anymore because it's how I've always been. It's how I am once I'm focused during a game."

His ability to drown out the noise and stay laser focused is just a tool of the trade. Ultimately, what winning comes down to is belief in himself — and that he's got in spades. Confidence is not something Howell has an issue with — he's achieved every goal he's set out to achieve, after all, from playing college ball at such a high level to becoming a starting quarterback of a major NFL team just out of college — so really, why would it be?

"I've always been a very confident person, so I've always thought I was good enough. But still, you see all of these statistics, and the numbers say you'll never make it," he confides, adding, "So yeah, success is not something I take for granted. I wouldn't say I'm surprised I made it to the NFL, just because I know how hard I worked to get to this point, but it's definitely not something I take for granted."

But that's just kind of Sam. Whatever he decides he's going to be good at, he gives his all to, be it football, golf, or the game of Catan (which he still plays with his friends from home).

He's not quite there on the golf front (you know, he kind of had a little something called "getting into the NFL" on his mind), but he's been practicing for two years, improving and making progress with each stroke, so I have no doubt he'll be a true competitor in no time. Especially during his offseason.

"I'm a perfectionist," he notes. "Everything I do, I want it to be really good, to be perfect. It's just so hard to be good at golf, but I'm trying. It's been a really fun challenge so far."

Like most athletes, Howell has that "once a competitor, always a competitor" mentality, and thus far, it's served him well, so why stop now? "It doesn't matter what it is in life I want to be the best at — whether it was school or just playing games in the neighborhood growing up, even board games — I always wanted to be the best. I always want to win, and that goes for anything in my life."

That all-or-nothing mentality also applies to, you know, God. I discover that, at age 20, Sam Howell not only found Christ, but was baptized as well. And thus far, this has been the most important moment of his life. He's an interesting dude, to be sure.
Photo Credit: FRANZ MARS
"I would say that when I committed my life to Christ is probably the most impactful moment of my life," he confides, sharing, "The way I was living my life was not the right way, but when I made that commitment, I feel like my life changed forever, and I'm just forever grateful for that."

It was the COVID-19 lockdown that prompted him to make a real change, he says, sharing, "I've always believed in God, but it was just one of those things where I just wasn't living like a Christian life, and I wasn't being as faithful as I should be. And during COVID, churches were closed, so I started to listen to sermons online, and then it just kind of hit me that I needed to take my faith more seriously. A lot of people I admire and respect, like my high school football coach — a really good, Christian guy — I saw how they were living their lives, and I knew it was the right way for me to live, too." 

He has not looked back in the two years since he made the big decision, and because of that, he also decided to get baptized. "Getting baptized is a public way of showing your commitment to Christ, and getting baptized was definitely something that I wanted to do once I committed my life in this way."

There's a lot to learn and a lot to like about Sam Howell: that he enters one of the fanciest, most iconic hotels in Washington as the city's starting quarterback so casually, carrying a bag of his own clothes, quietly and without fanfare, with an easy stride and a relaxed slouch; that he's straight up about his quirks — like that he almost exclusively eats chicken and adamantly refuses to eat red meat or seafood (his logic being, quite simply, that "growing up, I just didn't like it, and to this day, I still don't"); that he's half Korean; or that he dreams big, and in a completely linear way.

"I want to have a family — get married and have kids. I want to win a Super Bowl — that's been a goal of mine — and obviously it was a big goal of mine to make it to the NFL in the first place. But I really want to win a Super Bowl, and so that's really my main goal right now, trying to do everything I can to make that happen."
And though he's young, he wants Washingtonians to know that he's worthy of their faith and trust, that he can fully live up to his nickname of "Sam the Commander."

"I want people to know how badly I want to succeed, just how hard I've worked throughout my life to get to where I am, and that I truly want to be the best to ever play this game. That's what I devote my life to and what I wake up and try to do every single day. I want people to know just how motivated I am and how determined I am to reach the goals. I might only be 22 years old, but I don't really look at it like that. I think I'm ready for this moment. I feel like I've been preparing my whole life for this moment, so I'm going to try to do everything I can and give it everything I've got."

And when he plays Aaron Rodgers on Christmas Eve? This man of faith won't need a Christmas miracle if he has anything to say about it.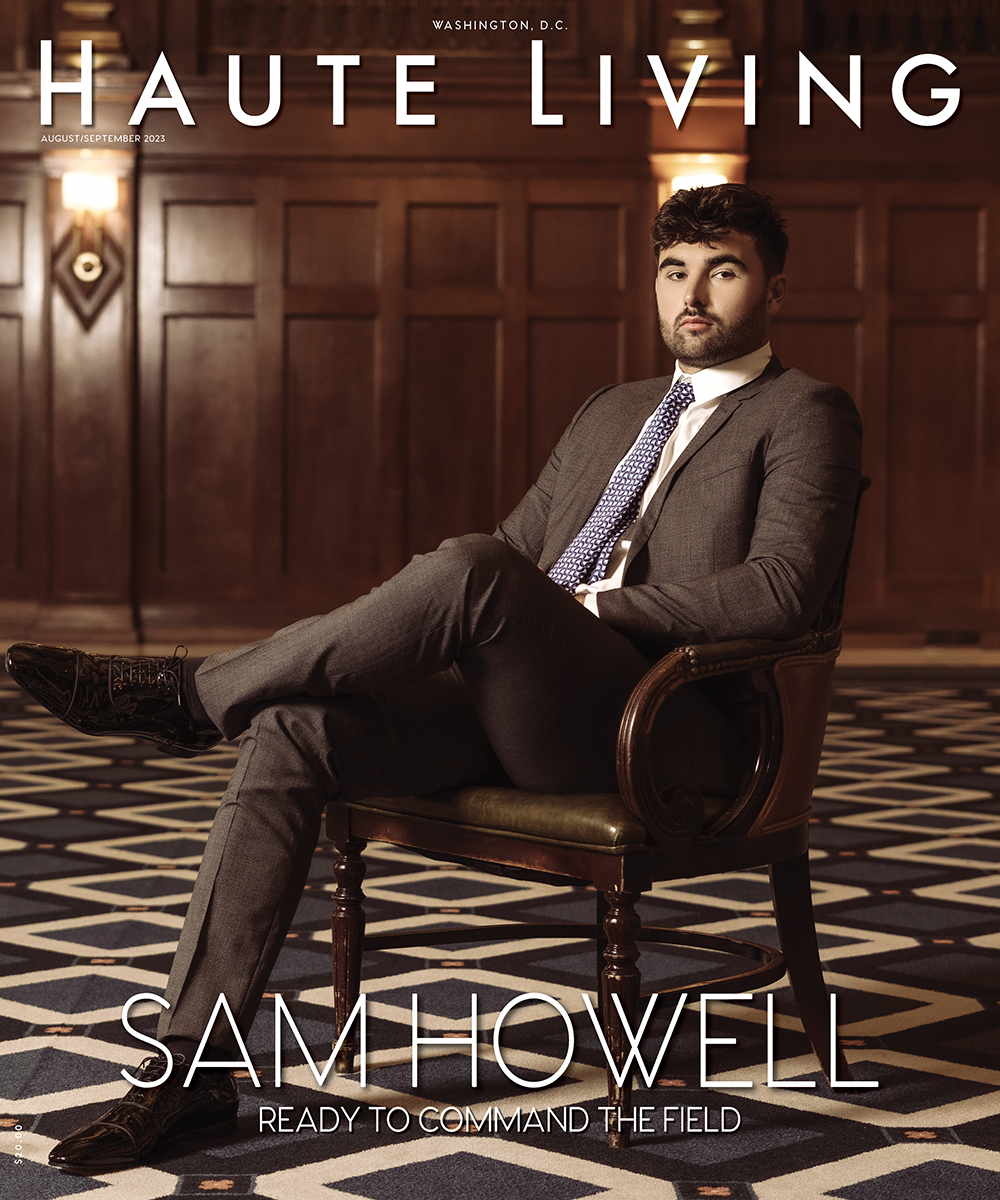 Photo Credit: Franz Mars
Subscribe to discover the best kept secrets in your city