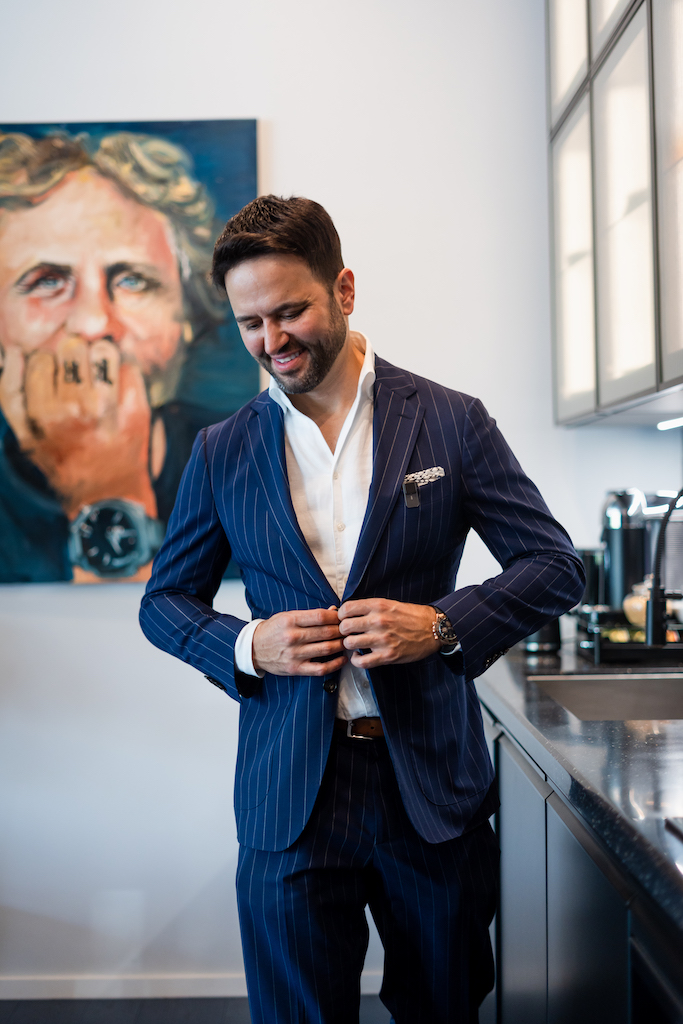 From the streets of Philadelphia to the glitzy world of New York real estate, John McSherry has experienced a meteoric rise that transforms him from a homeless addict to a multi-millionaire real estate mogul. Born on September 13, 1980, in Manhasset, Long Island, NY, McSherry's inspiring journey is a testament to the power of determination, talent, and resilience.
This gifted entrepreneur has a diverse educational background, with degrees in Industrial Design from the University of the Arts, Graphic Design from the School of Visual Arts, and an Associate Real Estate Broker license from the New York Real Estate Institute. McSherry's flair for marketing and design has played a pivotal role in his success as an investor, developer, and agent. These skills not only give him a creative edge but also attract clients who appreciate his unique approach to investment opportunities.
McSherry began his career as a freelancer in marketing and design, establishing McSherry Design LLC in 2005. He quickly gained prominence as a leading packaging designer for companies such as Donna Loren, Planet Toys, and 2(X)IST. His creative journey took an exciting turn in 2013 when he completed a real estate course from the New York Real Estate Institute and joined Century 21 American Homes as a licensed real estate salesperson.
In 2015, McSherry joined the prestigious Douglas Elliman Real Estate as a licensed associate real estate broker. His innovative use of social media marketing and engaging video content has earned him recognition, leading to a significant expansion of his business. McSherry's expertise in real estate sales and redevelopment spans Manhattan, Queens, and Florida, ranking him among the top 1% of agents nationwide.
His dedication, experience, and passion for real estate have earned McSherry numerous accolades, including being named a Top 20 Under 40 by LIBOR's Young Professional Network (YPN) and a Rising Star at Douglas Elliman. He also holds prominent positions as a YPN past president and board of director member.
McSherry's dynamic team specializes in real estate, with their current target spanning across New York City to the Hamptons. They consistently repurpose properties to stay ahead of the competition. With over 20 properties listed under his name at any given time, McSherry has created a $20 million portfolio by flipping and wholesaling 5–10 properties per month. His team's exceptional performance consistently ranks them within the top 8% of all corporate agents.
The list of McSherry's awards and recognitions is impressive, with honors such as the Platinum Award Winner: Top 8% Nationwide (2022) and YPN President (2022). His remarkable achievements have made him a role model for aspiring real estate professionals.
Today, John McSherry is proud to call Rockville Centre, New York, home. Outside his thriving real estate business, he enjoys staying active and exploring the Big Apple. In an actual display of his compassionate nature, McSherry frequently hosts fundraisers for his development projects to benefit charities like the Cerebral Palsy Association.
John McSherry's incredible transformation from homelessness to real estate supremacy is an inspiring tale of grit, talent, and perseverance. His accomplishments serve as a beacon of hope for others facing adversity, proving that even the most challenging circumstances can be overcome with determination and hard work.
Take the chance to stay updated on his latest projects and gain valuable knowledge from his experiences. Follow John McSherry on his website, Facebook, LinkedIn, Instagram, and TikTok today, and become a part of his ever-growing community of real estate enthusiasts and success-seekers!
Written in partnership with S99
Subscribe to discover the best kept secrets in your city