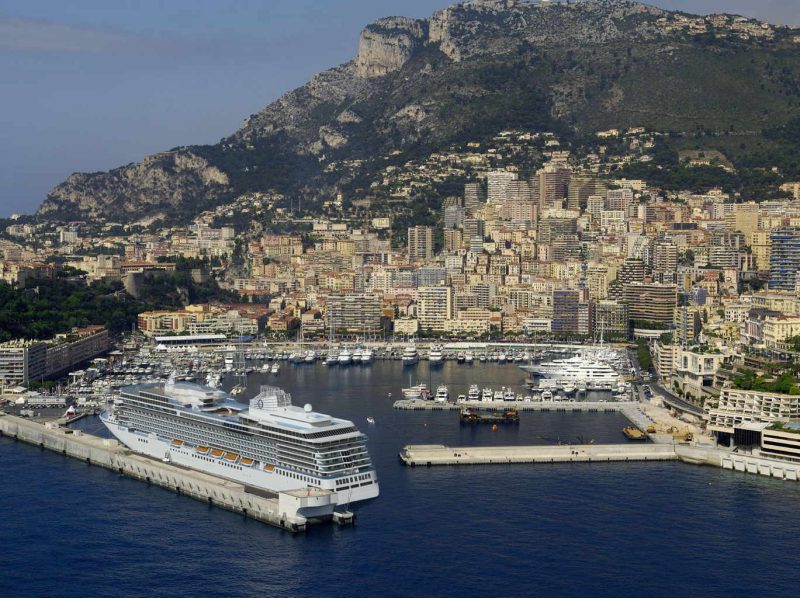 Photo Credit: Oceania Cruises
On May 6, Oceania Cruises' newest ship in a decade, Vista, set sail through Malta, Sardinia, Naples, and Corsica, with a star-studded ship log of guests to boot, inclusive of ship "godmother" Giada De Laurentiis and Harry Connick Jr., who performed at the opening night gala May 8 in Malta. Clearly, this 1,2000-guest vessel is a legend in the making… but what should new guests expect when they head on board?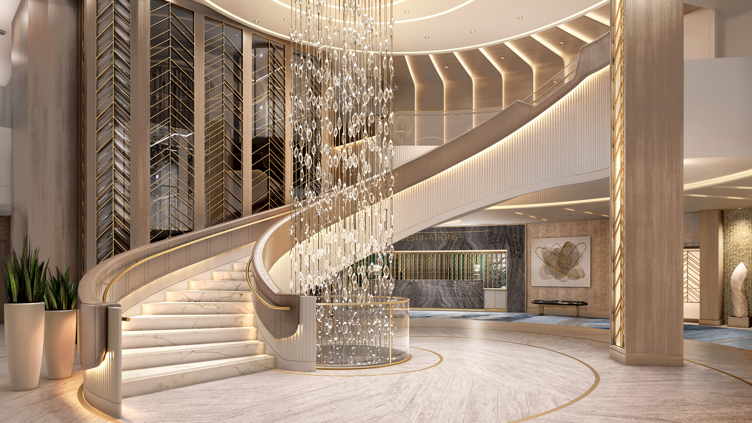 Photo Credit: Oceania Cruises
In a snapshot, here are the highlights. There are:
• 11 dining options, 3 of them brand-new
• 1,200 guests served by 800 crew members, equalling two crew members for every three guests
• The most spacious standard staterooms at sea; more than 290 square feet of space
• All Penthouse Suites and staterooms feature large bathrooms with oversized rainforest showers
• All Owner's, Vista and Oceania Suites feature luxurious soaking tubs
• Palatial Owner's Suites and top-of-ship Library have been styled exclusively in Ralph Lauren Home
• There are new Concierge Level Veranda Staterooms for solo travelers
• Eight bars, lounges, and entertainment venues
• Vista is home to Aquamar Spa + Vitality Center and Aquamar Spa Terrace
• Staffed Concierge and Executive Lounges for Concierge Staterooms and Suites, respectively
DINING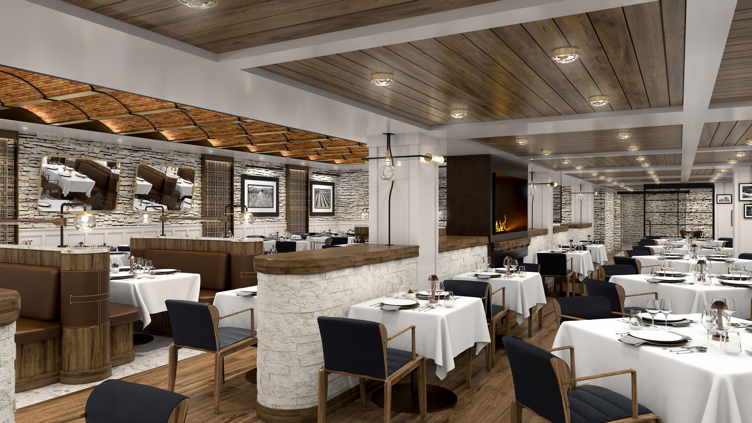 Photo Credit: Oceania Cruises
When you've got Giada De Laurentiis representing, needless to say, the food has got to be good. Luckily, there's nothing to worry about on board Vista, the ship that offers more than something for everyone. Indeed, it appears to offer everything.
That said, there are three new brand-wide dining outlets on board, the first of which is Ember, a restaurant which features a menu of inventive American creations and classic dishes. Highlights include items like braised short ribs on polenta, grilled swordfish with asparagus, crab cakes with spicy aioli, and a cobb salad with smoked chicken.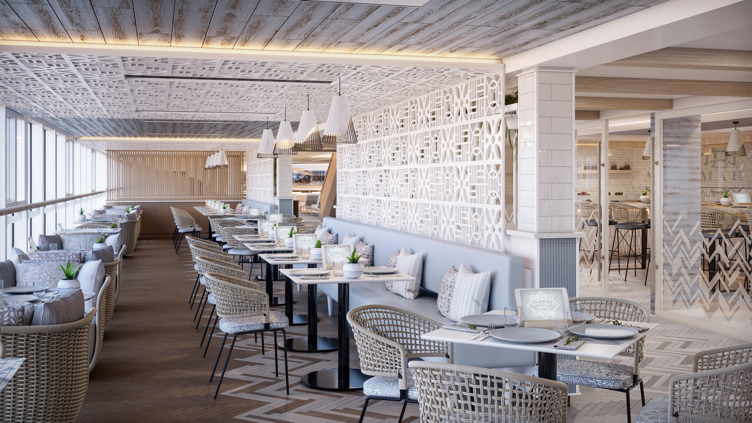 Photo Credit: Oceania Cruises
My personal favorite of the three new additions is Aquamar Kitchen, which should please even those with the most finicky of palettes (or Angelenos, who live and die by their health food). This is a wellness-focused, mostly plant-based eatery, with a slew of cold-pressed juices and superfood smoothies for breakfast, hearty homemade granolas and avocado toasts, organic power bowls, and savory breakfast wraps. For lunch, this airy spot offers enhanced, guilt-free, yet delicious items, inclusive of salmon with quinoa tabouleh and lemon tahini, yellowfin tacos with white cabbage slaw, and salads with green goddess dressing.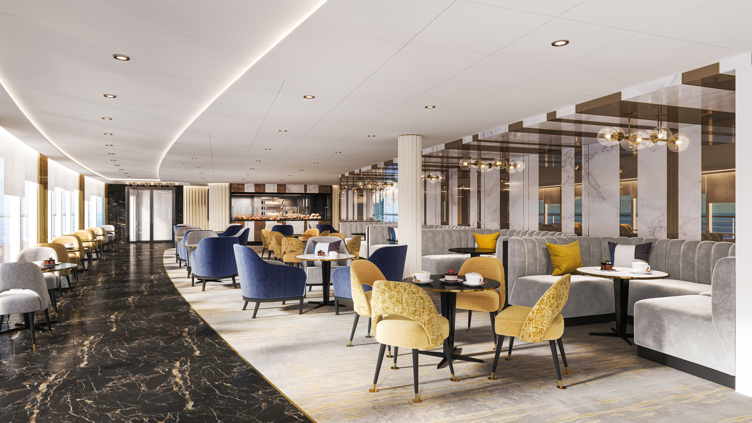 Photo Credit: Oceania Cruises
Ironically, beyond Aquamar Kitchen, I found myself hanging out at the third concept, Baristas, most of all. Coffee is a serious affair for most folks, which the powers-that-be at Oceania realized, and reacted to. Baristas, on the top deck, not only offers 270-degree views over the sea, but gives guests their coffee kicks, too, in the form of elaborate illy espressos, cappuccinos and lattes (with flavorings!), as well as delicious pastries, finger sandwiches, and homemade biscotti. It's also home to Bakery, just a few steps away, as well as the Library, a great place to enjoy and indulgent chocolate-almond croissant or bombolini while reading a good book or people-watching.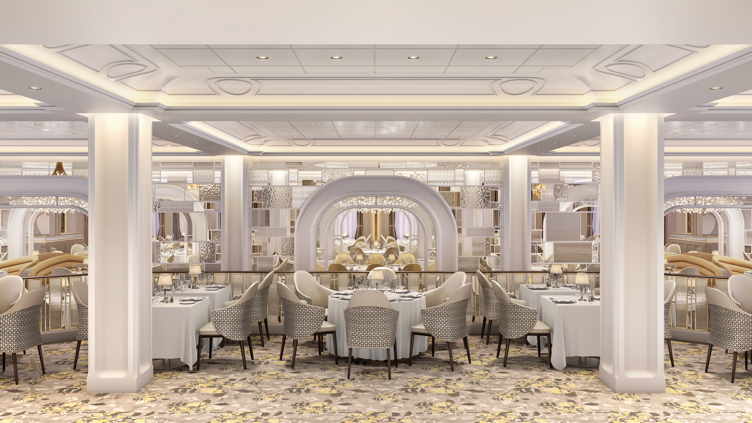 Photo Credit: Oceania Cruises
Other concepts exist on Oceania already, but are fully updated here on its newest, most enhanced ship. The Grand Dining Room is the luxurious grand dame of Oceania Cruises' culinary world. This is an elegant place to enjoy a traditionally long and winding Mediterranean dinner, with Continental cuisine on deck, from signature Jacques Pépin classics to an incredible spectrum of global flavors and an all-new Executive Chef's Tasting Menu. Menus change daily with an expansive choice of at least 10 appetizers, soups, and salads and 10 dinner entrées, along with healthy options.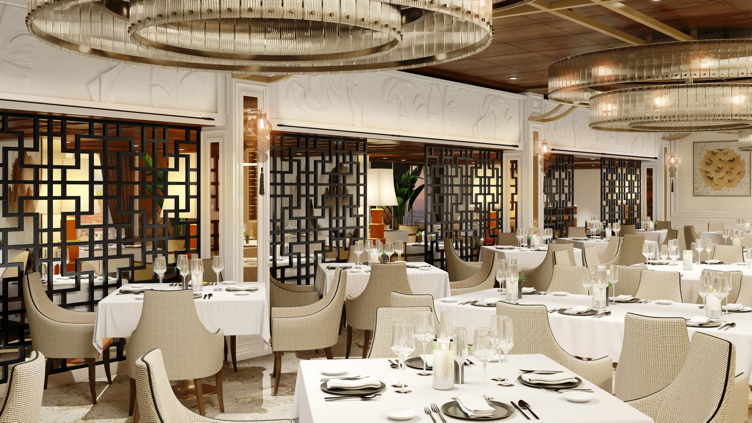 Photo Credit: Oceania Cruises
Red Ginger was one of the best dining experiences I had on board. It features Pan-Asian dishes, inclusive of everything from Thai and Korean to Japanese and Malaysian cuisine. The sushi was a standout, being that it's one of the only venues on board to offer my personal go-to dinner of choice, and I loved that there was flair and presentation right from the get-go, when our servers offered up a box of exquisite chopsticks to choose from, therefore personalizing the experience. Items inclusive of a salad of spicy roast duck and watermelon with cashews, mint, and Thai basil, Malaysian beef penang with coconut rice and paratha roti, and Thai vegetable curry with sweet potatoes, aubergine, mushrooms, and basil in green curry sauce, were standouts.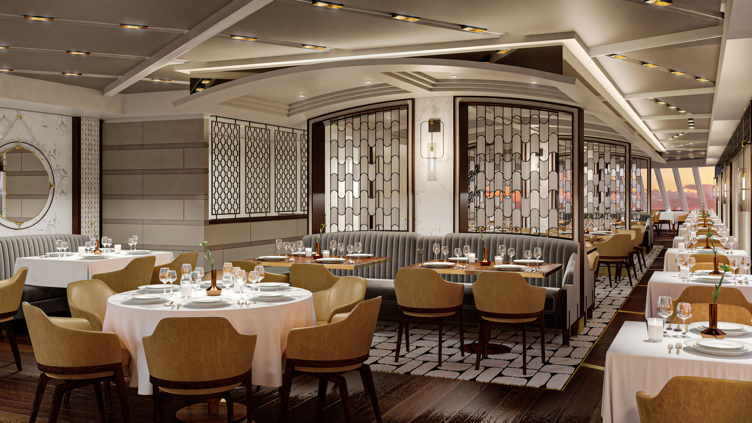 Photo Credit: Oceania Cruises
Toscana presents an evolution of Tuscan cuisine in a quintessentially Italian setting of rich Chianina leather, handblown Venetian glass, and Carrara marble, with an Italian pedigree to boot: many of the dishes served here originated from recipes courtesy of the mothers and grandmothers of Oceania's own Italian culinary staff. Octopus carpaccio with Champagne vinaigrette, artichoke and parmesan cheese timbale with black truffle sauce, hand-rolled gnocchi with pesto, rich risotto with lobster medallions and shallots, and a pan-seared sea bass filet finished with Sorrento lemon, chardonnay, and capers are among the most popular items, all of which are presented on custom-designed Versace china.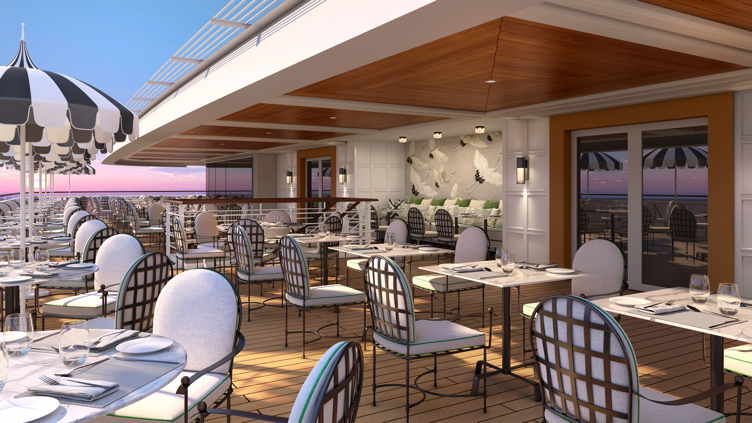 Photo Credit: Oceania Cruises
Terrace Café is a go-to for many as it's a place that offers a quick fix, a plethora of options, great views, and a stylish terrace. At breakfast, Terrace Café features a seemingly never-ending array of items such as made-to-order eggs, omelets, pancakes and waffles. Come lunch, an expansive menu of international inspired dishes is complemented by flavorful roasted and rotisserie meats and homemade pizzas. In the evening, there's a smörgåsbord of grilled-to-order lobster tails, fish, filets, and steaks; freshly made, hand-cut sushi and sashimi; a varied menu of hot and cold specialties; and locally inspired specialties from the various ports of call.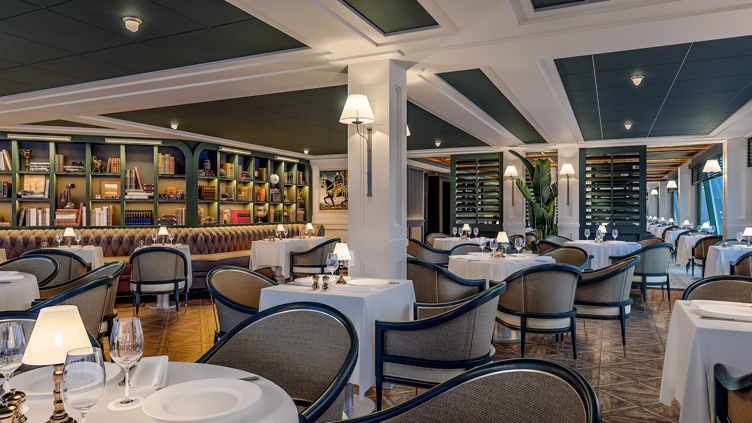 Photo Credit: Oceania Cruises
Polo Grill is Oceania's onboard answer to a classic steakhouse experience. Richly layered décor and an abundance of custom millwork create an imaginative rendition of tradition set against crisp white linen tablecloths while a cadre of black jacketed servers. Think: a place Frank Sinatra might hang out (or Harry Connick Jr., as it were). As this is a steakhouse, meat is the focus — notably the beef dishes, all of which are 28-day dry aged certified Black Angus USDA Prime — though seafood dishes such as grilled swordfish and whole Maine lobster gratinée are also on the menu.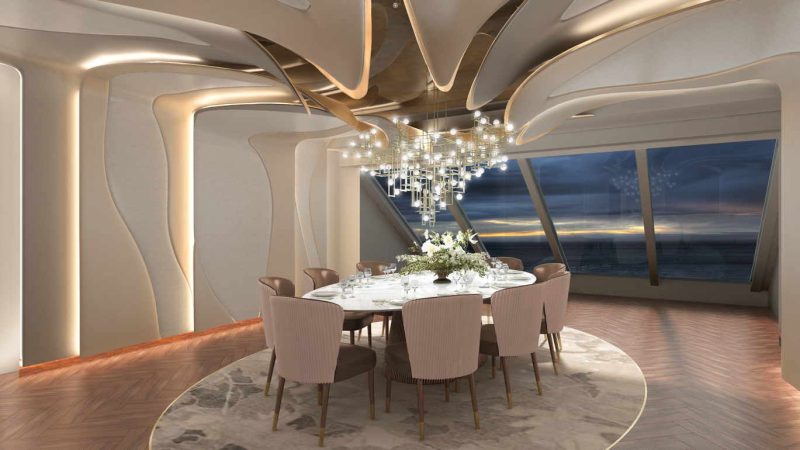 Photo Credit: Oceania Cruises
Priveé is that private dining experience that all guests are seeking, but not all will have. A meal here is special: it's a marquee venue for bespoke, intimate culinary celebrations for a maximum of 10  guests, enhanced as such by dramatic backlit, debossed walls and a blooming flower petal ceiling from which a dramatic chandelier descends over the polished marble slab dining table.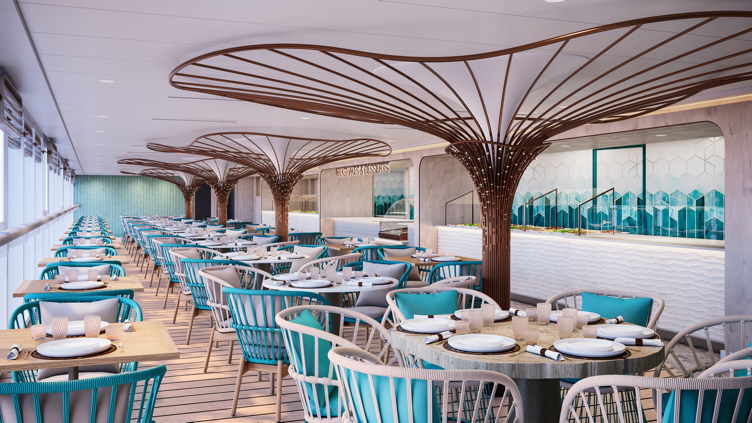 Photo Credit: Oceania Cruises
And last but certainly not least is Waves Grill, a casual and colorful setting that offers a slew of All-American favorites. Located in a spacious, shaded area steps from the swimming pool and Terrace Café, Waves Grill offers an extensive menu during lunch and late into the afternoon for that much-desired midday snack slump, or a light bite for the ravenous masses who have spent the day ashore adventuring. Items found here include burgers and sandwiches, as well as fresh salads, coleslaw, and crispy, hand-cut fries. For those with a sweet tooth, try a housemade sorbet, a made-to-order hot fudge sundae, or a thick, hand-dipped milkshake.
DRINKING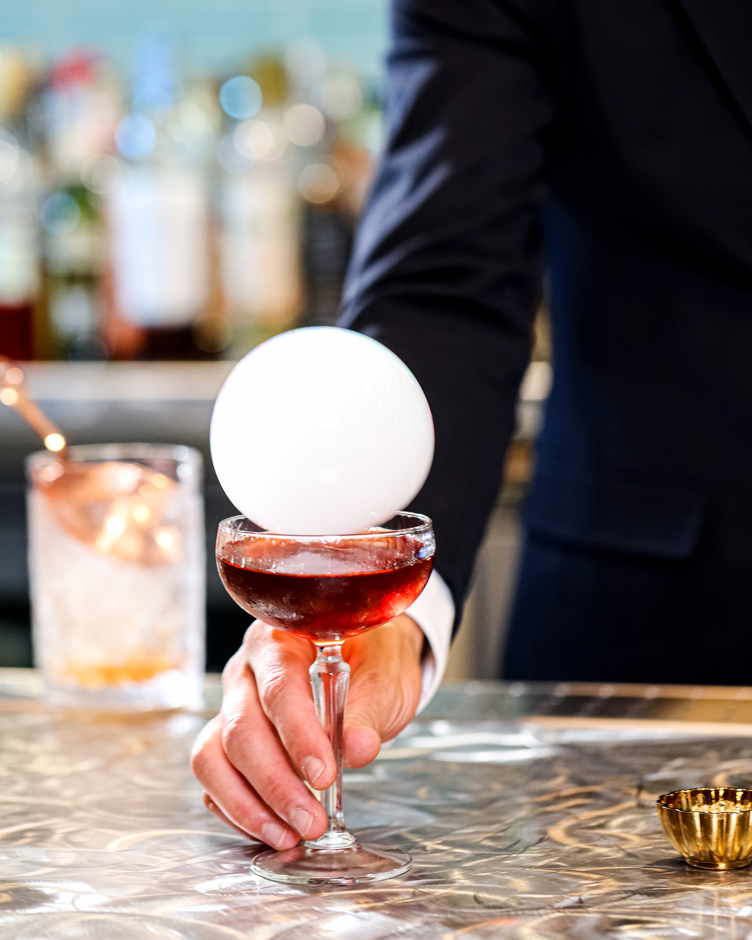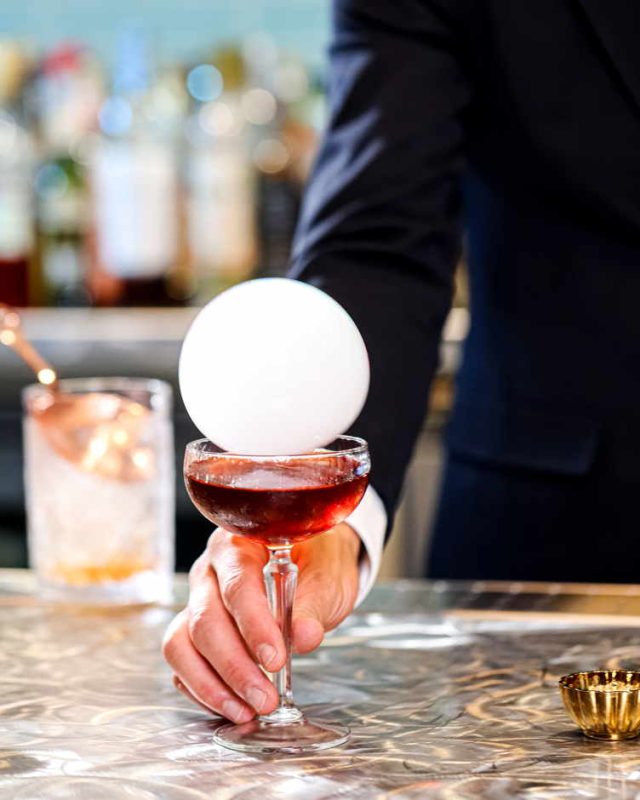 Photo Credit: Oceania Cruises
I was pleasantly surprised to find that craft cocktails were a major focus for Vista, most notably at the dedicated Founder's Bar. Here I found a lot of smoking fruit, intricate presentations involving a "Flavor Blaster Gun," and housemade tinctures that really elevated the mixology game. The only problem: Founder's Bar is small, and everyone wants in (not a bad problem to have if you're Founders Bar, though).
That being said, Founder's Bar isn't the only experience onboard. Vista is dedicated to showcasing an immersive, experiential beverage program including specialty beverage carts like The Bubbly Bar, which serves up exclusive Champagne cocktails, and The Ultimate Bloody Mary Bar, where guests can DIY their perfect brunch accompaniment.
But that isn't all. Special wine and spirits experiences are also available for those who choose, like Bond, to accept their mixology mission. A few highlights can be found below.
The Macallan Experiences
Leaning into the popularity of The Macallan's single malt whiskies on board, Oceania Cruises is launching a series of experiences taking the brand to new heights, such as The Macallan Diamond Bar Cart, which features the brand's most iconic expressions, as well as exclusive offerings like The Macallan Smoker, which brings theater and ritual to smoking cocktails by utilizing flavor blasters to infuse the drink; The Macallan Flight Program; and The Macallan Chocolate Pairing, a decadent pairing of guests' choosing including: Macallan Quest & milk chocolate, Macallan Lumina & chocolate truffles with fruit, Macallan Terra & white chocolate, and Macallan Enigma & dark chocolate.
Brugal 1888 Doblemente Añejado Rum Offerings
Other educational/entertaining experiences for guests feature Brugal 1888 Doblemente Añejado Rum. These include the Brugal Rum & Tea at Sea, which teaches guests about the history of pairing rum and tea since the 17th century while providing them a hands-on mixology experience to mix, match, and taste-test a series of complementary flavors; the Nearly Neat Serving Cart with Brugal 1888, a concept designed to bring a sophisticated alternative to traditional cocktails with an exclusive Nearly Neat menu; and Ice Cream and Brugal Cocktails, which will be available at pools, restaurants, and lounges for guests to cool off with a decadent — and boozy — treat.
Wine and Champagne experiences are as follows:
● Moët & Chandon Champagne Experience, making its debut on Vista, is a delectable three-course pairing extravaganza featuring rare vintages. Guests will start with a Mediterranean sea bass tartare paired with the mature 2013 Moët & Chandon Grand Vintage Brut, followed by a duck foie gras terrine accompanied by the silky Moët & Chandon Nectar Imperial Champagne, and finished with a cured beef tenderloin coupled with the elegant and refined Moët & Chandon Imperial Rose Champagne.
● Connoisseur Wine Pairing Lunches will be another addition to Vista with two carefully crafted epicurean journeys from which to choose. Menus include five different Mediterranean influenced dishes paired with a premium range of wines. The head sommelier along with bar, restaurant and galley teams, will explain each course pairing concept and their flavor profiles.
● Dom Pérignon Experience, a signature Oceania Cruises experience since 2019, will be showcased on Vista as part of the intimate dining venue Privée. Each of the three Champagne vintages enjoyed during this six-course tasting menu is effortlessly paired with two courses which are specifically crafted to bring out the nuances of the grapes and the ratio of the blend. Courses include scallops rossini with mole negro followed by black truffle risotto, Brittany blue lobster in yellow curry broth with coconut foam, seared sashimi-style Wagyu beef with octopus tempura, that culminates with sakura tea geisha flower ice cream topped with lemon caviar.
WHICH STATEROOM TO STAY IN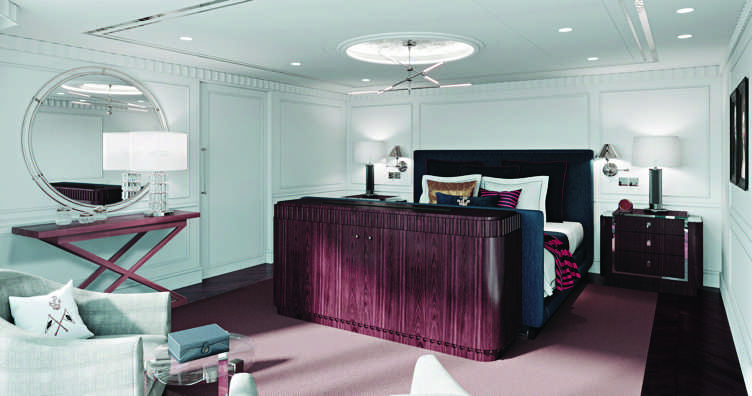 Photo Credit: Oceania Cruises
For many, the hardest part of a cruise is the accommodation. But thankfully, every accommodation (see what I did there) has been made aboard Vista to maximize space, and to make the experience completely modernized and convenient for guests. That being said, there are always ways of getting the most out of your stay, and here, that means staying in one of the Owner's Suites. There are only three of these 2,400 square foot behemoths, and they go fast, so book early. Each suite is styled exclusively in Ralph Lauren Home, with lofty heights, commanding views, and walls of glass in every room.Thoughtfully layered design elements like traditional millwork on the walls result in an opulent yet soothingly comfortable aesthetic. Essentially, they're like grand estates at sea.
The dramatic double-doored entry opens into the foyer and a beautiful dining room that is dominated by a floor-to-ceiling bow-shaped wall of glass that overhangs overlooks the sea. The centerpiece of the room is the elegant Brook Street Salon dining table that is surrounded by a fleet of Holbrook Director's Chairs from Ralph Lauren Home with a polished nickel Chatham pendant chandelier overhead. The living room features lustrous wenge walnut flooring, a quartered rosewood cocktail bar with hammered nickel countertop, and sumptuous lounging area filled with modern furnishings that showcase the expectedly nautical flair. At the end of the living room, there's a wall-to-wall and floor-to-ceiling glass wall, as well as a second wall of glass that opens onto an expansive teak veranda that is furnished for lounging, entertaining, and dining.
And finally, the master bedroom can be considered an entire retreat unto itself, featuring a luxurious Cote d'Azur king-size bed, capacious walk-in closets, and an opulent master bath with a large soaking tub and an ocean-view shower. A second teak veranda off the master bedroom promises peaceful solitude.
PLAY, INDULGE, REPEAT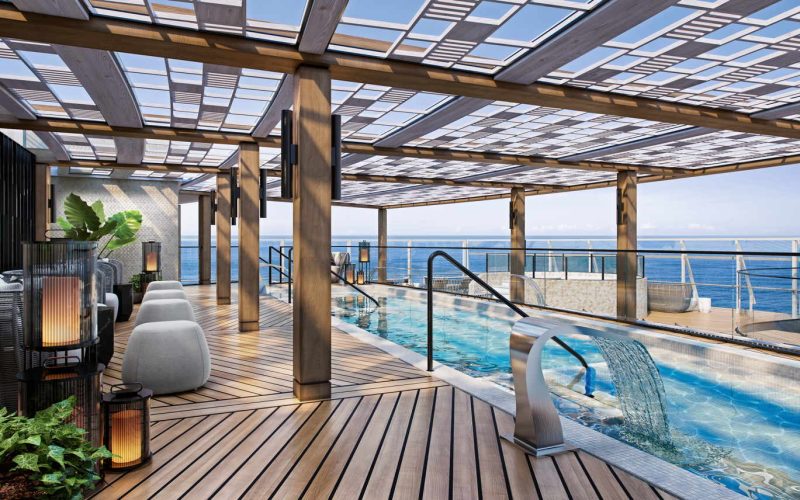 Photo Credit: Oceania Cruises
With the restaurants, off-boat excursions, and bars on board, there's always something to do. But for those days at sea when you don't want to just sit around having a Sunday Funday (but, you know, on a cruise Sunday Funday could always take place mid-week), Vista offers a lot to do over its 11 decks. There's a putting green and pickleball court, a giant pool deck, complete with modern beach club cabanas, and the Aquamar Spa + Vitality Center, a spa with several treatment rooms, state-of-the-art workout and personal training spaces, a salon, and barbershop. It is significant for the brand in that it is its first, purpose-built holistic wellness center.
On the opposite end of the spectrum, there's also a casino (with its own bar). Pick your poison — either way, the intention here is that you'll disembark feeling lighter, happier, and more fulfilled. I certainly did.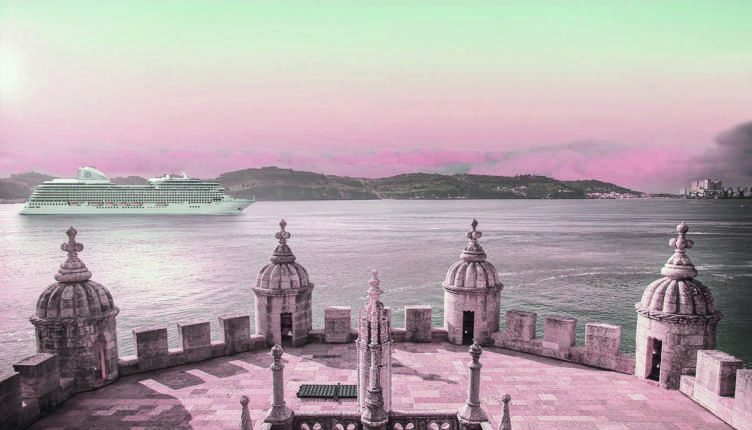 Oceania Cruises
The Vista sets sail in Lisbon
Photo Credit: Oceania Cruises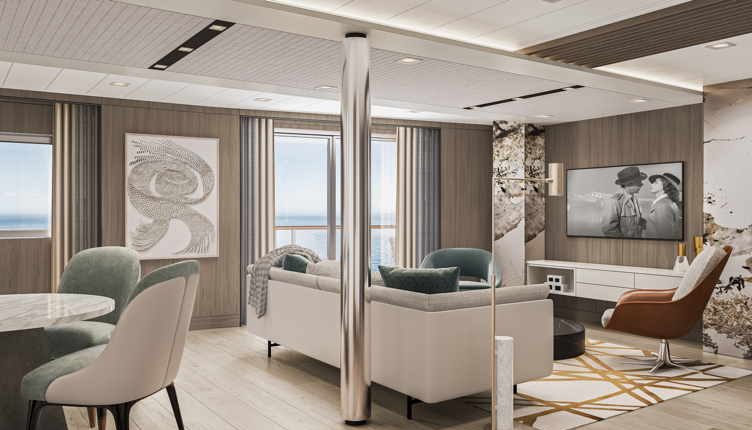 Oceania Cruises
Vista Suite Living Room
Photo Credit: Oceania Cruises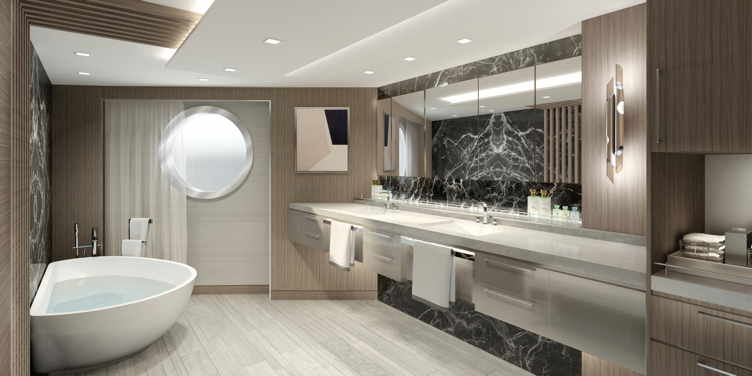 Oceania Cruises
Vista Suite Bathroom
Photo Credit: Oceania Cruises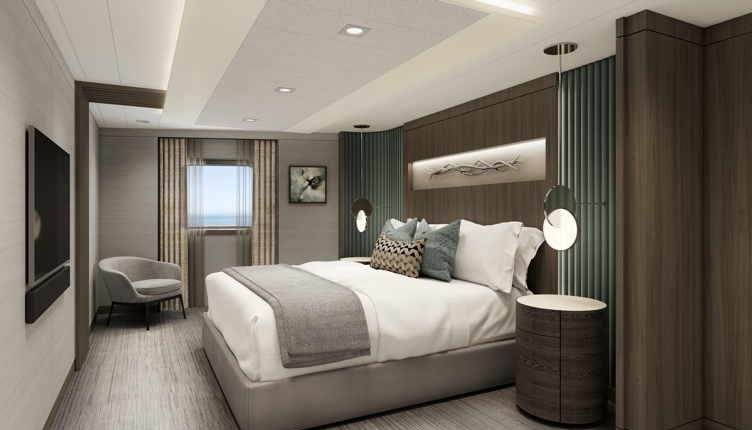 Oceania Cruises
Vista Suite
Photo Credit: Oceania Cruises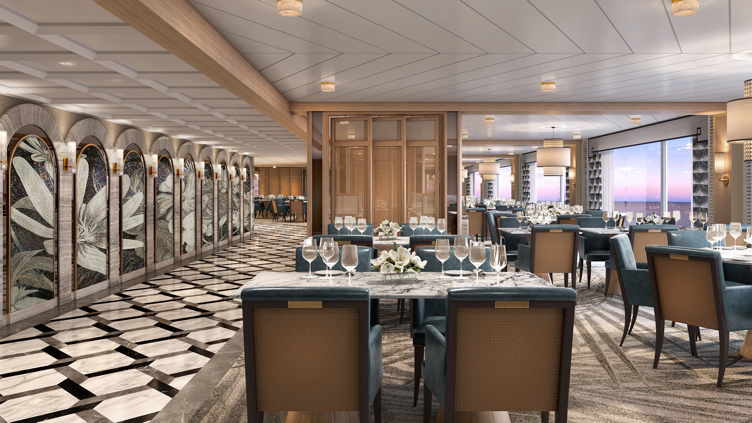 Oceania Cruises
Terrace Cafe
Photo Credit: Oceania Cruises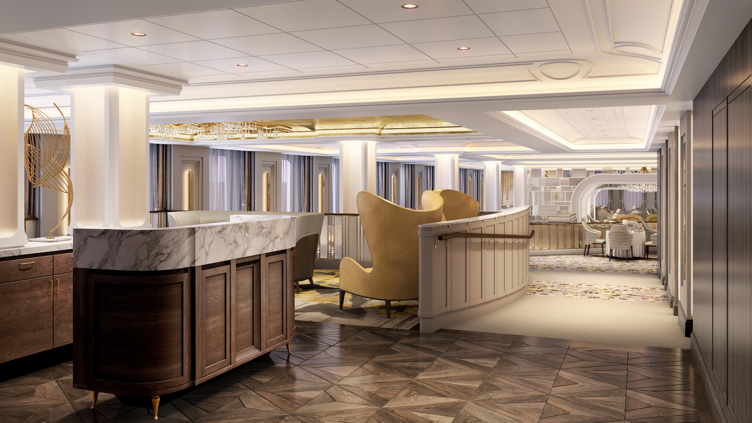 Oceania Cruises
Grand Dining Room
Photo Credit: Oceania Cruises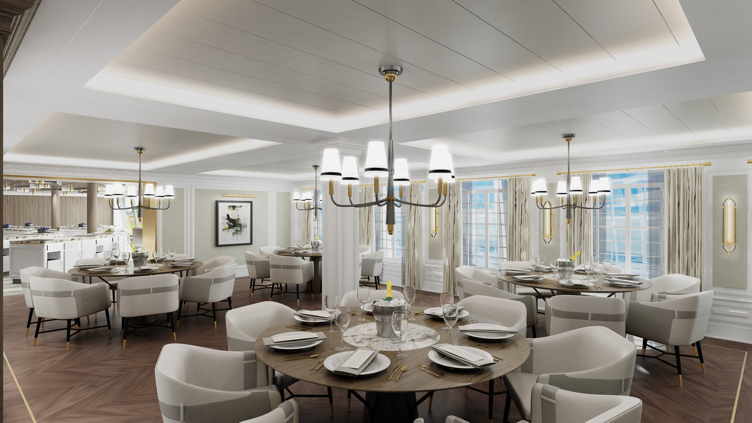 Oceania Cruises
Culinary Center Restaurant
Photo Credit: Oceania Cruises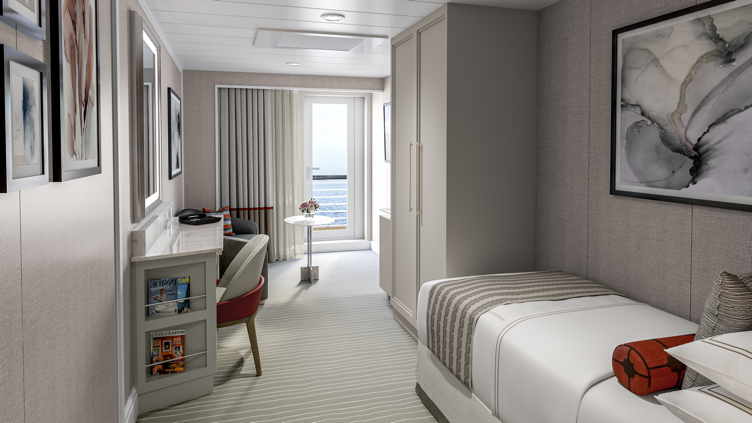 Oceania Cruises
Concierge Level Solo Veranda Stateroom
Photo Credit: Oceania Cruises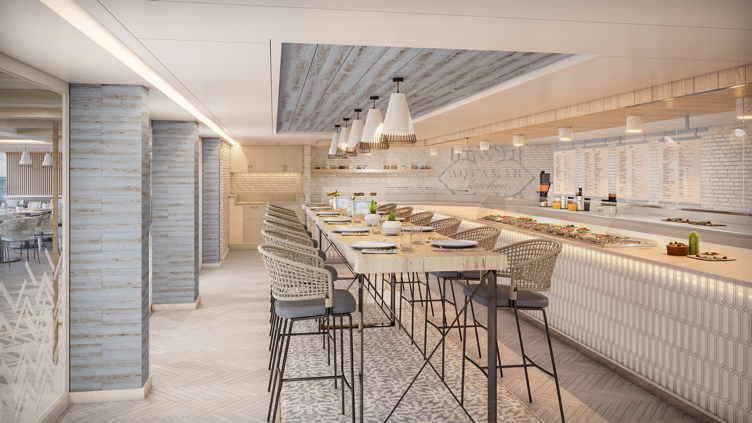 Oceania Cruises
Aquamar Kitchen
Photo Credit: Oceania Cruises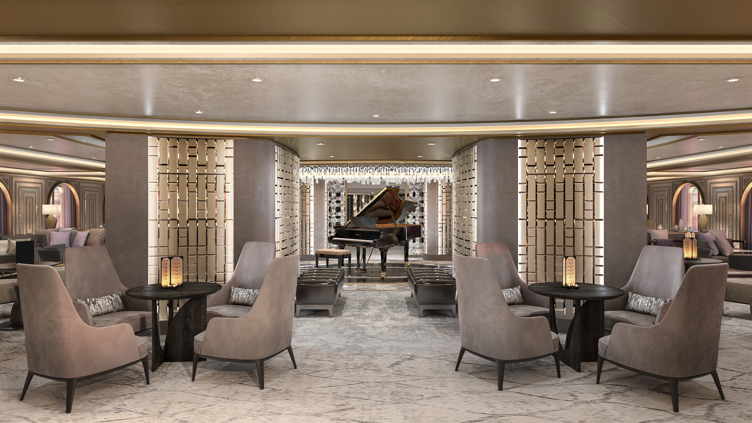 Oceania Cruises
Martini Bar
Photo Credit: Oceania Cruises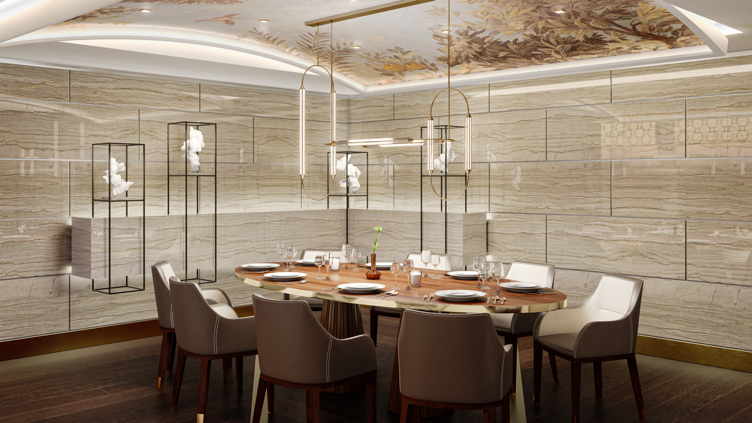 Photo Credit: Oceania Cruises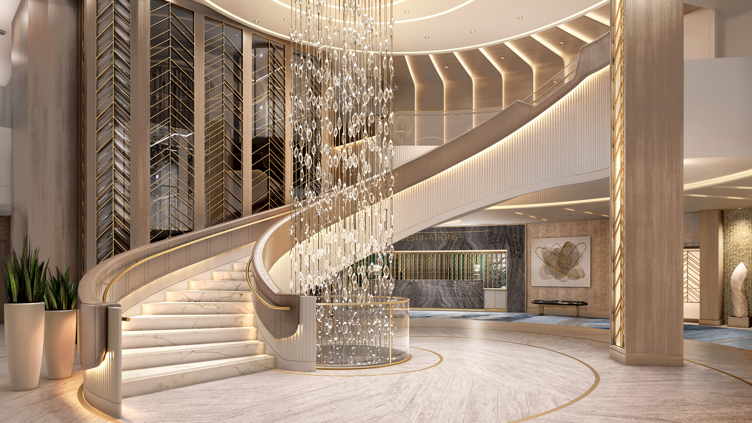 Photo Credit: Oceania Cruises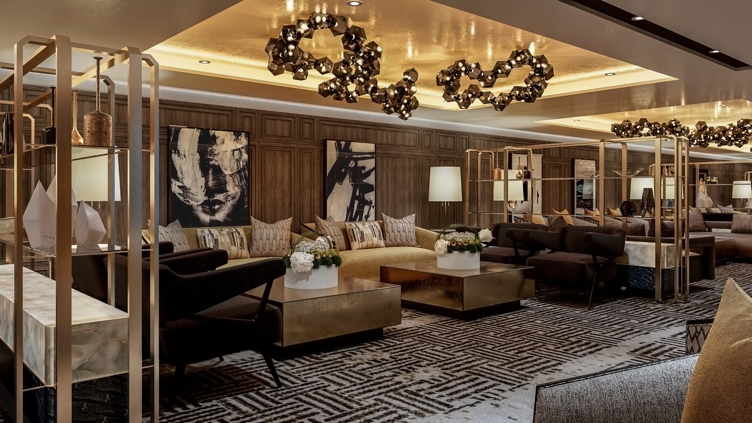 Photo Credit: Oceania Cruises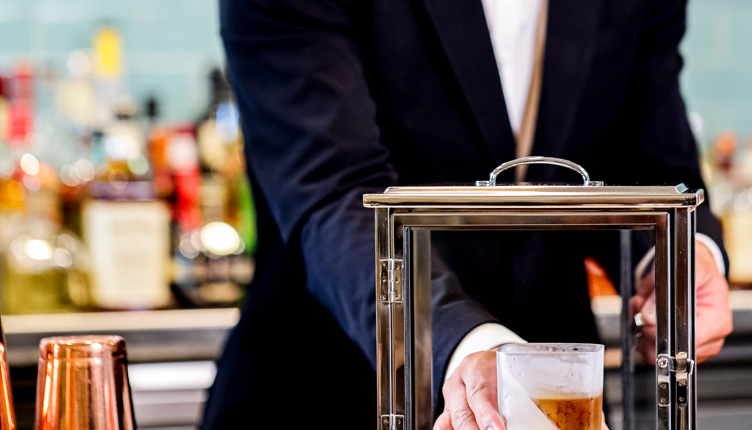 Oceania Cruises
On board mixology
Photo Credit: Oceania Cruises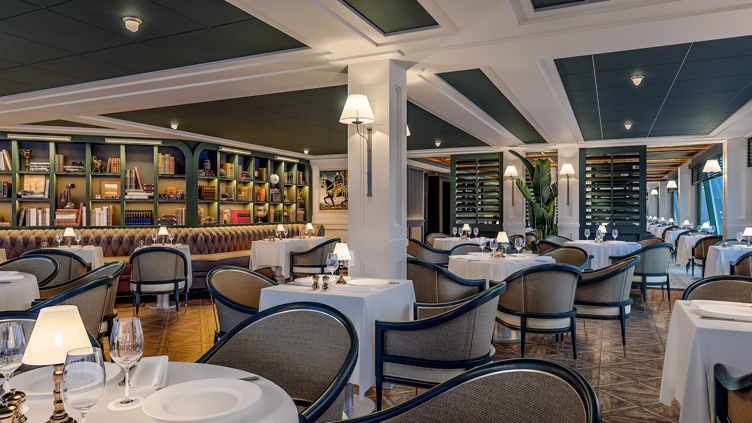 Oceania Cruises
Polo Grill
Photo Credit: Oceania Cruises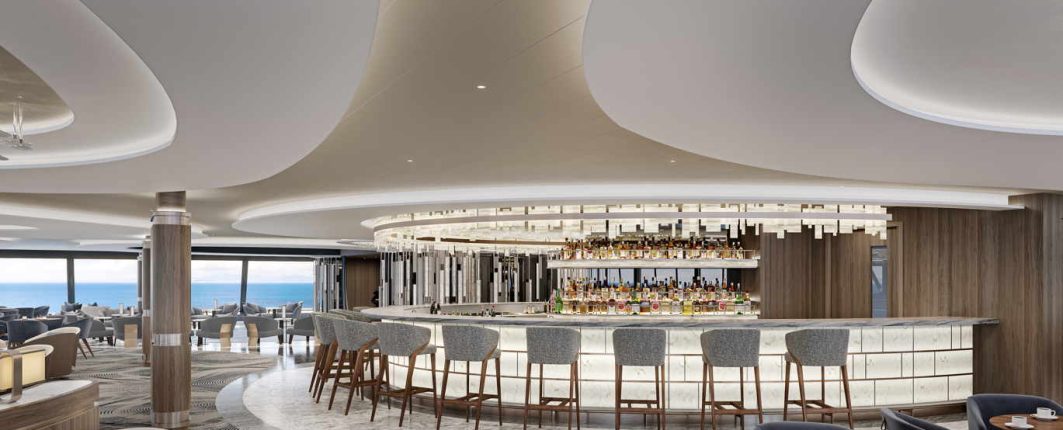 Oceania Cruises
Horizons Lounge
Photo Credit: Oceania Cruises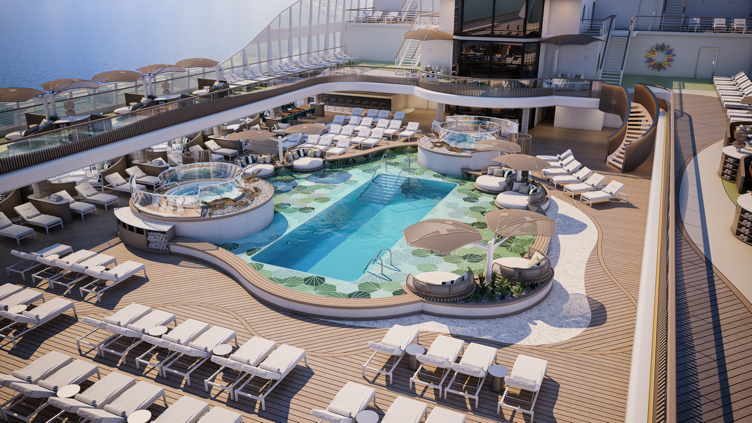 Oceania Cruises
Vista Pool
Photo Credit: Oceania Cruises
Subscribe to discover the best kept secrets in your city