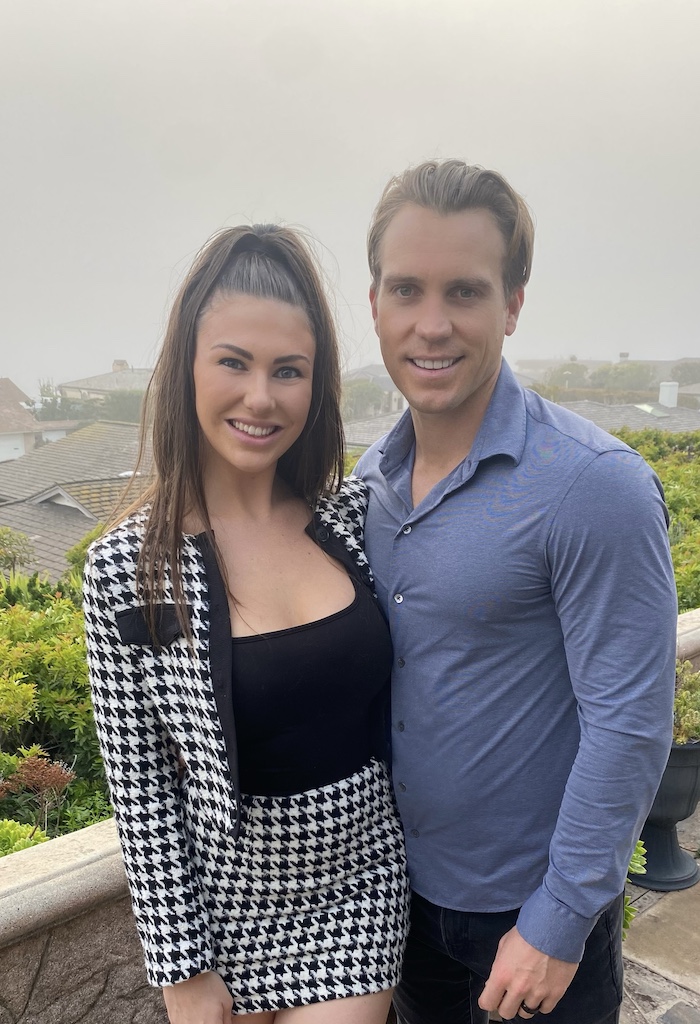 Joey and Skyler Wheeler have overseen multi-million dollar real estate transactions, but don't let that overshadow the fact that they're also a multi-million dollar power couple.
Natives to California, the couple has roots in the idyllic coastal town of Newport Beach. They live a real-life fairy-tale love story while working alongside one another in their luxury Real Estate brokerage, Coastal Estates Group.
The newlyweds have been more than a little busy this past year between handling luxury residential properties and giving birth to their first child. They've also been enjoying their days officially as husband and wife.
"We've had many beautiful things happen this past year, which I am forever grateful for. We had our biggest year yet at Coastal Estates Group. I married my best friend, Joey, and gave birth to our daughter, Sierra Noel. This transformation in my life has inspired me to be the best version of myself for my family, clients, and the community." Skyler said.
Last year the lovebirds were ready to take things to the next level in their relationship. They just needed to take a short break this past June to do it. Joseph said, "From the first time I met Skyler, I knew she was the one for me. All that was left to do was celebrate that with our friends and family."
They celebrated their partnership and wed in front of their loved ones, hopelessly excited for what lay ahead and knowing that a third Wheeler was about to enter the picture.
Skyler spoke on how motherhood changed their narrative. "The happiest day of my life (besides marrying Joey) was when I gave birth to our baby daughter, Sierra Noel. Nothing could have prepared me for that moment when I first held her and felt the most intense happiness and connection."
A few years ago, the couple decided to grow their family and discussed how that could change their course. They wanted to figure out how to be successful as a team while being present for each other and their future little ones. Leading separate, professional lives just didn't make sense.
That mission became the impetus for the brokerage to become a family enterprise.
Joseph knew the opportunity was there. He already knew his wife's abilities as she ran the business alongside her family at Radiant Hot Yoga. Joseph knew Skyler would be a rock-star real estate agent.
Confident in his spouse's abilities, he encouraged Skyler to join as an agent for Coastal Estates Group. His support paid off; the rest is history – multiple millions of dollars worth of history.
The couple's experience in business and real estate has laid the groundwork for fostering a wide net of contacts in the community. Some couples prefer to keep work separate and as far away from one another as geographically possible to maintain sanity. The Wheelers – a different breed- have found that working together brings their family closer and intensifies their creativity.
"We strike that perfect balance between business and enjoying life. We put our heart and soul into everything we do. Our passion is real estate, and our purpose is to help others. If we're having fun, then our clients are having fun. It's infectious," Skyler said.
By their own admission, Joseph is more serious-minded and business-focused, while Skyler brings out the energy and creativity needed. They both have a customer-centric view.
"I'm very passionate. Always thinking outside the box, how we can approach things from a different angle. Joey's more serious and focuses on the financial side of the brokerage, being analytical in his approach. But our different views come together to create a synergistic balance. Two minds are always better than one."
Joseph expanded on how being a team has brought them closer, "Having common ground from working together; it's made us more on the same wavelength than ever.  We communicate better because we understand each other's daily lives. Everything we do is in the best interest of our clients. The only way we thrive is when our clients thrive."
The Orange County duo is the perfect powerhouse, ready to lead the charge in buying and selling luxury properties in the Orange County area. They have proven their value as a successful team and have the credentials to prove it.
As for now, the couple is ecstatic about their future between their growing family, and the success of their family-operated brokerage, they can't wait to see what 2023 has in store.
Written in partnership with Maria Williams
Subscribe to discover the best kept secrets in your city